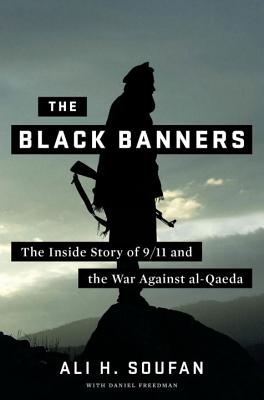 The Black Banners
The Inside Story of 9/11 and the War Against al-Qaeda
Hardcover

* Individual store prices may vary.
Description
A book that will change the way we think about al-Qaeda, intelligence, and the events that forever changed America.
On September 11, 2001, FBI Special Agent Ali H. Soufan was handed a secret file. Had he received it months earlier—when it was requested—the attacks on New York and Washington could have been prevented. During his time on the front lines, Soufan helped thwart plots around the world and elicited some of the most important confessions from terrorists in the war against al-Qaeda—without laying so much as a hand on them. Most of these stories have never been reported before, and never by anyone with such intimate firsthand knowledge.
This narrative account of America's successes and failures against al-Qaeda is essential to an understanding of the terrorist group. We are taken into hideouts and interrogation rooms. We have a ringside seat at bin Laden's personal celebration of the 9/11 bombings. Such riveting details show us not only how terrorists think and operate but also how they can be beaten and brought to justice.
Praise For The Black Banners: The Inside Story of 9/11 and the War Against al-Qaeda…
A devastating picture of rivalry and dysfunction inside the government's counterterrorism agencies.
— Scott Shane - New York Times

An absorbing account of America's fight back after 9/11…it reveals the dedication of those who defend us, as well as the weird frailties of those who try to kill us.
— The Sunday Times

One of the most valuable and detailed accounts of its subject to appear in the past decade.
— The Economist

Most Americans first heard of FBI agent Ali H. Soufan in the spring of 2009. That's when he testified from behind a black curtain in the Senate Judiciary Committee's hearing room…The testimony was explosive…Now Soufan has fired another salvo…detailed descriptions of what unfolded behind the closed doors of the world's interrogation rooms…Soufan's story provides a new and important window on America's battle with al-Qaeda.
— Dina Temple-Raston - Washington Post

To those inside the U.S. government Soufan has long been something of a legend. He conducted the most effective and fruitful interrogations of Al Qaeda suspects during the war on terrorism, and save for some inexplicable failures by the CIA, he and his team might well have prevented 9/11. Soufan has since left the FBI and written a gripping account of his experiences, brimming with details about Al Qaeda and its historical development.
— Harpers Magazine

Superb. An education. And the best book on al Qaeda out there, bar none.
— Robert Baer, former CIA official, author of See No Evil, Sleeping with the Devil, and The Devil We Know

Unfortunately, we only have one Ali Soufan. Had American intelligence listened to him, 9/11 might never have happened. No one did more to unravel the story of al-Qaeda than Ali Soufan. Thankfully, he's left another legacy in this book. Anyone who wants to know what really happened should read it. It's an inspiring but wrenching story told from the heart of a great American.
— Lawrence Wright, author of The Looming Tower: Al-Qaeda and the Road to 9/11
W. W. Norton & Company, 9780393079425, 608pp.
Publication Date: September 12, 2011
About the Author
Ali Soufan, a former FBI special agent and the lead investigator on some of the world's?most complex international terrorism cases, gained an?international reputation as a top counterterrorism operative. He is the chairman and CEO of The Soufan Group, founder of The Soufan Center, and has been featured in books, films, television series, newspaper articles, and documentaries across the globe.
Coverage from NPR