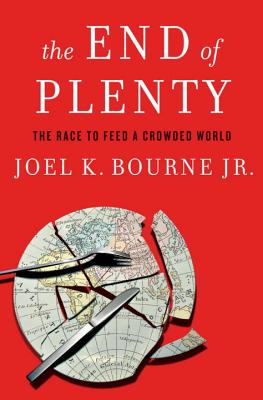 The End of Plenty
The Race to Feed a Crowded World
Hardcover

* Individual store prices may vary.
Other Editions of This Title:
Paperback (6/14/2016)
MP3 CD (1/19/2016)
Description
An award-winning environmental journalist introduces a new generation of farmers and scientists on the frontlines of the next green revolution.
When the demographer Robert Malthus (1766–1834) famously outlined the brutal relationship between food and population, he never imagined the success of modern scientific agriculture. In the mid-twentieth century, an unprecedented agricultural advancement known as the Green Revolution brought hybrid seeds, chemical fertilizers, and improved irrigation that drove the greatest population boom in history—but left ecological devastation in its wake.
In The End of Plenty, award-winning environmental journalist Joel K. Bourne Jr. puts our race to feed the world in dramatic perspective. With a skyrocketing world population and tightening global grain supplies spurring riots and revolutions, humanity must produce as much food in the next four decades as it has since the beginning of civilization to avoid a Malthusian catastrophe. Yet climate change could render half our farmland useless by century's end.
Writing with an agronomist's eye for practical solutions and a journalist's keen sense of character, detail, and the natural world, Bourne takes readers from his family farm to international agricultural hotspots to introduce the new generation of farmers and scientists engaged in the greatest challenge humanity has ever faced. He discovers young, corporate cowboys trying to revive Ukraine as Europe's breadbasket, a Canadian aquaculturist channeling ancient Chinese traditions, the visionary behind the world's largest organic sugar-cane plantation, and many other extraordinary individuals struggling to increase food supplies—quickly and sustainably—as droughts, floods, and heat waves hammer crops around the globe.
Part history, part reportage and advocacy, The End of Plenty is a panoramic account of the future of food, and a clarion call for anyone concerned about our planet and its people.
Praise For The End of Plenty: The Race to Feed a Crowded World…
[A] fascinating narrative…Bourne brings a piercing eye to intransigent problems in food production and alleviation of hunger, leavened by notes of pragmatism and optimism.
— Jean L. Steiner - Science

Humanity's most important activity is getting food, and billions of people already are lacking sufficient calories or micronutrients to lead satisfactory lives. The prospect of having to feed billions more by midcentury is daunting, and yet the scale of the crisis is barely recognized by most people. The End of Plenty should provide an important antidote for that— both covering the overall situation and giving interesting vignettes of problems and potential solutions. It's an important read for everyone.

— Paul R. Ehrlich, co-author of The Dominant Animal

Fifty years ago, as many as one out of every three people lived in hunger. Today, the figure is about one in eight—history's biggest, fastest increase in human well-being. Now, though, scientists and economists increasingly fear that this great accomplishment is at risk. Simply put, the world's agricultural systems may not be able to provide enough food for the nine or ten billion people who will be alive in 2050. Joel Bourne, who grew up working on his family's farm, traveled the world to explore what may be the greatest challenge facing the next generation. The result is calm, lucid—and fascinating.
— Charles C. Mann, author of 1491 and 1493

Thoroughly researched and exceptionally thoughtful…Joel Bourne's courageous book should convince every reader of the compelling need to address world food problems through more skillful and sustainable agronomy, but also through education, especially of women, and universal family planning.
— Marion Nestle, professor of nutrition, food studies, and public health, New York University, and author of Food Politics

Much of this book is sad and scary—it's going to be hard to feed a world that we're relentlessly heating. But reading about the amazing advances being made by developing-world farmers with 'organic' agriculture left me with a vision of the planet we could still create.
— Bill McKibben, author of Deep Economy

Joel K. Bourne Jr. has written one of the most informative, engaging books on the world food prospect I have ever read.
— Lester R. Brown, president of Earth Policy Institute, and author of Full Planet, Empty Plates

The End of Plenty is an urgent and at times terrifying dispatch from a distinguished reporter who has given heart and soul to his subject. Here is a wake-up call, and also a call to action. The stakes could not be higher: To stave off apocalypse, we must grow a whole lot smarter in a hurry—starting by heeding the cutting-edge wisdom contained in Joel Bourne's richly researched and passionately argued report from the Malthusian margins.

— Hampton Sides, editor-at-large for Outside magazine and author of In the Kingdom of Ice

In a well-documented and fast-moving manner, Joel Bourne Jr., one of America's foremost experts by virtue of his 'hands-on' experience, education, and world travel, clearly depicts a strategic challenge for America's national security in the coming years. Today, when a humanitarian crisis occurs or an event takes place that overwhelms the elected government, often the first sign of hope is the arrival of a United States Air Force plane or Navy ship bringing relief supplies. 'As the better Angels of mercy,' as President Abraham Lincoln once said, Americans feel compelled to help. Most often, because they move fast and are highly visible, our armed forces bear the brunt. If history is prologue, this developing crisis may well overwhelm our armed forces, and indeed, America. Joel has shown, beyond a reasonable doubt, that the time for action is NOW—and the consequences for failing to heed his advice may be devastating!
— Henry H. Shelton, General, US Army (retired), 14th Chairman Joint Chiefs of Staff
W. W. Norton & Company, 9780393079531, 416pp.
Publication Date: June 15, 2015
About the Author
Joel K. Bourne Jr. has a BS in agronomy from North Carolina State University and an MS in journalism from Columbia University. A contributing writer for National Geographic, he has written for Audubon, Science, and Outside, among others. He lives in Wilmington, North Carolina.
Coverage from NPR
or
Not Currently Available for Direct Purchase