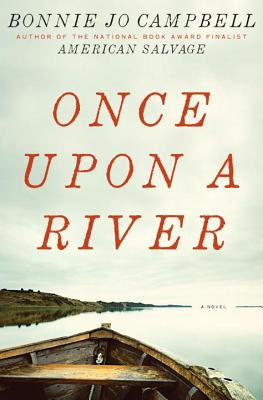 Once Upon a River
A Novel
Hardcover

* Individual store prices may vary.
Other Editions of This Title:
Paperback (6/4/2012)
Hardcover, Large Print (9/7/2011)
Paperback (7/1/2011)
Description
From the National Book Award and National Book Critics Circle Award finalist—an odyssey of a novel about a girl's search for love and identity.
Bonnie Jo Campbell has created an unforgettable heroine in sixteen-year-old Margo Crane, a beauty whose unflinching gaze and uncanny ability with a rifle have not made her life any easier. After the violent death of her father, in which she is complicit, Margo takes to the Stark River in her boat, with only a few supplies and a biography of Annie Oakley, in search of her vanished mother. But the river, Margo's childhood paradise, is a dangerous place for a young woman traveling alone, and she must be strong to survive, using her knowledge of the natural world and her ability to look unsparingly into the hearts of those around her. Her river odyssey through rural Michigan becomes a defining journey, one that leads her beyond self-preservation and to the decision of what price she is willing to pay for her choices.
Praise For Once Upon a River: A Novel…
It is, rather, an excellent American parable about the consequences of our favorite ideal, freedom.
— New York Times Book Review

American fiction waited a long time for Bonnie Jo Campbell to come along. A lot of us, not only women, were looking for a fictional heroine who would be deeply good, brave as a wolverine, never a cry baby, as able as Sacagawea, with a strong and unapologetic sexuality. We wanted to feel her roots in some ancient story, we wanted Diana the huntress, but not her virginity; we wanted a real human girl who we could believe had been suckled by bears, or wolves. To give us heroines like this, the god finally brought us Bonnie Jo Campbell, one of our most important and necessary writers, and Margo Crane, the central character of Once Upon A River, an outcast, feral beauty who can shoot like Annie Oakley, is her most poignant and mythic creation so far.

— Jaimy Gordon, National Book Award winner

Campbell is a bard, a full-throated singer whose melodies are odes to farms and water and livestock and fishing rods and rifles, and to hardworking folks who know the value of life as well as the randomness of life's troubles.
— Lisa Schwarzbaum - Entertainment Weekly

...the book is a violent but inspiring tale packed with colorful river dwellers, a working-class community of power company and metal workers, farmers, hunters and housewives....Campbell has created a character with an iron gut and a heart to match, recalling powerful heroines like Clara of Joyce Carol Oates' A Garden of Earthly Delights and Ree of Daniel Woodrell's Winter's Bone.

— Liz Colville - NPR.org

This is a splendid story of survival in extremis, with a searingly original heroine.
— Parade

With all the fixings of a Johnny Cash song—love, loss, redemption—Campbell captures these Michiganders and their earthy, brutal paradise in tales rich with insight and well worth the trip.
— Natasha Clark - Elle

Mark Twain owns America's rivers, and writers who venture out on those waters are obliged to acknowledge his dominion. Bonnie Jo Campbell's tough and confident Once Upon a River, about a runaway teenager on Michigan's waterways, pays due homage to the bard of the Mississippi, but the novel also tells its own captivating story

— Sam Sacks - Wall Street Journal

Starred Review. A dramatic and rhapsodic American odyssey. A female Huckleberry Finn. A wild-child-to-caring-woman story as intricately meshed with the natural life of the river as a myth. …she conveys all that Margo does, thinks, and feels with transfixing sensuous precision, from the jolt of a gun to the muscle burn of rowing a boat against the current to the weight of a man. From killing and skinning game to falling in with outlaws and finding refuge with kind if irascible strangers, Margo's earthy education and the profound complexities of her timeless dilemmas are exquisitely rendered and mesmerizingly suspenseful. A glorious novel destined to entrance and provoke.
— Booklist
W. W. Norton & Company, 9780393079890, 348pp.
Publication Date: July 5, 2011
About the Author
Bonnie Jo Campbell teaches in the low-residency MFA program at Pacific University. The author of Once Upon a River, American Salvage, and Mothers, Tell Your Daughters, she lives in Kalamazoo, Michigan.
or
Not Currently Available for Direct Purchase