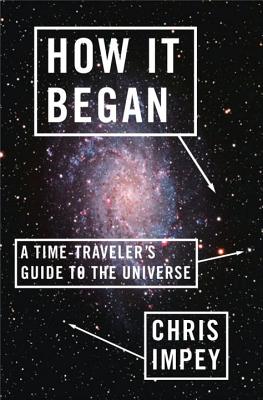 How It Began (Hardcover)
A Time-Traveler's Guide to the Universe
W. W. Norton & Company, 9780393080025, 448pp.
Publication Date: March 26, 2012
Other Editions of This Title:
Paperback (1/14/2013)
Compact Disc (4/23/2012)
MP3 CD (4/23/2012)
Compact Disc (4/23/2012)
* Individual store prices may vary.
Description
A majestic account of the most fascinating phenomena in our universe—and the science behind them.
In this vibrant, eye-opening tour of milestones in the history of our universe, Chris Impey guides us through space and time, leading us from the familiar sights of the night sky to the dazzlingly strange aftermath of the Big Bang.
What if we could look into space and see not only our place in the universe but also how we came to be here? As it happens, we can. Because it takes time for light to travel, we see more and more distant regions of the universe as they were in the successively greater past. Impey uses this concept—"look-back time"—to take us on an intergalactic tour that is simultaneously out in space and back in time. Performing a type of cosmic archaeology, Impey brilliantly describes the astronomical clues that scientists have used to solve fascinating mysteries about the origins and development of our universe.
The milestones on this journey range from the nearby to the remote: we travel from the Moon, Jupiter, and the black hole at the heart of our galaxy all the way to the first star, the first ray of light, and even the strange, roiling conditions of the infant universe, an intense and volatile environment in which matter was created from pure energy. Impey gives us breathtaking visual descriptions and also explains what each landmark can reveal about the universe and its history. His lucid, wonderfully engaging scientific discussions bring us to the brink of modern cosmology and physics, illuminating such mind-bending concepts as invisible dimensions, timelessness, and multiple universes.
A dynamic and unforgettable portrait of the cosmos,
How It Began
will reward its readers with a deeper understanding of the universe we inhabit as well as a renewed sense of wonder at its beauty and mystery.
About the Author
Chris Impey is a distinguished professor in the Department of Astronomy at the University of Arizona and the critically-acclaimed author of Beyond, How It Began, and How It Ends, and four other books, as well as two astronomy textbooks. He lives in Tucson, Arizona.
Praise For How It Began: A Time-Traveler's Guide to the Universe…
The universe is a big place. It's not easy to pack it all into a single book. Chris Impey takes on this difficult task with gusto, starting in the vicinity of the Earth and gradually moving outwards to the edge of the cosmos. This is a compelling story of science and the human faces behind it.
— Sean Carroll, author of From Eternity to Here: The Quest for the Ultimate Theory of Time

Chris Impey has achieved the near-impossible: an accurate, up-to-date account of 'the state of the universe' that is told in gripping human terms. A great achievement and a 'must-read' book.
— Ben Bova, author of Faint Echoes, Distant Stars

How It Began is the perfect companion to How It Ends—another star-studded tour of the cosmos, full of fascinating ports of call and revealing views of Earth, this time with imaginary voyaging which really brings the journey alive.

— Diane Ackerman, author of One Hundred Names for Love

Here is a universe wrapped in a dream of spacefaring for everyone to share. Author Chris Impey combines the vision of a practicing scientist with the voice of a gifted storyteller. He has crafted some of the finest metaphors imaginable for capturing astronomy's most grandiose concepts. How It Began glitters with a sprinkle of Moon dust.

— Dava Sobel, author of A More Perfect Heaven: How Copernicus Revolutionized the Cosmos

Starred Review. ...readers learn just how many astrophysical mysteries scientists have already penetrated and how many more they hope to unravel with daring new grand unified theories of the universe. But what will especially impress readers is just how entertaining Impey can make science as he regales them with his own piquant experiences as a researcher and translates arcane mathematics into metaphors (guitar strings, apple pies, Tootsie Pops) drawn from everyday life. Readers will never find more intellectual adventure packed into fewer pages.
or
Not Currently Available for Direct Purchase