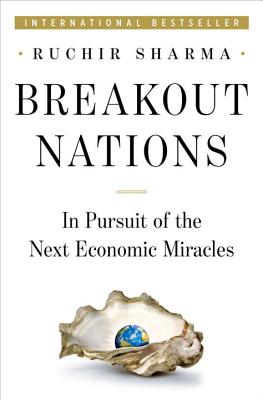 Breakout Nations
In Pursuit of the Next Economic Miracles
Hardcover

* Individual store prices may vary.
Other Editions of This Title:
Digital Audiobook (6/28/2012)
Paperback (4/8/2013)
Compact Disc (7/15/2012)
Hardcover (5/1/2012)
MP3 CD (7/15/2012)
Compact Disc (7/15/2012)
Description
International Bestseller

One of Foreign Policy's "21 Books to Read in 2012"

A Publishers Weekly Top 10 Business Book



After a decade of rapid growth, the world's most celebrated emerging markets are poised to slow down. Which countries will rise to challenge them?
To identify the economic stars of the future we should abandon the habit of extrapolating from the recent past and lumping wildly diverse countries together. We need to remember that sustained economic success is a rare phenomenon.
As an era of easy money and easy growth comes to a close, China in particular will cool down. Other major players including Brazil, Russia, and India face their own daunting challenges and inflated expectations. The new "breakout nations" will probably spring from the margins, even from the shadows. Ruchir Sharma, one of the world's largest investors in emerging markets for Morgan Stanley, here identifies which are most likely to leap ahead and why.
After two decades spent traveling the globe tracking the progress of developing countries, Sharma has produced a book full of surprises: why the overpriced cocktails in Rio are a sign of revival in Detroit; how the threat of the "population bomb" came to be seen as a competitive advantage; how an industrial revolution in Asia is redefining what manufacturing can do for a modern economy; and how the coming shakeout in the big emerging markets could shift the spotlight back to the West, especially American technology and German manufacturing.
What emerges is a clear picture of the shifting balance of global economic power and how it plays out for emerging nations and for the West. In a captivating exploration studded with vignettes, Sharma reveals his rules on how to spot economic success stories. Breakout Nations is a rollicking education for anyone looking to understand where the future will happen.
Praise For Breakout Nations: In Pursuit of the Next Economic Miracles…
The head of Morgan Stanley's emerging markets division conducts a brisk worldwide tour in search of new markets ready for takeoff. No first-book jitters for Sharma, longtime columnist for the likes of Newsweek and the Wall Street Journal. His smooth, almost chummy style suits him ideally for guiding civilians through the sometimes-arcane thicket of the dismal science, looking for those emerging markets likely to disappoint or exceed expectations in the coming years... Confining his predictions to the near future, Sharma refreshingly comes across as that rare thing Harry Truman once sought: a 'one-handed economist' willing to stake his reputation without resort to "on the other hand" equivocation. For investors looking to place their bets and for general readers looking to understand the global economic landscape in the wake of the Great Recession.

— Kirkus Reviews

Breakout Nations works best as a compilation of highly illuminating country vignettes—similar, say, to Michael Lewis' Boomerang... As with Mr. Lewis' work on the European crisis, for sheer readability and insight on the various parts of the ongoing developing world drama, I dare say you won't find a better choice.

— Jonathan Anderson - Wall Street Journal

Breakout Nations is basically an investors lonely planet guide to the world for the new century.

— Bloomberg "On the Economy"

[A] country-by-country tour de force of what makes emerging markets tick. He is an excellent writer with a keen eye for detail and a lyrical prose sense... As with Michael Lewis' Boomerang on the European crisis, for sheer readability and insight on the various parts of the ongoing emerging drama I daresay you won't find a better choice.

— Jon Anderson - Wall Street Journal

This week's Book of the Week is, Breakout Nations by Ruchir Sharma, one of the world's leading emerging market investors. This is the best book on global economic trends I've read in a while.

— Fareed Zakaria, CNN GPS

Mr. Sharma's intent is to help you find the best places around the world to invest, emphasizing that it will take some work on your part.
— New York Times

At the core of this impressive book is the counter-intuitive argument that the boom of the mid-2000s was a blip in the long historical trend for emerging economies and that the next decade may be one of decelerating. In Sharma's view, the much-hyped decline of the West and emergence of the rest may take a lot longer than optimists would like to believe.
— India Today Magazine

... it's refreshing to read Breakout Nations, Ruchir Sharma's book on the Bric countries—Brazil, Russia, India, China—and the rest of the developing world... [H]is book offers a careful view that has little truck with forecasts of the relentless Bric-led rise of the emerging world.

— Financial Times

A primer to guide us... this is a great road-map to the new and better-balanced world in which we will all live, and an encouraging one.
— The Independent

It is really the focus of economic attention around the world. It is a whole new look at which economies are going to be winners and which are going to be losers.
— Prannoy Roy, NDTV

There is no better book for country-by-country accounts of emerging markets (and riskier ones called frontier markets). Its strong point is the author's reliance on grassroots experience in each country, avoiding statistical charts.
— Times of India

This is among the best books to understand the emerging world and its positive and negative aspects. Sharma matches the brilliance of Thomas L Friedman, author of the widely cited The World is Flat.

— CNN-IBN
W. W. Norton & Company, 9780393080261, 304pp.
Publication Date: April 9, 2012
About the Author
Ruchir Sharma penned the international bestseller Breakout Nations and is a contributing op-ed writer at the New York Times. His commentary has also appeared in the Wall Street Journal, the Financial Times, Foreign Affairs, and other publications. He is chief global strategist at Morgan Stanley Investment Management, based in New York.
or
Not Currently Available for Direct Purchase