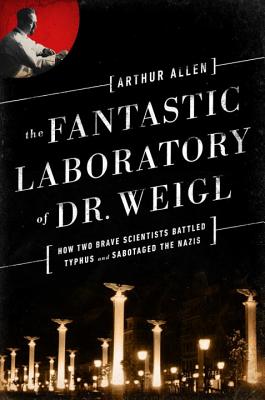 The Fantastic Laboratory of Dr. Weigl
How Two Brave Scientists Battled Typhus and Sabotaged the Nazis
Hardcover

* Individual store prices may vary.
Other Editions of This Title:
Paperback (7/6/2015)
Description
From a laboratory in wartime Poland comes a fascinating story of anti-Nazi resistance and scientific ingenuity.
Few diseases are more gruesome than typhus. Transmitted by body lice, it afflicts the dispossessed—refugees, soldiers, and ghettoized peoples—causing hallucinations, terrible headaches, boiling fever, and often death. The disease plagued the German army on the Eastern Front and left the Reich desperate for a vaccine. For this they turned to the brilliant and eccentric Polish zoologist Rudolf Weigl.
In the 1920s, Weigl had created the first typhus vaccine using a method as bold as it was dangerous for its use of living human subjects. The astonishing success of Weigl's techniques attracted the attention and admiration of the world—giving him cover during the Nazi's violent occupation of Lviv. His lab soon flourished as a hotbed of resistance. Weigl hired otherwise doomed mathematicians, writers, doctors, and other thinkers, protecting them from atrocity. The team engaged in a sabotage campaign by sending illegal doses of the vaccine into the Polish ghettos while shipping gallons of the weakened serum to the Wehrmacht.
Among the scientists saved by Weigl, who was a Christian, was a gifted Jewish immunologist named Ludwik Fleck. Condemned to Buchenwald and pressured to re-create the typhus vaccine under the direction of a sadistic Nazi doctor, Erwin Ding-Schuler, Fleck had to make an awful choice between his scientific ideals or the truth of his conscience. In risking his life to carry out a dramatic subterfuge to vaccinate the camp's most endangered prisoners, Fleck performed an act of great heroism.
Drawing on extensive research and interviews with survivors, Arthur Allen tells the harrowing story of two brave scientists—a Christian and a Jew— who put their expertise to the best possible use, at the highest personal danger.
Praise For The Fantastic Laboratory of Dr. Weigl: How Two Brave Scientists Battled Typhus and Sabotaged the Nazis…
If there could be no poetry after Auschwitz, could there be any pure science or medicine? In this excellent and disturbing work, Arthur Allen brings to light an extraordinary story of medical research amid horror. Among the fascinating characters in this history, we encounter one of the great founders of the sociology of science, Ludwik Fleck, and the depraved thought collectives he endured, ones that equated lice and disease with a people and their extermination. Unforgettable.
— George Makari, author of Revolution in Mind: The Creation of Psychoanalysis

The amazing story of Jewish prisoner-scientists in Buchenwald who made a vaccine against one of history's greatest killers: typhus. Their untold secret--they provided the real vaccine to camp inmates but a fake one to German troops at the Eastern Front. Arthur Allen's thriller is a combination of Microbe Hunters, Schindler's List, and The Twilight Zone. I couldn't put it down.

— Paul A. Offit, M.D.

With masterful attention to detail, Arthur Allen has assembled a story of tragedy, courage, and scientific creativity. A fantastic laboratory, and a fantastic book.
— Nathan Guttman, Washington bureau chief, The Forward

An outstanding history of the pursuit of a vaccine by persons at great risk from the Nazis, and a human story of science and medicine amid the atrocities of World War II. The science is accurate, but of far greater interest is the history of this period and hopefully the lessons it has for our future.
— Dr. Walter Orenstein, former director, National Immunization Program, CDC

A captivating story of ethics during wartime and the perils of working with the enemy.
— Publishers Weekly

Allen is unflinching in his retelling of this monstrous era, but he manages to avoid writing a depressing narrative. Instead, Weigl, Fleck and their vaccines illuminate the inherent social complexities of science and truth and reinforce the overriding good of man. An unforgettable book.
— Kirkus Reviews, Starred Review

Fascinating.
— Tilli Tansey - Nature

Wholly surprising and affecting.
— Jonathan Kirsch - Jewish Journal

Painfully thought-provoking … [Allen] writes without sanctimony and never simplifies the people in his book or the moral issues his story inevitably raises.
— Howard Schneider - Wall Street Journal

Allen's vivid depictions of the scientific community before and during the war and the treacherous parallel paths Weigl and Fleck traversed—gleaned in part from interviews with Holocaust survivors—are stirring. Considering all the energy channeled into mere survival, Allen's book makes you wonder what pinnacles of research might have been achieved by now, if not for the march of war.
— Laura Fischer Kaiser - ScienceNews
W. W. Norton & Company, 9780393081015, 400pp.
Publication Date: July 21, 2014
About the Author
Arthur Allen has written for the New York Times Magazine, the Washington Post, The Atlantic, the Associated Press, Science, and Slate. His books include Vaccine: The Controversial Story of Medicine's Greatest Lifesaver. He lives in Washington, where he writes about health for Politico.
Coverage from NPR
or
Not Currently Available for Direct Purchase