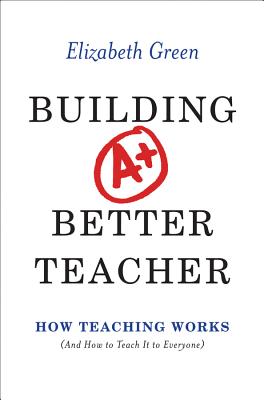 Building a Better Teacher
How Teaching Works (and How to Teach It to Everyone)
Hardcover

* Individual store prices may vary.
Other Editions of This Title:
Digital Audiobook (8/31/2014)
Paperback (7/13/2015)
Compact Disc (9/1/2014)
Compact Disc (9/1/2014)
MP3 CD (9/1/2014)
Description
A 2014 New York Times Book Review Notable Book
We've all had great teachers who opened new worlds, maybe even changed our lives. What made them so great?
Everyone agrees that a great teacher can have an enormous impact. Yet we still don't know what, precisely, makes a teacher great. Is it a matter of natural-born charisma? Or does exceptional teaching require something more?
Building a Better Teacher introduces a new generation of educators exploring the intricate science underlying their art. A former principal studies the country's star teachers and discovers a set of common techniques that help children pay attention. Two math teachers videotape a year of lessons and develop an approach that has nine-year-olds writing sophisticated mathematical proofs. A former high school teacher works with a top English instructor to pinpoint the key interactions a teacher must foster to initiate a rich classroom discussion. Through their stories, and the hilarious and heartbreaking theater that unfolds in the classroom every day, Elizabeth Green takes us on a journey into the heart of a profession that impacts every child in America.
What happens in the classroom of a great teacher? Opening with a moment-by-moment portrait of an everyday math lesson—a drama of urgent decisions and artful maneuvers—Building a Better Teacher demonstrates the unexpected complexity of teaching. Green focuses on the questions that really matter: How do we prepare teachers and what should they know before they enter the classroom? How does one get young minds to reason, conjecture, prove, and understand? What are the keys to good discipline? Incorporating new research from cognitive psychologists and education specialists as well as intrepid classroom entrepreneurs, Green provides a new way for parents to judge what their children need in the classroom and considers how to scale good ideas. Ultimately, Green discovers that good teaching is a skill. A skill that can be taught.
A provocative and hopeful book, Building a Better Teacher shows that legendary teachers are more than inspiring; they are perhaps the greatest craftspeople of all.
Praise For Building a Better Teacher: How Teaching Works (and How to Teach It to Everyone)…
Both a history of the research on effective teaching as well as a consideration of how that research might best be implemented. What emerges is the gaping chasm between what the best teachers do and how we go about evaluating what they've done.
— Sebastian Stockman - New York Times Book Review

We romanticize teachers, and we vilify them, but we don't do much to help. This beautifully written, defiantly hopeful book points the way to a better future for American teachers and the children they teach.
— Paul Tough, bestselling author of How Children Succeed

In this fascinating and accessible book, Elizabeth Green tells the story of the country's leading researchers on the all-important questions of what makes for an effective classroom teacher and how teachers can be trained to do their jobs better. That the story feels completely fresh is testament not only to Green's skill as a reporter and writer but also to how beside-the-point much of the national conversation about education is. Green's book ought to persuade the country to focus on what really matters in education.
— Nicholas Lemann, professor and dean emeritus at the Columbia University Graduate School of Journalism

Elizabeth Green reveals, in cinematic detail, what makes great teaching such a dazzling intellectual challenge—and why it has taken us so unforgivably long to care. A must-read book for every American teacher and taxpayer.
— Amanda Ripley, author of The Smartest Kids in the World

In vivid detail, Elizabeth Green chronicles the long, uncertain, but ultimately promising efforts, based on research, to improve teaching in American schools.
— Howard Gardner, coauthor of The App Generation and author of Frames of Mind: The Theory of Multiple Intelligences

Great education is the foundation of a flourishing society, and it depends on great teachers. Building a Better Teacher illuminates how we can develop gifted educators who prepare children for a brighter future. With strong evidence and compelling cases, Elizabeth Green has written an important book that every educator ought to read.

— Adam Grant, Wharton professor and best-selling author of Give and Take

[Green] makes the case through thoughtful details that great teachers are made, not born… she brings hope and renewal to the field.
— Angela Leeper - Bookpage

Elizabeth Green draws upon years of interviews and research as an education writer and CEO of Chalkbeat to make the case for why teaching is a craft and that it can be taught to anyone. Her excellent book should be read for a detailed account of the history of teacher education, an international context, and an entertaining narrative.
— Jonathan Wai - Psychology Today

Green has spent years looking at what makes a great teacher—and whether the teachers we remember most fondly were born great or simply learned key skills.
— Greg Toppo - USA Today

At the heart of Green's exploration is a powerfully simple idea: that teaching is not some mystical talent but a set of best practices that can be codified and learned through extensive hands-on coaching, self-scrutiny, and collaboration.
— Sara Mosle - The Atlantic

Peek[s] into real classrooms, allowing readers to observe what great teachers do and how.
— Kate Tuttle - Boston Globe

[S]hould be part of every new teacher's education.
— Michael S. Roth - The Washington Post

Everyone who cares about teaching should read [Building a Better Teacher]. Right away.

— Judith Shulevitz

Timely… Elizabeth Green shows herself to be a talented young journalist.
— Sol Stern - City Journal
W. W. Norton & Company, 9780393081596, 384pp.
Publication Date: August 4, 2014
About the Author
Elizabeth Green is cofounder, CEO, and editor in chief of Chalkbeat, a nonprofit education news organization. A former Spencer Fellow at the Columbia School of Journalism, she has written for New York Times Magazine and other publications.
Coverage from NPR
or
Not Currently Available for Direct Purchase