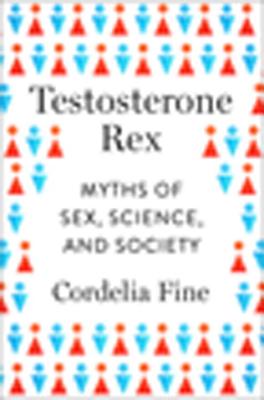 Testosterone Rex
Myths of Sex, Science, and Society
Hardcover

* Individual store prices may vary.
Other Editions of This Title:
Paperback (2/20/2018)
Compact Disc (1/24/2017)
Description
"Goodbye, beliefs in sex differences disguised as evolutionary facts. Welcome the dragon slayer: Cordelia Fine wittily but meticulously lays bare the irrational arguments that we use to justify gender politics."—Uta Frith, emeritus professor of cognitive development, University College London
Many people believe that, at its core, biological sex is a fundamental, diverging force in human development. According to this overly familiar story, differences between the sexes are shaped by past evolutionary pressures—women are more cautious and parenting-focused, while men seek status to attract more mates. In each succeeding generation, sex hormones and male and female brains are thought to continue to reinforce these unbreachable distinctions, making for entrenched inequalities in modern society.
In Testosterone Rex, psychologist Cordelia Fine wittily explains why past and present sex roles are only serving suggestions for the future, revealing a much more dynamic situation through an entertaining and well-documented exploration of the latest research that draws on evolutionary science, psychology, neuroscience, endocrinology, and philosophy. She uses stories from daily life, scientific research, and common sense to break through the din of cultural assumptions. Testosterone, for instance, is not the potent hormonal essence of masculinity; the presumed, built-in preferences of each sex, from toys to financial risk taking, are turned on their heads.
Moving beyond the old "nature versus nurture" debates, Testosterone Rex disproves ingrained myths and calls for a more equal society based on both sexes' full, human potential.
Praise For Testosterone Rex: Myths of Sex, Science, and Society…
Fine's funny, spiky book gives reason to hope that we've heard Testosterone rex's last roar.
— Annie Murphy Paul

Fascinating [and] bold. . . . Fine has written a book that's not only well-researched and convincing but also . . . delightfully humorous.
— Barbara J. King

In this witty corrective, psychologist Cordelia Fine examines the fraying "biological big picture" of sexual selection, and corrals findings in evolutionary science, neuroscience and endocrinology to add nuance to it.
— Barbara Kiser

The expression 'essential reading for everyone' is usually untrue as well as a cliché, but if there were a book deserving of that description this might just be it.
— Antonia Macaro

In addition to being hopeful, Fine is also angry. We should all be angry. Testosterone Rex is a debunking rumble that ought to inspire a roar.


[Fine] convincingly and entertainingly demonstrates that, despite stereotypes, such characteristics as risk-taking, competitiveness and nurturing are not "essential" to one sex over the other and cannot be blamed for the lack of equality between males and females in contemporary society.
— Clara Moskowitz

Cordelia Fine's Testosterone Rex: Myths of Sex, Science, and Society does the public service of deconstructing the biological and societal tenets on which the continued inequality of the sexes is largely founded. . . . Using humor and her uniquely accessible academic writing style, . . . [Fine disrupts] what we think we know about gender difference.

— Katie Klabusich

A provocative and often fascinating book.
W. W. Norton & Company, 9780393082081, 272pp.
Publication Date: January 24, 2017
About the Author
Cordelia Fine, an associate professor at the University of Melbourne, is author of the much-acclaimed Delusions of Gender and A Mind of Its Own.