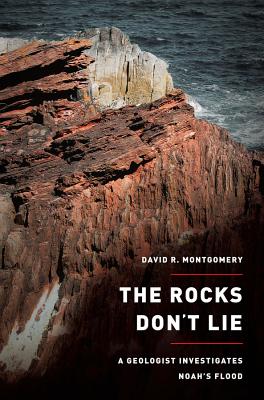 The Rocks Don't Lie
A Geologist Investigates Noah's Flood
Hardcover

* Individual store prices may vary.
Other Editions of This Title:
Paperback (4/22/2013)
Description
How the mystery of the Bible's greatest story shaped geology: a MacArthur Fellow presents a surprising perspective on Noah's Flood.
In Tibet, geologist David R. Montgomery heard a local story about a great flood that bore a striking similarity to Noah's Flood. Intrigued, Montgomery began investigating the world's flood stories and—drawing from historic works by theologians, natural philosophers, and scientists—discovered the counterintuitive role Noah's Flood played in the development of both geology and creationism. Steno, the grandfather of geology, even invoked the Flood in laying geology's founding principles based on his observations of northern Italian landscapes. Centuries later, the founders of modern creationism based their irrational view of a global flood on a perceptive critique of geology. With an explorer's eye and a refreshing approach to both faith and science, Montgomery takes readers on a journey across landscapes and cultures. In the process we discover the illusive nature of truth, whether viewed through the lens of science or religion, and how it changed through history and continues changing, even today.
Praise For The Rocks Don't Lie: A Geologist Investigates Noah's Flood…
Examining a wide variety of flood and creation stories across centuries, Montgomery provides an enthusiastic and valuable recounting of the history of geology and how the advances in science have consistently faced opposition from the guardians of so-called religious authority, based on a literal reading of the Bible.

Montgomery... offers a thorough critique of creationist worldviews... while treating his opponents with respect, reflecting on both ancient and modern debates and demonstrating that Christians have been arguing among themselves about these subjects for millennia. ...The combination of historical study and humility on behalf of geology makes for an extremely persuasive work. Highly recommended.
— John M. Kistler
W. W. Norton & Company, 9780393082395, 320pp.
Publication Date: August 27, 2012
About the Author
David R. Montgomery is a professor of Earth and space sciences at the University of Washington. He studies the evolution of topography and the influence of geomorphological processes on ecological systems and human societies. He received a BS from Stanford University (1984, geology) and a PhD from UC Berkeley (1991, geomorphology). His field studies have included projects in the Philippines, eastern Tibet, South America, California, and the Pacific Northwest of North America. In 2008 Montgomery received a MacArthur Fellowship. His books Dirt: The Erosion of Civilizations, King of Fish: The Thousand-Year Run of Salmon, and The Rocks Don't Lie: A Geologist Investigates Noah's Flood have all won the Washington State Book Award in General Nonfiction. Montgomery's latest book, Growing a Revolution: Bringing Our Soil Back to Life, was a finalist for the PEN/E.O. Wilson award for Literary Science Writing. His books have been translated into nine languages.
or
Not Currently Available for Direct Purchase