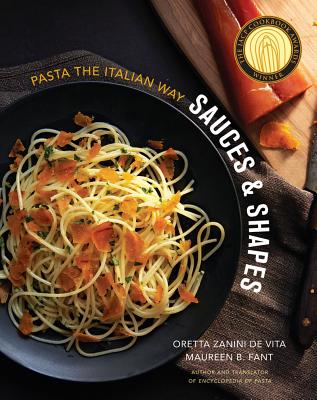 Sauces & Shapes
Pasta the Italian Way
Hardcover

* Individual store prices may vary.
Description
Winner of the International Association of Culinary Association (IACP) Award



The indispensable cookbook for genuine Italian sauces and the traditional pasta shapes that go with them.
Pasta is so universally popular in the United States that it can justifiably be called an American food. This book makes the case for keeping it Italian with recipes for sauces and soups as cooked in Italian homes today. There are authentic versions of such favorites as carbonara, bolognese, marinara, and Alfredo, as well as plenty of unusual but no less traditional sauces, based on roasts, ribs, rabbit, clams, eggplant, arugula, and mushrooms, to name but a few.
Anyone who cooks or eats pasta needs this book. The straightforward recipes are easy enough for the inexperienced, but even professional chefs will grasp the elegance of their simplicity.
Cooking pasta the Italian way means:


Keep your eye on the pot, not the clock.


Respect tradition, but don't be a slave to it.


Choose a compatible pasta shape for your sauce or soup, but remember they aren't matched by computer. (And that angel hair goes with broth, not sauce.)


Use the best ingredients you can find—and you can find plenty on the Internet.


Resist the urge to embellish, add, or substitute. But minor variations usually enhance a dish.


How much salt? Don't ask, taste!


Serving and eating pasta the Italian way means:


Use a spoon for soup, not for twirling spaghetti.


Learn to twirl; never cut.


Never add too much cheese, and often add none at all.


Toss the cheese and pasta before adding the sauce.


Warm the dishes.Serve pasta alone. The salad comes after.


To be perfectly proper, use a plate, not a bowl.


The authors are reluctant to compromise because they know how good well-made pasta can be. But they keep their sense of humor and are sympathetic to all well-intentioned readers.
Praise For Sauces & Shapes: Pasta the Italian Way…
Spend a little time with Sauces and Shapes and instead of asking why anyone might need yet another pasta cookbook, you might find yourself wondering why you would keep all those others.

— Russ Parsons - Los Angeles Times

Revelation lies between these covers…This book is as much a fascinating lesson in Italian character as it is generous with dishes rarely tasted beyond their home kitchens.
— Lynne Rossetto Kasper, host of American Public Media's The Splendid Table®

Sauces & Shapes could well be the book that retires all other pasta books…The table of contents alone reads like the most tantalizing trattoria menu from which you just can't decide which dish to order.

— Danny Meyer, author of Setting the Table

Zanini De Vita and Fant's Sauces & Shapes accomplishes the impressive feat of presenting a thoroughly Italian perspective on pasta in a package that all American cooks can use and understand.

— Mitchell Davis, executive vice president of the James Beard Foundation and author of Kitchen Sense

If you like Italian cooking, Sauces & Shapes will become a timeless, cherished companion.

— Amanda Hesser, cofounder of Food52 and the author of The Essential New York Times Cookbook

This book is meant to help those outside of Italy cook like Italians.
— Publishers Weekly (starred review)
W. W. Norton & Company, 9780393082432, 400pp.
Publication Date: October 14, 2013
About the Author
Oretta Zanini De Vita was born in Bologna, where she learned the art of pasta making as a child in a local convent school. A respected Italian culinary historian, she has written more than forty books on Italian food and its traditions, including the James Beard Award–winning Encyclopedia of Pasta (2010) and Popes, Peasants, and Shepherds: Recipes and Lore from Rome and Lazio (2013), both translated by Maureen B. Fant. She lives in Rome.

Maureen B. Fant, a native of New York, is a writer and translator who came to live in Rome in 1979 believing that her future lay in classical archaeology. She now writes mostly about Italian food. She is the coauthor of Women's Life in Greece and Rome and Dictionary of Italian Cuisine, among others. Her writing has appeared in the New York Times, Gourmet, and other periodicals, and she lectures on the food of Rome and ancient Rome.
or
Not Currently Available for Direct Purchase