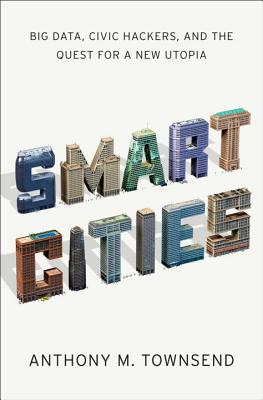 Smart Cities
Big Data, Civic Hackers, and the Quest for a New Utopia
Hardcover

* Individual store prices may vary.
Other Editions of This Title:
Paperback (10/6/2014)
Description
An unflinching look at the aspiring city-builders of our smart, mobile, connected future.
We live in a world defined by urbanization and digital ubiquity, where mobile broadband connections outnumber fixed ones, machines dominate a new "internet of things," and more people live in cities than in the countryside.
In Smart Cities, urbanist and technology expert Anthony Townsend takes a broad historical look at the forces that have shaped the planning and design of cities and information technologies from the rise of the great industrial cities of the nineteenth century to the present. A century ago, the telegraph and the mechanical tabulator were used to tame cities of millions. Today, cellular networks and cloud computing tie together the complex choreography of mega-regions of tens of millions of people.
In response, cities worldwide are deploying technology to address both the timeless challenges of government and the mounting problems posed by human settlements of previously unimaginable size and complexity. In Chicago, GPS sensors on snow plows feed a real-time "plow tracker" map that everyone can access. In Zaragoza, Spain, a "citizen card" can get you on the free city-wide Wi-Fi network, unlock a bike share, check a book out of the library, and pay for your bus ride home. In New York, a guerrilla group of citizen-scientists installed sensors in local sewers to alert you when stormwater runoff overwhelms the system, dumping waste into local waterways.
As technology barons, entrepreneurs, mayors, and an emerging vanguard of civic hackers are trying to shape this new frontier, Smart Cities considers the motivations, aspirations, and shortcomings of them all while offering a new civics to guide our efforts as we build the future together, one click at a time.
Praise For Smart Cities: Big Data, Civic Hackers, and the Quest for a New Utopia…
Less a to-do list than a framework and sensibility, Smart Cities is a timely and necessary guide to this age of the Franken-city.

— Daniel Brook - New York Times Book Review

Anthony Townsend sifts through the hope and the hype of the latest system upgrade for our growing, and increasingly more elusively managed, metropolises — digital technology — emerging with an ambitiously wide-ranging, admirably clear-eyed, and ultimately humanistic guidebook to the connected city.
— Tom Vanderbilt, author of Traffic: Why We Drive the Way We Do (and What It Says About Us)

Today, it's not the height of the skyscrapers, but the depth of the code that drives the modern city. Anthony Townsend brilliantly frames the new forces shaping tomorrow's metropolises. Read Smart Cities and you'll never look at a skyline or walk down a city block the same way again.

— Andrew Zolli, author of Resilience: Why Things Bounce Back

Our cities are in the first act of an unprecedented technodrama. At stake is nothing less than the survival of our urban species. Combining technological sophistication, deep humanity, and an urban planner's sensitivity to the nuances of places, Smart Cities is an essential guide to understanding the technologies changing urban life.

— Andrew Blum, author of Tubes: A Journey to the Center of the Internet

Powerful, readable prose.
— Franklyn Carter - NPR

Of interest to urban planners and designers, tech leaders, and entrepreneurs, Townsend's globe-hopping study examines the trend toward smart cities while addressing pros and cons, as top-down corporate models develop alongside communitarian and entrepreneurial initiatives….The autobiographical passages and close readings of other scrappy innovators are the most enjoyable part of this impressive survey, which tries to secure democratic impulses amid a new gold rush.
— Publishers Weekly

Compelling.
— Melanie Moses - Nature

[Townsend] has written a generous book in clean prose, one that will engage both advanced geeks and cyber-dolts.
— Catherine Tumber - The Nation
W. W. Norton & Company, 9780393082876, 400pp.
Publication Date: October 7, 2013
About the Author
Anthony M. Townsend is the author of Ghost Road and Smart Cities, and the president and founder of Star City Group, a strategic foresight and urban planning studio. He lives in Jersey City, New Jersey.
or
Not Currently Available for Direct Purchase