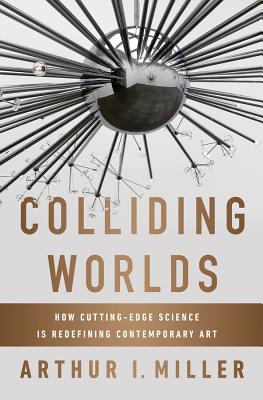 Colliding Worlds
How Cutting-Edge Science Is Redefining Contemporary Art
Hardcover

* Individual store prices may vary.
Description
A dazzling look at the artists working on the frontiers of science.
In recent decades, an exciting new art movement has emerged in which artists utilize and illuminate the latest advances in science. Some of their provocative creations—a live rabbit implanted with the fluorescent gene of a jellyfish, a gigantic glass-and-chrome sculpture of the Big Bang (pictured on the cover)—can be seen in traditional art museums and magazines, while others are being made by leading designers at Pixar, Google's Creative Lab, and the MIT Media Lab. In
Colliding Worlds
, Arthur I. Miller takes readers on a wild journey to explore this new frontier.
Miller, the author of Einstein, Picasso and other celebrated books on science and creativity, traces the movement from its seeds a century ago—when Einstein's theory of relativity helped shape the thinking of the Cubists—to its flowering today. Through interviews with innovative thinkers and artists across disciplines, Miller shows with verve and clarity how discoveries in biotechnology, cosmology, quantum physics, and beyond are animating the work of designers like Neri Oxman, musicians like David Toop, and the artists-in-residence at CERN's Large Hadron Collider.
From NanoArt to Big Data, Miller reveals the extraordinary possibilities when art and science collide.
Praise For Colliding Worlds: How Cutting-Edge Science Is Redefining Contemporary Art…
[An] encyclopedic survey… Dr. Miller's grasp of the scene is impressive.
— Jascha Hoffman - New York Times Book Review

[Arthur I. Miller] deftly demonstrates in this survey of what he calls "artsci" [that] both artists and scientists…have probed the porous borders between art and science, creating aesthetic objects that incorporate scientific ideas… Miller eloquently chronicles the story of artsci in brief vignettes of the lives and works of the individuals working at the intersections of these disciplines.
— Publishers Weekly (starred review)

Arthur I. Miller understands the intersection of art and science better than anyone writing today. In Colliding Worlds, he brilliantly helps us expand our definitions of art and science while encouraging us to appreciate how both involve an intuitive feel for the beauty of the unseen.

— Walter Isaacson, author of Steve Jobs

Arthur I. Miller explores what happens when the brainwaves, objectivity and logic of science spark off the inspiration, subjectivity and wildness of art, and vice versa. After tracing out the contacts between these spheres of endeavor, Miller goes even further, suggesting that the boundaries between them are breaking down: science is redefining contemporary art to seed a third culture.
— Roger Highfield, director of external affairs, Science Museum, London

Arthur I. Miller's Colliding Worlds answers the age-old question of whether art and science can find common ground with a resounding YES! From the foundations of Cubism to bacterial radios, fluorescent rabbits, and musical hyper-instruments, Miller's easygoing, anecdotal, and wide-ranging narrative shows how artists exploit cutting-edge advances in science and technology to alter dramatically the palette of artistic invention.

— Mark Pagel, author of Wired for Culture

Arthur I. Miller has the rare intellectual range to address the ways modern scientific discoveries have nourished the creativity of artists—and that's what he's done in this fine book.
— Martin Rees, Astronomer Royal and author of From Here to Infinity

Illuminating… [A] philosophically rich study of creativity and aesthetics.
— Grace Labatt - Santa Fe New Mexican
W. W. Norton & Company, 9780393083361, 352pp.
Publication Date: June 16, 2014
About the Author
Arthur I. Miller is a professor emeritus at University College London. He has published many critically acclaimed books, including Einstein, Picasso; Empire of the Stars; and 137. He lives in London.
or
Not Currently Available for Direct Purchase