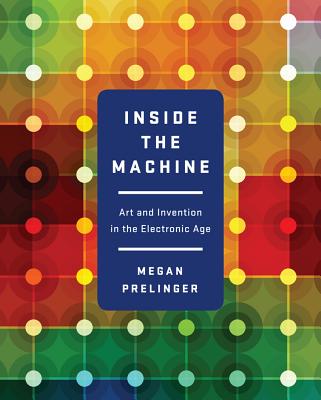 Inside the Machine
Art and Invention in the Electronic Age
Hardcover

* Individual store prices may vary.
Description
A visual history of the electronic age captures the collision of technology and art—and our collective visions of the future.
A hidden history of the twentieth century's brilliant innovations—as seen through art and images of electronics that fed the dreams of millions.
A rich historical account of electronic technology in the twentieth century, Inside the Machine journeys from the very origins of electronics, vacuum tubes, through the invention of cathode-ray tubes and transistors to the bold frontier of digital computing in the 1960s.
But, as cultural historian Megan Prelinger explores here, the history of electronics in the twentieth century is not only a history of scientific discoveries carried out in laboratories across America. It is also a story shaped by a generation of artists, designers, and creative thinkers who gave imaginative form to the most elusive matter of all: electrons and their revolutionary powers.
As inventors learned to channel the flow of electrons, starting revolutions in automation, bionics, and cybernetics, generations of commercial artists moved through the traditions of Futurism, Bauhaus, modernism, and conceptual art, finding ways to link art and technology as never before.
A visual tour of this dynamic era, Inside the Machine traces advances and practical revolutions in automation, bionics, computer language, and even cybernetics. Nestled alongside are surprising glimpses into the inner workings of corporations that shaped the modern world: AT&T, General Electric, Lockheed Martin.
While electronics may have indelibly changed our age, Inside the Machine reveals a little-known explosion of creativity in the history of electronics and the minds behind it.
Praise For Inside the Machine: Art and Invention in the Electronic Age…
Fascinating…. [A] fantastically geeky visual tour of tech industry history as seen through the lens of the commercial art that helped popularize it.
— Meg Miller - Fast Company

Attentive readers of Prelinger's lively chronology will come away with an appreciation of how the visual representations of technology are integral to our understanding of it.
— Chris Rasmussen - Bookforum

Unusual and insightful…. Filled with retro tech-industry ads, magazine covers and other commercial artworks, this erudite book takes readers on a cultural history tour that sharply reveals 'art's ability to touch the intangible and render it visible.'
— John Wilwol - San Francisco Chronicle

[An] unusual and compelling study.
— Nature

An essential and eye-popping visual history of electronics, a glimpse of the electronic infrastructure captured in the brief moment before it miniaturized down to a scale too small for the eye to see, disappearing from our ordinary view forever, even as it burrowed into our buildings, streets, vehicles and even our bodies.
— Cory Doctorow coeditor of Boing Boing and author of In Real Life and Information Doesn't Want to Be Free

A highly original cultural history of 20th-century technology examined through the lens of commercial art…. Sophisticated in its grasp of science and technological history but also accessible to general readers.
— Kirkus Reviews

A tour de force of the computer and electronic age that takes readers on a fascinating voyage that spans everything from graphic renderings of theoretical space gondolas to depictions of transistors as the route to utopia. Like Trevor Paglen's exploration of the visual aspects of secrecy, Megan Prelinger's Inside the Machine provides readers with a unique window into the history of electronics and computer science during the Cold War, and beyond. Merging science with art, Prelinger challenges our linear notions of scientific progress, helping us see a new dimension to our modern technological world.

— Sharon Weinberger, author of Imaginary Weapons: A Journey Through the Pentagon's Scientific Underworld

Because electrons are mostly invisible, our visualizations of them tell us more about our dreams than about electrons. This cool and unusual book gathers our earliest collective dreams about circuits and electronics and makes them visible. It got me thinking about our assumptions for tomorrow. I love it when a book like this makes me see the world differently.
— Kevin Kelly, senior maverick for Wired magazine and author of What Technology Wants
W. W. Norton & Company, 9780393083590, 272pp.
Publication Date: August 17, 2015
About the Author
Megan Prelinger is a cultural historian and archivist, and the author of Another Science Fiction: Advertising the Space Race 1957–1962. She is cofounder and information designer of the Prelinger Library in San Francisco, where she lives.
or
Not Currently Available for Direct Purchase