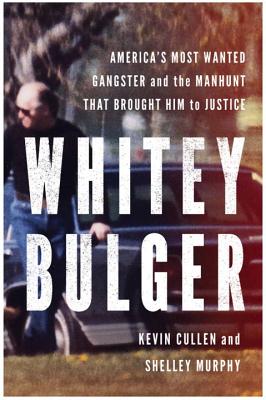 Whitey Bulger
America's Most Wanted Gangster and the Manhunt That Brought Him to Justice
Hardcover

* Individual store prices may vary.
Other Editions of This Title:
Digital Audiobook (5/30/2013)
Paperback (9/23/2013)
Description
This unforgettable narrative follows the astonishing career and epic manhunt for Whitey Bulger—a gangster whose life was more sensational than fiction.
Raised in a South Boston housing project, James "Whitey" Bulger became the most wanted fugitive of his generation. In this riveting story, rich with family ties and intrigue, award-winning 
Boston Globe
 reporters Kevin Cullen and Shelley Murphy follow Whitey's extraordinary criminal career—from teenage thievery to bank robberies to the building of his underworld empire and a string of brutal murders.
It was after a nine-year stint in Alcatraz and other prisons that Whitey reunited with his brother William "Billy" Bulger, who was soon to become one of Massachusetts's most powerful politicians. He also became reacquainted with John Connolly, who had grown up around the corner from the Bulgers and was now—with Billy's help—a rising star at the FBI.
Once Whitey emerged triumphant from the bloody Boston gang wars, Connolly recruited him as an informant against the Mafia. Their clandestine relationship made Whitey untouchable; the FBI overlooked gambling, drugs, and even homicide to protect their source. Among the close-knit Irish community in South Boston, nothing was more important than honor and loyalty, and nothing was worse than being a rat. Whitey is charged with the deaths of nineteen people killed over turf, for business, and even for being informants; yet to this day he denies he ever gave up his friends or landed anyone in jail.
Based on exclusive access and previously undisclosed documents, Cullen and Murphy explore the truth of the Whitey Bulger story. They reveal for the first time the extent of his two parallel family lives with different women, as well as his lifelong paranoia stemming in part from his experience in the CIA's MKULTRA program. They describe his support of the IRA and his hitherto-unknown role in the Boston busing crisis, and they show a keen understanding of his mindset while on the lam and behind bars. The result is the first full portrait of this legendary criminal figure—a gripping story of wiseguys and cops, horrendous government malfeasance, and a sixteen-year manhunt that climaxed in Whitey's dramatic capture in Santa Monica in June 2011.
Praise For Whitey Bulger: America's Most Wanted Gangster and the Manhunt That Brought Him to Justice…
If you locked director Martin Scorsese, screenwriter Nick Pileggi and TV producer David Chase in the same room for a month, I doubt they would come up with anything as rich in scope and details as the real-life tale of Whitey Bulger.
— Jeff Greenfield

This is the definitive story of Whitey Bulger. As much social documentary as riveting crime story, the book is a masterwork of reporting by Cullen and Murphy. I couldn't put it down.
— Michael Connelly, best-selling author of The Black Box

Whitey committed every crime outside. He lived years in prison and was certain that prison was preferable to the risks and disgrace in his life of South Boston. This book is easily the best story about crime I've read.
— Jimmy Breslin, Pulitzer Prize-winning columnist and author of The Gang That Couldn't Shoot Straight and The Good Rat

This is the Whitey Bulger book by the two expert journalists who know the turf best. An unflinching look at the culture of silence and death fostered by Bulger—and by his friends in high and low places—and an important affirmation for young people growing up in today's neighborhoods of good people besieged by thuggery, corruption, and codes of silence.

— Michael Patrick MacDonald, best-selling author of All Souls: A Family Story from Southie

Whitey Bulger... is as much a social history as a biography or manhunt thriller.... In the same way that J. Anthony Lukas's Common Ground is essential to understanding Boston's racial history, Whitey Bulger is an authoritative treatise on the city's late-20th-century underworld.

— Sean Flynn

Solid writing, remarkable details and the addition of Bulger's fairly recent capture make this a worthy addition to the literature of the mob.
W. W. Norton & Company, 9780393087727, 496pp.
Publication Date: February 11, 2013
About the Author
Kevin Cullen, a Pulitzer Prize-winning journalist who has written for the Boston Globe since 1985, was the first to raise questions about Whitey Bulger's relationship with the FBI. A frequent commentator on NPR and the BBC, Cullen has won major journalism prizes including the Goldsmith Prize, the George Polk Award, and the Selden Ring Award.

Shelley Murphy has covered Whitey Bulger and organized crime in Boston since 1985, beginning at the Boston Herald and moving to the Globe in 1993. She has won a George Polk Award for National Reporting.
or
Not Currently Available for Direct Purchase