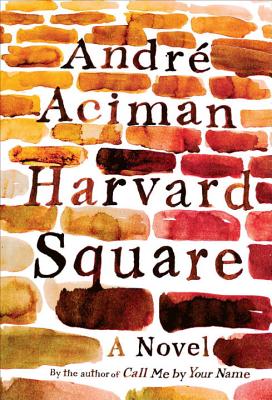 Harvard Square (Hardcover)
A Novel
W. W. Norton & Company, 9780393088601, 304pp.
Publication Date: April 8, 2013
Other Editions of This Title:
Paperback (2/10/2014)
Compact Disc (4/8/2013)
MP3 CD (2/10/2014)
Paperback, Spanish (8/31/2015)
MP3 CD (9/23/2014)
Compact Disc (2/10/2014)
MP3 CD (4/8/2013)
* Individual store prices may vary.
Description
A powerful tale of love, friendship, and becoming American in late '70s Cambridge from the best-selling novelist.
André Aciman has been hailed as "the most exciting new fiction writer of the twenty-first century" (
New York
magazine), a "brilliant chronicler of the disconnect…between who we are and who we wish we might have been" (
Wall Street Journal
), and a writer of "fiction at its most supremely interesting" (Colm Tóibín). Now, with his third and most ambitious novel, Aciman delivers an elegant and powerful tale of the wages of assimilation—a moving story of an immigrant's remembered youth and the nearly forgotten costs and sacrifices of becoming an American.
It's the fall of 1977, and amid the lovely, leafy streets of Cambridge a young Harvard graduate student, a Jew from Egypt, longs more than anything to become an assimilated American and a professor of literature. He spends his days in a pleasant blur of seventeenth-century fiction, but when he meets a brash, charismatic Arab cab driver in a Harvard Square café, everything changes.
Nicknamed Kalashnikov—Kalaj for short—for his machine-gun vitriol, the cab driver roars into the student's life with his denunciations of the American obsession with "all things jumbo and ersatz"—Twinkies, monster television sets, all-you-can-eat buffets—and his outrageous declarations on love and the art of seduction. The student finds it hard to resist his new friend's magnetism, and before long he begins to neglect his studies and live a double life: one in the rarified world of Harvard, the other as an exile with Kalaj on the streets of Cambridge. Together they carouse the bars and cafés around Harvard Square, trade intimate accounts of their love affairs, argue about the American dream, and skinny-dip in Walden Pond. But as final exams loom and Kalaj has his license revoked and is threatened with deportation, the student faces the decision of his life: whether to cling to his dream of New World assimilation or risk it all to defend his Old World friend.
Harvard Square is a sexually charged and deeply American novel of identity and aspiration at odds. It is also an unforgettable, moving portrait of an unlikely friendship from one of the finest stylists of our time.
About the Author
André Aciman is the author of several novels including Call Me by Your Name, Find Me, and Harvard Square, the memoir Out of Egypt, and two books of essays. He is also the editor of The Proust Project. He teaches comparative literature at the Graduate Center of the City University of New York, where he directs the Writers' Institute. Aciman lives with his wife and family in New York City.
Praise For Harvard Square: A Novel…
Slyly comic…Touching and beautifully written.
— Charles McGrath

[Aciman's] best so far…. An existentialist adventure worthy of Kerouac.
— Clancy Martin

So candid, so penetrating and so beautifully written that it can make you feel cut open, emotionally exposed.
— Sam Sacks

A plaintive love letter to displaced, wandering people, to anyone who longs for home and reaches unwisely for the hand of a fellow wanderer.
— Ron Charles

Aciman tackles Big Ideas by observing the smallest, most intimate gestures of two people and letting them talk—and his characters talk beautifully.
— Stephan Lee

Beautifully done [and] deeply satisfying.
— Jillian Keenan

Entertaining and moving…. Aciman writes a vigorous, muscular prose that is as seductive as his characters.
— Julia Klein

Harvard Square is a darker account of exile itself and the uncertainties of accommodation to a new world while memories of the old tug painfully…. Kalaj [is] warm, impetuous, and whole-hearted…. Aciman succeeds in making him unforgettable.

— Richard Eder

An illuminating character study and poignant meditation on the twin trials of how to fit in and how to be loved.
— Malcom Forbes

A paced, enjoyable read…. The book is hard to put down.
— G. Clay Whittaker

Powerful… As in so many classic novels before it, Harvard Square emphasizes both the friendliness and the callousness of America and Americans, the way the country's great privilege serves as both magnet and goad…. Intense and thoughtful.

— Adam Kirsch

Wonderful, riveting.… Beautifully written…. It captures the tenderness and evanescence of youth and ambition.
— Farisa Khalid

Harvard Square sings as a portrait of a fleeting friendship, revealing how platonic closeness can have a romantic tinge as well.

— Mark Athitakis

Brilliant…A novel of education and isolation, sad and funny and sure to provoke nostalgia for anyone's college years.
— Jessica Freeman-Slade

Andre Aciman has captured the inner life of exile, what it's like to stand in one place and be reminded of another, to long for that other place, even knowing it no longer exits.
— Sandee Brawarsky
or
Not Currently Available for Direct Purchase