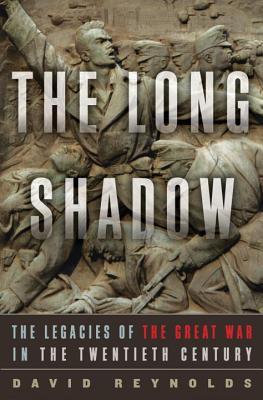 The Long Shadow
The Legacies of the Great War in the Twentieth Century
Hardcover

* Individual store prices may vary.
Other Editions of This Title:
Paperback (6/8/2015)
Description
Winner of the 2014 PEN Hessell-Tiltman Prize for the Best Work of History.



"If you only read one book about the First World War in this anniversary year, read The Long Shadow. David Reynolds writes superbly and his analysis is compelling and original." -Anne Chisolm, Chair of the PEN Hessell-Tiltman Prize Committee, and Chair of the Royal Society of Literature.
One of the most violent conflicts in the history of civilization, World War I has been strangely forgotten in American culture. It has become a ghostly war fought in a haze of memory, often seen merely as a distant preamble to World War II. In
The Long Shadow
critically acclaimed historian David Reynolds seeks to broaden our vision by assessing the impact of the Great War across the twentieth century. He shows how events in that turbulent century—particularly World War II, the Cold War, and the collapse of Communism—shaped and reshaped attitudes to 1914–18.
By exploring big themes such as democracy and empire, nationalism and capitalism, as well as art and poetry, The Long Shadow is stunningly broad in its historical perspective. Reynolds throws light on the vast expanse of the last century and explains why 1914–18 is a conflict that America is still struggling to comprehend. Forging connections between people, places, and ideas, The Long Shadow ventures across the traditional subcultures of historical scholarship to offer a rich and layered examination not only of politics, diplomacy, and security but also of economics, art, and literature. The result is a magisterial reinterpretation of the place of the Great War in modern history.
Praise For The Long Shadow: The Legacies of the Great War in the Twentieth Century…
Brilliant…the most challenging and intelligent book on the Great War and our perceptions of it that any of us will read this, or any other year.
— John Charmley

[World War I has] been analyzed before, but never with such depth of perception or range of understanding. Reynolds is able to speak with authority on economics and philosophy; literature and art; politics, diplomacy and memory. He is a historian of immense skill, utterly confident of his wisdom and deservedly so.
— Gerard De Groot

The Long Shadow is an extraordinary work. With deep perception and knowledge David Reynolds tells the story and assesses the significance of the Great War from its beginnings to the present day. . . . Many books on the Great War have already appeared and will continue to do so during these centennial years. It is hard to imagine that there will be a better one.

— Peter Stansky, Stanford University

[A] masterly look at what the war meant and how its meaning changed by decade.
— David Shribman

The Long Shadow is a fluent corrective to our preoccupation with our own individual and family war stories, and offers a truly global perspective on the conflict's long shadow.

— Nigel Jones

Who better as remembrancer than David Reynolds, with his customary lucidity, his long view, his comparative perspective, his contemporary sensitivity, his scholarly sanity and his crisp humanity? …This is the work of a master historian.
— Alex Danchev

Transcends conventional histories about World War I …The kind of book that challenges readers to think.
— Ed Timms

A comparative perspective on the ways the First World War shaped the 20th century…. The Long Shadow forces us to pull back from the Western Front and examine the war with fresh eyes.

— Matthew Price

Brilliant…. As an introduction to the controversies and complexities of a period of history that will be on all our demands next year, it is unlikely to be bettered.
— Tom Holland

Here at last among the plethora of predictable books on the anniversary of the great war is an intelligent and critical assessment… presented with a masterly array of sources across a busy century, at once thought-provoking and thoroughly informed.
— Richard Overy

Explores the political, cultural and social legacy of the First World War, and offers correctives to many popular delusions. Perspective is critical to a comprehension of history, and Reynolds has no peer in helping us to achieve this.
— Max Hastings

Written by an outstanding historian at the height of his powers, The Long Shadow is a brilliant study in 'legacies and refractions.'

— Piers Brendon

This is a masterly study in every sense: by an historian at the top of his game, deploying wide-ranging research in important arguments, sustained alike with rich detail and with dry wit.
— Peter Clarke

Eloquent… This book's deepest message is about the inescapability of history, whether we choose to live in its shadow or to turn our backs on the warnings it offers to the present.
— Christopher Clark

Brilliant… As an introduction to the controversies and complexities of a period of history that will be on all our demands next year, it is unlikely to be bettered.
— Tom Holland

Provocative.

Compelling… Reynolds ably and dramatically depicts the many unforeseen and unimagined consequences of war—not just for the dead and wounded, but also for the living and the yet to be born.
— James Norton

Fascinating.
— Andrew Roberts

Reynolds's call to move the understanding of World War I out of the trenches and into broader contexts is a fundamental challenge as the centennial begins.
— Dennis Showalter

Deploying the Great War as his lens, Reynolds has given us one of the most illuminating studies in the history of ideas to appear for many years. Beautifully written, with a masterly command of the diverse subject matter it addresses, The Long Shadow is an immensely rich book… If our leaders really want to learn from history, they could start by reading this book.

— John Gray

Reynolds's analysis provocatively contextualizes the interwar British experience.

A lifetime of scholarship informs this highly readable analysis of what the author calls 'the forgotten conflict.'

Reynolds demonstrates with authoritative acuity how malleable an object the history of 1914-18 has been.

A clear-eyed appraisal of the First World War's consequences.
— Michael F. Bishop
W. W. Norton & Company, 9780393088632, 544pp.
Publication Date: May 12, 2014
About the Author
David Reynolds is a professor of international history at Cambridge University. He is the author of books including The Long Shadow and In Command of History: Churchill Fighting and Writing the Second World War, which won the Wolfson Prize.