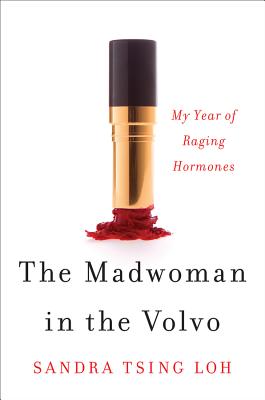 The Madwoman in the Volvo (Hardcover)
My Year of Raging Hormones
W. W. Norton & Company, 9780393088687, 288pp.
Publication Date: May 5, 2014
Other Editions of This Title:
Paperback (5/4/2015)
Paperback (6/2/2016)
Library Binding, Large Print (11/1/2014)
* Individual store prices may vary.
Description
A 2014 New York Times Book Review Notable Book



From an "imaginatively twisted and fearless" writer (Los Angeles Times), a hilarious memoir of middle age.
In a voice that is wry, disarming, and totally candid, Sandra Tsing Loh tells the moving and laugh-out-loud tale of her roller coaster through "the change." This is not your grandmother's menopause story. Loh chronicles utterly relatable, everyday perils: raising preteen daughters, weathering hormonal changes, and going through the ups and downs of a career and a relationship. She writes also about an affair and the explosion of her marriage, the pressures of keeping her daughters off Facebook while managing the legal and marital hijinks of her eighty-nine-year-old dad, and a despairing withdrawal to a tiny cabin where she combined wine and Ambien, paralyzing her arm into a claw. In one outrageous chapter, a hormonal Loh finds herself trekking to her preteen daughter's school to confront a ten-year-old bully half her size. In another she attempts to subsist on only zero-calorie noodles and the occasional fat-free yogurt in a hopeless effort to vanquish added midlife weight.
In The Madwoman in the Volvo Loh speaks hilariously and honestly about her life as a mother, a daughter, and an artist. She recounts her journey through a tumultuous time of life, trying to maintain appearances during an epic hormonal—and that means physical, emotional, mental, and spiritual—change. The upbeat conclusion: it does get better.
About the Author
Sandra Tsing Loh is a writer, performer, and radio commentator. Her work has been heard on NPR's Morning Edition and This American Life. She is a contributing editor to the Atlantic and teaches at the University of California, Irvine. She lives in Pasadena, California.
Praise For The Madwoman in the Volvo: My Year of Raging Hormones…
The Madwoman in the Volvo reads like a weekend away with the best friend you ever had—blazingly vulnerable, scorchingly smart, and funny as hell. It's both an intimate portrait of one woman as she approaches menopause and a full-throated cultural howl about what it means to be female and forty or fifty or sixty something in America today. I was filled with recognition as I read the book's first pages and flooded with gratitude by the end. . . . A beautiful book you're going to miss after you've read the last page.

— Cheryl Strayed

[Reading this book] I laughed maniacally, nodded in empathy, hooted, teared up, and laughed some more. And while you could make the case that with a menopausal woman, that could have happened even had I spent the time gardening, in this case I am pretty certain it was the author's doing.
— Mary Roach

Loh is that rare writer who is howlingly funny on the surface and subtly brilliant just beneath. Here, she turns her eagle eye to her own midlife "crises": motherhood, marriage, men (old and young), and madness of all kinds—not least her own. Goes down like cheap wine—fast and furiously—yet at the end, instead of a hangover, you have a bold and beautiful new view of life.
— Cathi Hanauer, author of Gone and editor of The Bitch in the House

[A] brave and witty memoir.
— Judith Newman

Does what every memoir ought to do: it reminds the reader she's not alone.
— Claire Dederer
or
Not Currently Available for Direct Purchase