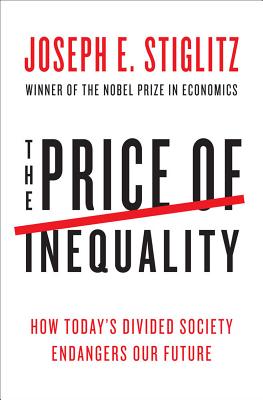 The Price of Inequality
How Today's Divided Society Endangers Our Future
Hardcover

* Individual store prices may vary.
Other Editions of This Title:
Digital Audiobook (6/10/2012)
Paperback (4/8/2013)
MP3 CD (6/11/2012)
Compact Disc (6/11/2012)
Description
A forceful argument against America's vicious circle of growing inequality by the Nobel Prize–winning economist.
The top 1 percent of Americans control 40 percent of the nation's wealth. And, as Joseph E. Stiglitz explains, while those at the top enjoy the best health care, education, and benefits of wealth, they fail to realize that "their fate is bound up with how the other 99 percent live."
Stiglitz draws on his deep understanding of economics to show that growing inequality is not inevitable: moneyed interests compound their wealth by stifling true, dynamic capitalism. They have made America the most unequal advanced industrial country while crippling growth, trampling on the rule of law, and undermining democracy. The result: a divided society that cannot tackle its most pressing problems. With characteristic insight, Stiglitz examines our current state, then teases out its implications for democracy, for monetary and budgetary policy, and for globalization. He closes with a plan for a more just and prosperous future.
Praise For The Price of Inequality: How Today's Divided Society Endangers Our Future…
Joseph E. Stiglitz's new book, The Price of Inequality, is the single most comprehensive counterargument to both Democratic neoliberalism and Republican laissez-faire theories. While credible economists running the gamut from center right to center left describe our bleak present as the result of seemingly unstoppable developments—globalization and automation, a self-replicating establishment built on "meritocratic" competition, the debt-driven collapse of 2008—Stiglitz stands apart in his defiant rejection of such notions of inevitability. He seeks to shift the terms of the debate.

— Thomas B. Edsall - New York Times Book Review

Stiglitz writes clearly and provocatively. He's the kind of economist who can talk about terms such as 'rent-seeking' and the 'euro crisis' and bring readers along for the ride... Stiglitz isn't just writing about people being hurt by inequality, he is also writing about the system itself being in jeopardy and what needs to be done to fix it.
— Dante Chinni - Washington Post

Concise and clearly argued.
— Publishers Weekly

An impassioned argument backed by rigorous economic analysis.
— Kirkus Reviews

An important and smart new book... It's a searing read.
— Nicholas Kristof - New York Times
W. W. Norton & Company, 9780393088694, 448pp.
Publication Date: June 11, 2012
About the Author
Joseph E. Stiglitz is a Nobel Prize–winning economist and the best-selling author of Globalization and Its Discontents Revisited: Anti- Globalization in the Age of Trump, The Price of Inequality, and Freefall. He was chairman of the Council of Economic Advisers under President Clinton, chief economist of the World Bank, named by Time as one of the 100 most influential individuals in the world, and now teaches at Columbia University and is chief economist of the Roosevelt Institute.
Coverage from NPR