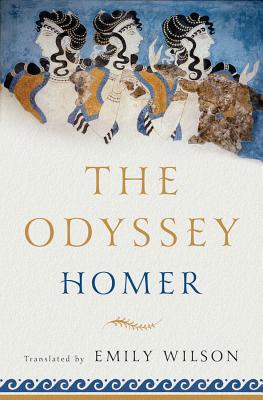 The Odyssey
Hardcover

* Individual store prices may vary.
Other Editions of This Title:
Paperback (11/6/2018)
Paperback (12/23/2017)
Paperback (1/1/2005)
Paperback (6/25/2018)
Hardcover (5/24/2017)
Paperback (5/3/2012)
Paperback (9/30/2017)
Hardcover (7/5/2016)
Paperback (5/24/2017)
Paperback (6/12/2018)
Paperback (9/27/2017)
Paperback (8/26/2016)
Paperback (11/17/2017)
Paperback (1/9/2021)
Description
A lean, fleet-footed translation that recaptures Homer's "nimble gallop" and brings an ancient epic to new life.
The first great adventure story in the Western canon, The Odyssey is a poem about violence and the aftermath of war; about wealth, poverty, and power; about marriage and family; about travelers, hospitality, and the yearning for home.
In this fresh, authoritative version—the first English translation of The Odyssey by a woman—this stirring tale of shipwrecks, monsters, and magic comes alive in an entirely new way. Written in iambic pentameter verse and a vivid, contemporary idiom, this engrossing translation matches the number of lines in the Greek original, thus striding at Homer's sprightly pace and singing with a voice that echoes Homer's music.
Wilson's Odyssey captures the beauty and enchantment of this ancient poem as well as the suspense and drama of its narrative. Its characters are unforgettable, from the cunning goddess Athena, whose interventions guide and protect the hero, to the awkward teenage son, Telemachus, who struggles to achieve adulthood and find his father; from the cautious, clever, and miserable Penelope, who somehow keeps clamoring suitors at bay during her husband's long absence, to the "complicated" hero himself, a man of many disguises, many tricks, and many moods, who emerges in this translation as a more fully rounded human being than ever before.
A fascinating introduction provides an informative overview of the Bronze Age milieu that produced the epic, the major themes of the poem, the controversies about its origins, and the unparalleled scope of its impact and influence. Maps drawn especially for this volume, a pronunciation glossary, and extensive notes and summaries of each book make this an Odyssey that will be treasured by a new generation of scholars, students, and general readers alike.
Praise For The Odyssey…
A masterpiece of translation—fluent, elegant, vigorous.
— Rowan Williams, Master of Magdalene College, University of Cambridge

Irresistibly readable…turns Homeric epic into a poetic feast.
— Froma Zeitlin, Princeton University

A staggeringly superior translation—true, poetic, lively and readable, and always closely engaged with the original Greek—that brings to life the fascinating variety of voices in Homer's great epic.
— Richard F. Thomas, Harvard University

This will surely be the Odyssey of choice for a generation.

— Lorna Hardwick, The Open University, London

Emily Wilson has produced a clear, vigorous, sensitive Odyssey that conveys both the grand scale and the individual pathos of this foundational story. This is the most accessible, and yet accurate, translation of Homer's masterwork that I have ever read.

— Susan Wise Bauer, author of The History of the Ancient World

'Each generation must translate for itself,' T. S. Eliot declared. Emily Wilson has convincingly answered this call: hers is a vital Odyssey for the twenty-first century that brings into rhythmic English the power, dignity, variety, and immediacy of this great poem.

— Laura Slatkin, New York University

Having a female scholar and translator look with fresh eyes upon one of the foundational myths of Western civilization is nothing short of revolutionary. Emily Wilson's riveting translation of The Odyssey ripples with excitement and new meaning. This important and timely addition to our understanding of Homer will be enjoyed for generations to come.

— Aline Ohanesian, author of Orhan's Inheritance

Emily Wilson's Odyssey sings with the spare, enchanted lucidity of a minstrel fallen through time. Ever readable but endlessly surprising, this translation redefines the terms of modern engagement with Homer's poetry.

— Tim Whitmarsh, author of Battling the Gods

A remarkable new translation. Poised and unadulterated—a feast for the senses.
— Daisy Dunn, author of Catullus' Bedspread

This is it—a translation of The Odyssey that is 'eminently rapid…plain and direct,' as Matthew Arnold famously described Homer himself. It is also contemporary and exciting. A gift.

— Barbara Graziosi, author of The Gods of Olympus

As the first English translation of this ancient tale by a woman, this lively, fast-paced retelling of Homer's epic is long overdue. Much as Homer did in his time, Wilson whisks the audience into a realm both familiar and fantastical. The world of Odysseus and his adventures take shape before the reader's eyes, luminescent once more, in this engaging new translation.
— Justine McConnell, King's College, London, author of Black Odysseys

To translate Homer's Odyssey from ancient Greek to contemporary English presents the translator with a virtually insurmountable challenge, because our lives, our minds, and our languages are so different from those of the Greeks of eighteen centuries ago. Somehow, Emily Wilson has pulled it off. To read her translation is to receive a tremendous and unexpected gift.

— Thomas Cahill, author of Sailing the Wine-Dark Sea

Wilson's translation is pared down but accurate and readable; it maintains the intrinsic interest of the story and the rapid forward momentum of the poetic line. The metrical regularity is a rare and welcome feature in a modern translation. The diction and tone are contemporary but not slangy or prosaic. All in all, a compelling Odyssey for our time.

— Lillian Doherty, University of Maryland
W. W. Norton & Company, 9780393089059, 592pp.
Publication Date: November 7, 2017
About the Author
Emily Wilson is Professor of classical studies and Graduate Chair of the Program in Comparative Literature and Literary Theory at the University of Pennsylvania. Wilson attended Oxford University (Balliol College, B.A., and Corpus Christi College, M.Phil.) and Yale University (Ph.D.). In 2006, she was named a Fellow of the American Academy in Rome in Renaissance and Early Modern scholarship, and in 2019 was named a MacArthur Fellow by the John D. and Catherine T. MacArthur Foundation. In addition to The Odyssey, she has published translations of Euripides, Sophocles, and Seneca. Among her other books are Mocked with Death: Tragic Overliving from Sophocles to Milton; The Death of Socrates: Hero, Villain, Chatterbox, Saint; The Greatest Empire: A Life of Seneca; and Faithful, a book about translation. Wilson is an editor of The Norton Anthology of World Literature and an advisory editor of the Norton Library.
Coverage from NPR