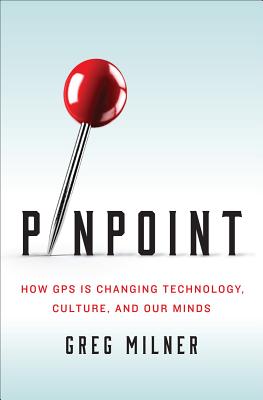 Pinpoint
How GPS Is Changing Technology, Culture, and Our Minds
Hardcover

* Individual store prices may vary.
Other Editions of This Title:
Digital Audiobook (5/2/2016)
Paperback (5/16/2017)
MP3 CD (5/3/2016)
Compact Disc (5/3/2016)
Description
A Financial Times Best Book of 2016

A Sunday Times Best Book of 2016

Pinpoint tells the story of GPS, a scientific marvel that enables almost all modern technology—but is changing us in profound ways.

Over the last fifty years, humanity has developed an extraordinary shared utility: the Global Positioning System. Even as it guides us across town, GPS helps land planes, route mobile calls, anticipate earthquakes, predict weather, locate oil deposits, measure neutrinos, grow our food, and regulate global finance. It is as ubiquitous and essential as another Cold War technology, the Internet. In Pinpoint, Greg Milner takes us on a fascinating tour of a hidden system that touches almost every aspect of our modern life.
While GPS has brought us breathtakingly accurate information about our planetary environment and physical space, it has also created new forms of human behavior. We have let it saturate the world's systems so completely and so quickly that we are just beginning to confront the possible consequences. A single GPS timing flaw, whether accidental or malicious, could bring down the electrical grid, hijack drones, or halt the world financial system. The use, and potential misuse, of GPS data by government and corporations raise disturbing questions about ethics and privacy. GPS may be altering the nature of human cognition—possibly even rearranging the gray matter in our heads.
Pinpoint tells the sweeping story of GPS from its conceptual origins as a bomb guidance system to its presence in almost everything we do. Milner examines the different ways humans have understood physical space, delves into the neuroscience of cognitive maps, and questions GPS's double-edged effect on our culture. A fascinating and original story of the scientific urge toward precision, Pinpoint offers startling insight into how humans understand their place in the world.
Praise For Pinpoint: How GPS Is Changing Technology, Culture, and Our Minds…
GPS guides our world. Here at last is the amazing and well-told story of where it came from, how it works, and where it—and we—are going.
— Richard Rhodes, Pulitzer Prize–winning author of The Making of the Atomic Bomb

In Pinpoint, Greg Milner gives us a much-needed account of GPS, its history, philosophy, and the overwhelming consequences of its success. Funny, scary, and tremendously readable, Pinpoint will be an eye-opening thrill for anyone who has watched their blue dot dance around an online map.

— Andrew Blum, author of Tubes

Whenever people theorize about the collision of technology and culture, the Internet tends to consume all the oxygen in the room. But there is another global system that's taking over our lives in an even more insidious fashion, with stranger implications for the future of humanity. Pinpoint dissects the modern age of mapping and shows the hidden dangers of a world where nothing is hidden at all.

— Chuck Klosterman

Seldom have I learned so much so effortlessly. . . . Every page was a treasure-house of fascinations: my temptation after finishing was to begin the book all over again, there being so much to absorb, all of it crucially important to understanding our world's dependence on one of modern civilization's new-made fundamentals.
— Simon Winchester

Informative... Pinpoint excels when it makes clear that GPS is an engineering marvel, a global utility and a source of new threat all at once.

— Clay Shirky - New York Times Book Review

Remarkably engaging… [T]he best business book about technology this year.
— James Surowiecki - Strategy+Business

Milner is a brisk and funny guide.
— Konstantin Kakaes - Wall Street Journal

No technology has transformed the human landscape so completely, yet been taken for granted so quickly, as GPS. The reason that brains are so good at storing maps is because the brain is a map, and our collective internal map is now migrating somewhere else. Greg Milner's Pinpoint is a fascinating chronicle of how this happened and why—captured before the details had a chance to escape.
— George Dyson

An informative yarn.
— James Anthony - Evening Standard

[A] joy to read… It will be a strong contender for my science book of 2016.
— Clive Cookson - Financial Times

One of the most mesmerizing and exhilarating, yet alarming modern technology books… By any standards, it is an extraordinary tale.
— Gillian Tett - Financial Times

[A]ssured technological history.
— Nature

A deeply researched book with fascinating interludes... [Milner] explains the technological principles lucidly.
— Stephen Poole - New Statesman

[A] suitably precise and fascinating account of the modern evolution of [GPS]... Milner expertly deconstructs the implications of this monumental shift in human life.
— Tim Adams - Observer

[A] compelling exploration of how GPS became so ubiquitous—and what we lose when it's all we know of navigation.
— Matthew Daddona - Outside

Through a multitude of examples—from Polynesian navigation to precision agriculture to the U.S. military—the world according to GPS emerges, and with it a new way to understand our own sense of place and time... Milner's detailed examples will leave you questioning the ways in which GPS has infiltrated our lives.
— Renee M. Blackburn - Science

In this startling and persuasive book, American journalist Greg Milner shows how [GPS] saturates our existence... [Milner] suggests that GPS is as potent and pervasive a force as the Internet – if much less well understood.
— James McConachie - Sunday Times

[A] welcome guide to where [GPS] came from, what it does and where it might be taking us.
— Damian Whitworth - The Times

Dramatically illustrating just what the GPS might be taking from the human race, Milner recounts the feats of early Polynesian seafarers who traversed wide Pacific expanses guided by nothing but their dauntless minds. . . . [A] fascinating probe into an increasingly ubiquitous technology.
— Bryce Christensen - Booklist (starred review)
W. W. Norton & Company, 9780393089127, 336pp.
Publication Date: May 3, 2016
About the Author
Greg Milner is the author of Pinpoint and Perfecting Sound Forever, a finalist for the National Book Critics Circle Award. His writing has appeared in Wired, New York, Slate, Village Voice, Salon, Spin, and Rolling Stone. He lives with his family in Brooklyn, New York.
or
Not Currently Available for Direct Purchase