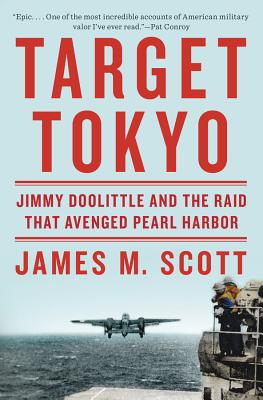 Target Tokyo
Jimmy Doolittle and the Raid That Avenged Pearl Harbor
Hardcover

* Individual store prices may vary.
Other Editions of This Title:
Paperback (4/4/2016)
MP3 CD (12/1/2015)
Description
The dramatic account of one of America's most celebrated—and controversial—military campaigns: the Doolittle Raid.
In December 1941, as American forces tallied the dead at Pearl Harbor, President Franklin Roosevelt gathered with his senior military counselors to plan an ambitious counterstrike against the heart of the Japanese Empire: Tokyo. Four months later, on April 18, 1942, sixteen U.S. Army bombers under the command of daredevil pilot Jimmy Doolittle lifted off from the deck of the USS Hornet on a one-way mission to pummel the enemy's factories, refineries, and dockyards and then escape to Free China. For Roosevelt, the raid was a propaganda victory, a potent salve to heal a wounded nation. In Japan, outraged over the deaths of innocent civilians—including children—military leaders launched an ill-fated attempt to seize Midway that would turn the tide of the war. But it was the Chinese who suffered the worst, victims of a retaliatory campaign by the Japanese Army that claimed an estimated 250,000 lives and saw families drowned in wells, entire towns burned, and communities devastated by bacteriological warfare.
At the center of this incredible story is Doolittle, the son of an Alaskan gold prospector, a former boxer, and brilliant engineer who earned his doctorate from MIT. Other fascinating characters populate this gripping narrative, including Chiang Kai-shek, Lieutenant General Joseph "Vinegar Joe" Stilwell, and the feisty Vice Admiral William "Bull" Halsey Jr. Here, too, are indelible portraits of the young pilots, navigators, and bombardiers, many of them little more than teenagers, who raised their hands to volunteer for a mission from which few expected to return. Most of the bombers ran out of fuel and crashed. Captured raiders suffered torture and starvation in Japan's notorious POW camps. Others faced a harrowing escape across China—via boat, rickshaw, and foot—with the Japanese Army in pursuit.
Based on scores of never-before-published records drawn from archives across four continents as well as new interviews with survivors, Target Tokyo is World War II history of the highest order: a harrowing adventure story that also serves as a pivotal reexamination of one of America's most daring military operations.
Praise For Target Tokyo: Jimmy Doolittle and the Raid That Avenged Pearl Harbor…
In Target Tokyo, James M. Scott, an accomplished naval historian, vividly narrates the saga of Lt. Col. Jimmy Doolittle's audacious raid, undoubtedly one of the greatest exploits of World War II…the story has been covered many times before, but never so fully as here.

— Alexander Rose - Wall Street Journal

Marvelous…undoubtedly the most comprehensive account yet…. [A] page-turner.
— Tony Perry - Los Angeles Times

The Doolittle raid and its effects need to be remembered; Target Tokyo will make them hard to forget.

— Ray Locker - USA Today

Historian James M. Scott uncovers fresh material to provide an extraordinarily complete account of the 1941 Doolittle US air raid on Tokyo and its aftermath. The basic story is familiar but Scott tells it in so gripping a fashion that it will have great appeal for both World War II buffs and general readers.
— Terry Hartle - Christian Science Monitor

[A] breakthrough work of popular history.
— Michael Giltz - Huffington Post

A fantastic story, fantastically told.
— The Charleston Mercury

Scott's tight prose and meticulous research provide a gripping and at times heartbreaking account of the raid.
— Bob Carden - Philadelphia Inquirer

In Target Tokyo, James Scott has given us a superb new account of the Doolittle raid, a daring and unprecedented gambit that altered the history of the Pacific War. Scott's narrative, which draws deeply on new archival sources, will certainly take its place as the definitive history of the Doolittle raid. That alone would be reason enough to recommend it—but Target Tokyo is also a terrific story and a cracking good read.
— Ian Toll, author of Pacific Crucible, War at Sea in the Pacific, 1941-1942

When I grew up in the house of a fighter pilot, it was a religious tenet with my father that the Doolittle Raiders were the bravest pilots in the history of flight. James Scott's epic historical work, Target Tokyo, makes that opinion seem almost unassailable. Target Tokyo is one of the most incredible accounts of American military valor I've ever read.

— Pat Conroy

The Doolittle raid on Tokyo was one of the most impossible, daring, and consequential missions ever taken by American military men, and James Scott brings it back to the reader with you-are-there immediacy and drama. Filled with great characters, great heroism, and great suffering, Target Tokyo is at once thorough, realistic, and thrilling.

— Evan Thomas, author of Sea of Thunder and Ike's Bluff
W. W. Norton & Company, 9780393089622, 672pp.
Publication Date: April 13, 2015
About the Author
James M. Scott is the author of Rampage, Target Tokyo, a finalist for the Pulitzer Prize; The War Below, and The Attack on the Liberty. He lives in Charleston, South Carolina.
or
Not Currently Available for Direct Purchase