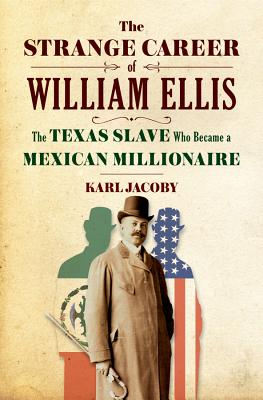 The Strange Career of William Ellis
The Texas Slave Who Became a Mexican Millionaire
Hardcover

* Individual store prices may vary.
Other Editions of This Title:
Digital Audiobook (6/14/2016)
Paperback (6/6/2017)
MP3 CD (6/15/2016)
Compact Disc (6/15/2016)
Compact Disc (6/15/2016)
Description
A prize-winning historian tells a new story of the black experience in America through the life of a mysterious entrepreneur.
To his contemporaries in Gilded Age Manhattan, Guillermo Eliseo was a fantastically wealthy Mexican, the proud owner of a luxury apartment overlooking Central Park, a busy Wall Street office, and scores of mines and haciendas in Mexico. But for all his obvious riches and his elegant appearance, Eliseo was also the possessor of a devastating secret: he was not, in fact, from Mexico at all. Rather, he had begun life as a slave named William Ellis, born on a cotton plantation in southern Texas during the waning years of King Cotton.
After emancipation, Ellis, capitalizing on the Spanish he learned during his childhood along the Mexican border and his ambivalent appearance, engaged in a virtuoso act of reinvention. He crafted an alter ego, the Mexican Guillermo Eliseo, who was able to access many of the privileges denied to African Americans at the time: traveling in first-class train berths, staying in upscale hotels, and eating in the finest restaurants.
Eliseo's success in crossing the color line, however, brought heightened scrutiny in its wake as he became the intimate of political and business leaders on both sides of the US-Mexico border. Ellis, unlike many passers, maintained a connection to his family and to black politics that also raised awkward questions about his racial status. Yet such was Ellis's skill in manipulating his era's racial codes, most of the whites he encountered continued to insist that he must be Hispanic even as Ellis became embroiled in scandals that hinted the man known as Guillermo Eliseo was not quite who he claimed to be.
The Strange Career of William Ellis reads like a novel but offers fresh insights on the history of the Reconstruction era, the US-Mexico border, and the abiding riddle of race. At a moment when the United States is deepening its connections with Latin America and recognizing that race is more than simply black or white, Ellis's story could not be more timely or important.
Praise For The Strange Career of William Ellis: The Texas Slave Who Became a Mexican Millionaire…
How is it that a black man named William Ellis, living in Reconstruction-era Texas, could transform himself into a Mexican magnate and conquer Wall Street, then disappear into history without a trace? Fortunately, Karl Jacoby has done the detective work to bring this intriguing larger-than-life figure back to life, challenging America's fixed concepts of race, ethnicity and national identity. This fascinating history book reads like a novel.
— Margot Lee Shetterly, author of Hidden Figures

A masterpiece of border history. Jacoby has a biographer's eye for detail and a detective's talent for discovery, which he deftly uses to construct both the inner emotional life and larger social world of his subject. At once a history of the United States and of Mexico, Strange Career offers a truly transnational history of late nineteenth- and early twentieth-century North America. Today, as borders are simultaneously being dissolved and hardened, Jacoby's study of Ellis's exceptional career is as timely as it is compelling.

— Greg Grandin, author of Empire of Necessity and Fordlandia

William Ellis was a chameleon, a trickster, and a man determined to shape his own identity. With enormous skill, Karl Jacoby uncovers this tremendous subject, revealing Ellis's lies, and crafting a powerful new narrative about the porous borders of class, race, and national identity in late nineteenth- and early twentieth-century American life. Deftly moving between the improbable details of Ellis's biography and the larger political and cultural stories of the day, Jacoby demonstrates how one man's life can help us understand the past in an entirely new way.
— Martha A. Sandweiss, professor of history, Princeton University, and author of Passing Strange: A Gilded Age Tale of Love and Deception Across the Color Line

Like all of his remarkable scholarship, Karl Jacoby's The Strange Career of William Ellis takes an unexpected or little-known subject and, with great insight and imagination, uses it to shed new light on our larger past. He has excavated a life that began in obscurity and was ever being reinvented, and, in so doing, offers a deep understanding of the shifting boundaries of place, race, and social standing. An extraordinary story told with extraordinary skill.

— Steven Hahn, Pulitzer Prize–winning author of A Nation under Our Feet

[E]legantly written.
— Vladimir Alexandrov - San Francisco Chronicle

[A] welcome and nuanced perspective to the racial history of the U.S. as well as a textured examination of the legacy of distrust between the United States and Mexico. …Ellis' life is also a cracking good story, illustrated with intriguing photos and helpful maps topped off by an emotionally satisfying epilogue.
— Sara Martinez - Booklist

Fascinating… [an] important slice of American history.
— Karen M. Thomas - Dallas News
W. W. Norton & Company, 9780393239256, 336pp.
Publication Date: June 14, 2016
About the Author
Karl Jacoby is a professor of history at Columbia University. The author of two previous books, he has won the Albert J. Beveridge Award and a Guggenheim Fellowship, among many other honors. He lives in New York.
or
Not Currently Available for Direct Purchase