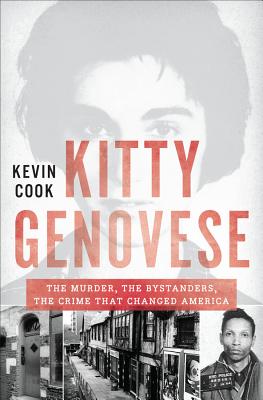 Kitty Genovese
The Murder, the Bystanders, the Crime that Changed America
Hardcover

* Individual store prices may vary.
Other Editions of This Title:
Paperback (3/16/2015)
Description
At last, the true story of a crime that shocked the world.
New York City, 1964. A young woman is stabbed to death on her front stoop—a murder the
New York Times
called "a frozen moment of dramatic, disturbing social change." The victim, Catherine "Kitty" Genovese, became an urban martyr, butchered by a sociopathic killer in plain sight of thirty-eight neighbors who "didn't want to get involved." Her sensational case provoked an anxious outcry and launched a sociological theory known as the "Bystander Effect."
That's the narrative told by the Times, movies, TV programs, and countless psychology textbooks. But as award-winning author Kevin Cook reveals, the Genovese story is just that, a story. The truth is far more compelling—and so is the victim.
Now, on the fiftieth anniversary of her murder, Cook presents the real Kitty Genovese. She was a vibrant young woman—unbeknownst to most, a lesbian—a bartender working (and dancing) her way through the colorful, fast-changing New York of the '60s, a cultural kaleidoscope marred by the Kennedy assassination, the Cold War, and race riots. Downtown, Greenwich Village teemed with beatniks, folkies, and so-called misfits like Kitty and her lover. Kitty Genovese evokes the Village's gay and lesbian underground with deep feeling and colorful detail.
Cook also reconstructs the crime itself, tracing the movements of Genovese's killer, Winston Moseley, whose disturbing trial testimony made him a terrifying figure to police and citizens alike, especially after his escape from Attica State Prison.
Drawing on a trove of long-lost documents, plus new interviews with her lover and other key figures, Cook explores the enduring legacy of the case. His heartbreaking account of what really happened on the night Genovese died is the most accurate and chilling to date.
Praise For Kitty Genovese: The Murder, the Bystanders, the Crime that Changed America…
Cook debunks the whole parable of the 38 Bad Samaritans and puts forth the real story of what happened.
— AARP

Gripping.
— Amy Finnerty - New York Times

Cook is [an] adept storyteller. His peppy knowing style calls to mind pop-culture products from the time of the murder…he is firmly and persuasively in the revisionist camp.
— The New Yorker

Provocative.
— The Wall Street Journal

This is not a good book. This is a GREAT book. I don't think I've read its compelling equal in twenty years. Every page reveals astonishing new facts about one of the most paralyzing events in the flawed soul of the American character. This is modern history at its storytelling best, ignored at the reader's peril.
— Harlan Ellison

An engrossing true-crime tour de force.
— Kirkus Reviews

Provocative… As much about the alchemy of journalism as urban pathology.
— Edward Kosner - The Wall Street Journal

As much social history as true crime, this is an insightful probe into the notorious case.
— Publishers Weekly

Kevin Cook rips the cover off an enduring urban myth. He's done a first-rate reporting job, one that delivers the truth at last about an infamous murder that came to define an age.
— Kevin Baker, author of The Big Crowd and Paradise Alley

Cook's restoration helps make Kitty human, not merely iconographic.
— Cleveland Plain Dealer

Kevin Cook is raising big questions.
— NPR

A fully-realized portrait of Kitty… Readers won't forget that she was a person, not a player in an anecdote.
— Michael Washburn - Boston Sunday Globe

Smart…suspenseful. [Cook's] reporting…is rich and deep.
— Tampa Bay Times

[I]mpressive…
— Jordan Michael Smith - Christian Science Monitor

Well written and often gripping.
— The Times (London)

A grim and fascinating history and discussion of the "bystander effect"…this book asks hard questions of human nature.
— Diva

Cook's take on events is intelligent, superbly researched and truly unsettling, making this one of the best true crime books I've read in the last few years.
— The Sunday Herald (UK)

An ever important reminder that we never know as much about a story as we think.
— New York Post
W. W. Norton & Company, 9780393239287, 256pp.
Publication Date: March 3, 2014
About the Author
A former senior editor at Sports Illustrated, Kevin Cook is the author of Titanic Thompson, Tommy's Honor, Kitty Genovese and The Dad Report. He lives in New York City.
Coverage from NPR
or
Not Currently Available for Direct Purchase