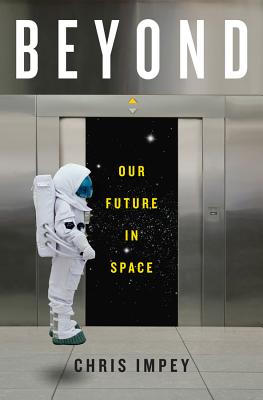 Beyond
Our Future in Space
Hardcover

* Individual store prices may vary.
Other Editions of This Title:
Paperback (3/7/2016)
MP3 CD (8/25/2015)
Compact Disc (7/6/2021)
Description
Beyond dares to imagine a fantastic future for humans in space—and then reminds us that we're already there.
Human exploration has been an unceasing engine of technological progress, from the first homo sapiens to leave our African cradle to a future in which mankind promises to settle another world. Beyond tells the epic story of humanity leaving home—and how humans will soon thrive in the vast universe beyond the earth.
A dazzling and propulsive voyage through space and time, Beyond reveals how centuries of space explorers—from the earliest stargazers to today's cutting-edge researchers—all draw inspiration from an innate human emotion: wanderlust. This urge to explore led us to multiply around the globe, and it can be traced in our DNA.
Today, the urge to discover manifests itself in jaw-dropping ways: plans for space elevators poised to replace rockets at a fraction of the cost; experiments in suspending and reanimating life for ultra-long-distance travel; prototypes for solar sails that coast through space on the momentum of microwaves released from the Earth. With these ventures, private companies and entrepreneurs have the potential to outpace NASA as the leaders in a new space race.
Combining expert knowledge of astronomy and avant-garde technology, Chris Impey guides us through the heady possibilities for the next century of exploration. In twenty years, a vibrant commercial space industry will be operating. In thirty years, there will be small but viable colonies on the Moon and Mars. In fifty years, mining technology will have advanced enough to harvest resources from asteroids. In a hundred years, a cohort of humans born off-Earth will come of age without ever visiting humanity's home planet. This is not the stuff of science fiction but rather the logical extension of already available technologies.
Beyond shows that space exploration is not just the domain of technocrats, but the birthright of everyone and the destiny of generations to come. To continue exploration is to ensure our survival. Outer space, a limitless unknown, awaits us.
Praise For Beyond: Our Future in Space…
Expansive and enlightening… Impey is not only a skilled scientist who studies active galactic nuclei, he's also an adept and prolific communicator, who packs his prose with wonderful anecdotes and weird factoids… Beyond truly soars. Its concluding section…offers more plausible ideas than can be found in whole shelves of futuristic science fiction.

— Lee Billings - New York Times Book Review

One of the most accessible accounts of the history of rockets and space travel I have ever read…entertaining and informative.
— John Gribbin - Wall Street Journal

Philosophical…lively.
— Discover Magazine

Bold, elegant and engaging.
— Nature

In Beyond, Chris Impey manages to rejuvenate that 'Space Is Our Future' feeling that pervaded human culture a half century ago. A needed reminder that, today, not enough of us are looking up, and even fewer among us are doing anything about it.

— Neil deGrasse Tyson, astrophysicist, American Museum of Natural History

This book is a must-read for anyone interested in the fate of the human race and our bright future among the stars. Chris Impey shows how our efforts to expand beyond Earth are part of the same biological drive that made humans spread their habitat across the face of the Earth.
— Ben Bova, bestselling author and president emeritus of the National Space Society

A rare look into the future through a wide-angle lens. With hope and skill, Impey has an optimistic vision in which we finally, and permanently, break the bonds of Earth.
— David H. Levy, discoverer of Comet Shoemaker-Levy 9 and twenty-two other comets
W. W. Norton & Company, 9780393239300, 336pp.
Publication Date: April 13, 2015
About the Author
Chris Impey is a distinguished professor in the Department of Astronomy at the University of Arizona and the critically-acclaimed author of Beyond, How It Began, and How It Ends, and four other books, as well as two astronomy textbooks. He lives in Tucson, Arizona.
Coverage from NPR
or
Not Currently Available for Direct Purchase