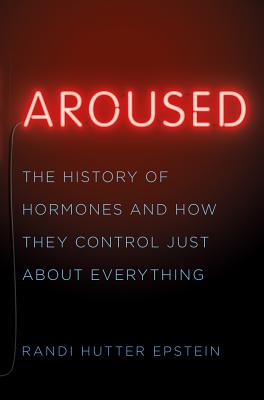 Aroused
The History of Hormones and How They Control Just About Everything
Hardcover

* Individual store prices may vary.
Other Editions of This Title:
Paperback (6/18/2019)
Compact Disc (8/7/2018)
MP3 CD (8/7/2018)
Description
A guided tour through the strange science of hormones and the age-old quest to control them.
Metabolism, behavior, sleep, mood swings, the immune system, fighting, fleeing, puberty, and sex: these are just a few of the things our bodies control with hormones. Armed with a healthy dose of wit and curiosity, medical journalist Randi Hutter Epstein takes us on a journey through the unusual history of these potent chemicals from a basement filled with jarred nineteenth-century brains to a twenty-first-century hormone clinic in Los Angeles.
Brimming with fascinating anecdotes, illuminating new medical research, and humorous details, Aroused introduces the leading scientists who made life-changing discoveries about the hormone imbalances that ail us, as well as the charlatans who used those discoveries to peddle false remedies. Epstein exposes the humanity at the heart of hormone science with her rich cast of characters, including a 1920s doctor promoting vasectomies as a way to boost libido, a female medical student who discovered a pregnancy hormone in the 1940s, and a mother who collected pituitaries, a brain gland, from cadavers as a source of growth hormone to treat her son. Along the way, Epstein explores the functions of hormones such as leptin, oxytocin, estrogen, and testosterone, demystifying the science of endocrinology.
A fascinating look at the history and science of some of medicine's most important discoveries, Aroused reveals the shocking history of hormones through the back rooms, basements, and labs where endocrinology began.
Praise For Aroused: The History of Hormones and How They Control Just About Everything…
The field of endocrinology, as this compelling history shows, has manifested extremes of ingenuity and hubristic error.
— The New Yorker

A well-written and informative book on the history of hormone research.
— New York Times Book Review

Hormones may be the ringmasters of the bodily circus, controlling everything from sex to metabolic function, but in this invigorating history they become the stars of the show.
— Nature

An invaluable guide... [Epstein] cleverly moves back and forth through time, avoiding any hint of dry recitation.
— Science News

A sweeping, glorious story of hormones, threaded through with sex, suffering, neurology, biology, medicine and self-discovery, Randi Hutter Epstein's book manages to excite the imagination as well as calm it. The story is grippingly told, and Epstein manages to bring a whole system of science alive to her reading public.
— Siddhartha Mukherjee, author of The Gene: An Intimate History

Hormones today can seem a bit like angels and demons in earlier times: invisible agents mysteriously responsible for everything in our lives. In her funny, eye-opening book, Randi Hutter Epstein demystifies these molecules, while taking away none of their amazing power.
— Carl Zimmer, author of She Has Her Mother's Laugh and Parasite Rex

Hunger. Lust. Maternal love. It's hard to believe our biggest human dramas are written by tiny molecules discovered only a century ago. Randi Hutter Epstein spins a fine medical history of the hormones coursing through our blood, the hucksters who hawk them, and scientific visionaries who changed the way we think about who we are.
— Florence Williams, author of The Nature Fix

Lucid and entertaining... [Epstein's] beguiling prose makes for a lively and accessible introduction to hormones and the important work they do in the lives of humans.
— Publishers Weekly

An engaging book of medical history that teaches readers about important aspects of physiology.
— Library Journal
W. W. Norton & Company, 9780393239607, 336pp.
Publication Date: June 26, 2018
About the Author
Randi Hutter Epstein, M.D., M.P.H., the author of Aroused and Get Me Out, is an adjunct professor at Columbia University, a lecturer at Yale University, and writer in residence at Yale Medical School. Her writing has appeared in the New York Times and the Psychology Today blog, among others. She lives in New York.
or
Not Currently Available for Direct Purchase