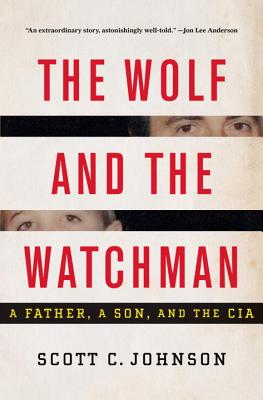 The Wolf and the Watchman
A Father, a Son, and the CIA
Hardcover

* Individual store prices may vary.
Other Editions of This Title:
Paperback (5/12/2014)
MP3 CD (6/21/2016)
Description
What happens when a father asks his son to lie for the greater good?
Growing up, Scott C. Johnson always suspected that his father was different. Only as a teenager did he discover the truth: his father was a spy, one of the CIA's most trusted officers. At first the secret was thrilling. But over time Scott began to have doubts. How could a man so rigorously trained to deceive and manipulate simply turn off those skills at home? His father had been living a double life for so long that his lies were hard to separate from the truth.
When Scott embarked on a career as a foreign correspondent, he found himself returning to many of the troubled countries of his youth. In the dusty streets of Pakistan and Afghanistan, amid the cold urbanity of Yugoslavia, and down the mysterious alleys of Mexico City, he came face to face with his father's murky past—and his own complicity in it. Scott learned that his chosen profession was not so different from his father's: they both worked to gain people's trust and to uncover their secrets. The only difference was what they did with that information.
In the aftermath of 9/11, father and son found themselves on assignment in Afghanistan and the Middle East, one as a CIA contractor, the other as a reporter for Newsweek. Suddenly, an unsettled Scott was forced to keep his father's secret all over again. As their professional lives collided, Scott and his father inched toward a personal reckoning, struggling to overcome a lifetime of suspicion and deception.
The Wolf and the Watchman is a provocative, meditative account of truth and duplicity, of manipulation and loyalty. It is also a moving, intensely personal portrait of a bond between father and son that endured in the shadow of one of the world's most secretive and unforgiving institutions.
Praise For The Wolf and the Watchman: A Father, a Son, and the CIA…
A beautifully written memoir, and a cautionary tale about double lives. . . . I couldn't put this book down.
— Robert Baer, former CIA case officer and author of See No Evil

Scott Johnson has written a fine book of unusual honesty; he grapples with the nature of his beloved father's secret life and the profound consequences it has had in his own. This is an extraordinary story, astonishingly well-told.
— Jon Lee Anderson, author of Che Guevara

A mesmerizing book . . . beautifully written, deeply moving, and compulsively readable.
— David Finkel, author of The Good Soldiers

Brave and memorable . . . a rare glimpse into the private life of a spy that digs into the love, lies, and ambiguities between father and son.
— Megan Stack, author of Every Man in This Village Is a Liar

An aching, lyrical father-son story of the spy world that is dark and intriguing.
— Evan Thomas, author of The War Lover

This stunning memoir could be ripped from the pages of a John le Carré novel. . . . A fascinating and important book by one of the great American foreign correspondents of his generation.
— Michael Hastings, author of The Operators

[A] searingly honest memoir… [Johnson] deftly explores the eerie parallels between these professional worlds: the CIA case officer who labors to recruit sources to provide secret information to assist the United States in its pursuit of foreign policy objectives worldwide, and the journalist who also recruits inside sources, but ones who will speak for publication.
— San Francisco Chronicle

Evokes John le Carré's dark autobiographical thriller The Perfect Spy.

— Washington Post

An enthralling look at a complicated father-son relationship and a painful investigation of the messiness of truth in journalism, intelligence ops, and life.
— Booklist

Johnson's engrossing memoir, through the layers of subterfuge, uncovers many basic truths of familial conflict.
— Publishers Weekly

Gripping, emotional depictions of the conflicts that rage in the interior and exterior worlds of a spy—and of a journalist.
— Kirkus Reviews

Though there's plenty of covert action and espionage in this fabulous book, the real heft of it is in Johnson's moving account of his relationship with his father and how the secrets of the CIA affected that relationship.
— School Library Journal

With rare emotional subtlety, and in finely etched prose worthy of Evelyn Waugh or Graham Greene, [Johnson] captures the perspectives of people on various sides of [a] bloody equation.
— Emma Garman - The Daily Beast
W. W. Norton & Company, 9780393239805, 320pp.
Publication Date: May 20, 2013
About the Author
Scott C. Johnson was a Newsweek foreign correspondent for twelve years, often providing exclusive war reporting from Iraq, Afghanistan, and other fronts in the Middle East. He also served as Newsweek's bureau chief in Mexico, Baghdad, and Africa; was part of the team that won the 2003 National Magazine Award for reportage of the Iraq War; and received a 2004 Overseas Press Club Honorable Mention for his reporting from Latin America. He is now a freelance journalist and writer living in Santa Monica, California.
Book Videos
Coverage from NPR
or
Not Currently Available for Direct Purchase