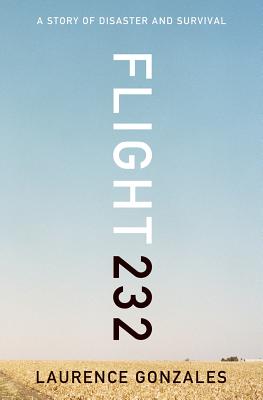 Flight 232
A Story of Disaster and Survival
Hardcover

* Individual store prices may vary.
Other Editions of This Title:
Paperback (7/13/2015)
MP3 CD (1/12/2016)
Description
Twenty-five years after the catastrophe, a dramatic and extraordinarily rare 360-degree view of the crash of a fully loaded jumbo jet.
As hundreds of rescue workers waited on the ground, United Airlines Flight 232 wallowed drunkenly over the bluffs northwest of Sioux City. The plane slammed onto the runway and burst into a vast fireball. The rescuers didn't move at first: nobody could possibly survive that crash. And then people began emerging from the summer corn that lined the runways. Miraculously, 184 of 296 passengers lived.
No one has ever attempted the complete reconstruction of a crash of this magnitude. Drawing on interviews with hundreds of survivors, crew, and airport and rescue personnel, Laurence Gonzales, a commercial pilot himself, captures, minute by minute, the harrowing journey of pilots flying a plane with no controls and flight attendants keeping their calm in the face of certain death. He plumbs the hearts and minds of passengers as they pray, bargain with God, plot their strategies for survival, and sacrifice themselves to save others.
Ultimately he takes us, step by step, through the gripping scientific detective work in super-secret labs to dive into the heart of a flaw smaller than a grain of rice that shows what brought the aircraft down.
An unforgettable drama of the triumph of heroism over tragedy and human ingenuity over technological breakdown, Flight 232 is a masterpiece in the tradition of the greatest aviation stories ever told.
Praise For Flight 232: A Story of Disaster and Survival…
Intense, gripping, alive with knowledge and compassion, Flight 232 is a new masterpiece of calamity and courage.

— Richard Rhodes, Pulitzer Prize–winning author of The Making of the Atomic Bomb

A kind of miracle. Gonzales combines meticulous research, intense and even agonizing drama, and a soaring intensity of emotion. Flight 232 leaves one feeling exalted, not depressed, at the end of a book about a grisly air crash that spares no details. The instances of heroism and self-sacrifice in the face of unimaginable horror are countless, and rendered with a spare dignity that rises above the macabre.

— Michael Korda, former RAF pilot, and author of Clouds of Glory: The Life of Robert E. Lee

A powerful, unforgettable look at a devastating accident.
— Booklist

Gonzales presents an engrossing, cinematic account of the crash and the ordeal that preceded it.
— Publishers Weekly

The definitive account of this catastrophe… Flight 232 stands alone: for its absolutely riveting depiction of the flight's last minutes and the horrendous aftermath; for its vivid and sympathetic portraits of many of those aboard the plane, the crew most particularly; and for its meticulous inquiry into the mechanical failure.

— Jonathan Yardly - The Washington Post

Fascinating…a remarkably vivid, cinematic account, with one cliffhanger after the other.
— John Quinlan - Sioux City Journal

Gonzales…tells a richly detailed story that is equal parts heartbreaking, inspiring, gruesome and full of fascinating science. Through his masterful reporting we come to know both the survivors and the doomed as the story unfolds.
— Phaedra Hise - San Francisco Chronicle

A white knuckle read, so vividly detailed that it's like watching an accident in slow-motion and being unable to look away.
— Jennifer Latson - Boston Globe

A book that bears witness to the dead, and to the extraordinary courage of ordinary people; …a thriller, with a mystery at its core.
— Rachel Rose - Rumpus

Gonzales offers an astonishingly in-depth reconstruction of the events… destined to stand as the definitive book on its namesake… One could hardly finish Flight 232 without a new respect for both the genius of flight and the army of trained professionals who make it happen tens of thousands of times each day across the United States alone.

— Carson Vaughn - Chicago Tribune
W. W. Norton & Company, 9780393240023, 432pp.
Publication Date: July 7, 2014
About the Author
Laurence Gonzales is the author of Surviving Survival, Flight 232, and the bestseller Deep Survival: Who Lives, Who Dies, and Why. He has won two National Magazine Awards and is a scholar at the Sante Fe Institute. He divides his time between Evanston, Illinois, and Santa Fe, New Mexico.
or
Not Currently Available for Direct Purchase