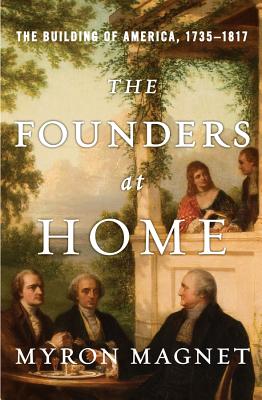 The Founders at Home
The Building of America, 1735-1817
Hardcover

* Individual store prices may vary.
Description
Why the American Revolution, of all the great revolutions, was the only enduring success.
Through the Founders' own voices—and in the homes they designed and built to embody the ideal of domestic happiness they fought to achieve—we come to understand why the American Revolution, of all great revolutions, was the only enduring success.
The Founders were vivid, energetic men, with sophisticated worldviews, and this magnificent reckoning of their successes draws liberally from their own eloquent writings on their actions and well-considered intentions. Richly illustrated with America's historical and architectural treasures, this volume also considers the houses the Founders built with such care and money to reflect their vision for the fledgling nation. That so many great thinkers—Washington, Madison, Hamilton, Jefferson, John Jay, the Lees of Stratford Hall, and polemicist William Livingston—came together to accomplish what rightly seemed to them almost a miracle is a standing historical mystery, best understood by pondering the men themselves and their profound and world-changing ideas.
Through impressive research and an intimate understanding of these iconic patriots, award-winning author Myron Magnet offers fresh insight into why the American experiment resulted in over two centuries of unexampled freedom and prosperity.
Praise For The Founders at Home: The Building of America, 1735-1817…
The Founders at Home is rich in insight, wit, and wisdom about the men who created America. It's superb—a pleasure to read on every page.

— Thomas Fleming, author of The Intimate Lives of the Founding Fathers

Myron Magnet has produced an excellent book from this excellent idea: We can better understand the Founders, who shaped how we live, if we better understand how they lived in the homes they designed and social circles that radiated from those homes. The American Revolution, he argues, was a success because of its moderation, and this virtue suffused the Founders' lives.
— George F. Will, author of One Man's America: The Pleasures and Provocations of Our Singular Nation

Americans have long admired our Founders from a respectful distance. Now author Myron Magnet pulls us closer, into the framers' homes and minds, so that we suddenly see not only what drove them but also how very much we share with those first Americans. Accurate, skillful, and utterly charming.
— Amity Shlaes, author of The Forgotten Man

The Founders of the American Revolution avoided the excesses of other major revolutions, not just because of their seminal ideas but also because they were practical, good men, both at work and at home. Myron Magnet, in this strikingly original thesis, shows how the protection of liberty and property were natural extensions of the way the Founders organized their families and homes. We owe him thanks for this timely reminder that how we live and what we think should not be antithetical, but properly complementary.
— Victor Davis Hanson, author of A War Like No Other

The Founders at Home is a fascinating exploration of America's Founding Fathers at the most intimate level. Highly original and intensely absorbing—Myron Magnet has produced an outstanding work of historical research.

— Amanda Foreman, author of Georgiana, Duchess of Devonshire

Masterful…a work of scholarship and a labor of love.
— Michael Goodwin - The New York Post

Does the world need yet another book on the American Founders? Yes, indeed: this one…. Mr. Magnet is an accomplished member of the cast of amateurs who have picked up the popular-history franchise that the American academic community tossed away…his book is a labor of love.
— James Grant - The Wall Street Journal

An excellent and fluid writer, Magnet succeeds in proving his point that these were more than residences; they were an expression of the personalities of their remarkable owners. The Founders at Home provides an interesting, entertaining, and informative way of looking at their lives and their world.

— John Steele Gordon - Commentary

Delightful… The Founders at Home gives the pleasures of biography, while putting us back in the texture and complexity of a world.

— Richard Brookhiser - National Review

Entertaining and illuminating… Myron Magnet has done an exemplary job of portraying our fascinating founders both as remarkable individuals and as members of a flawed and quarrelsome team that still somehow managed to give life and meaning to the America we are blessed with today.
— Aram Bakshian Jr. - The American Spectator

The Founders at Home is subtitled "The Building of America, 1735–1817." "Building" is a pun: All the men he writes about left homes that, centuries later, are still intact and visitable. But, by a shrewd selection of subjects, Magnet also covers the construction of a country, from first thoughts to finishing touches—from the Zenger trial to the Battle of New Orleans. His cast of characters allows him to erase the dichotomy between overexposure and obscurity. The heavyweights are well represented: Washington, Hamilton, Jefferson, Madison. But joining them are Founders most of us have barely or never heard of: William Livingston, the Lees of Stratford Hall, sober John Jay. The Founders at Home gives the pleasures of biography, while putting us back in the texture and complexity of a world.

— Richard Brookhiser - National Review

His exceedingly well-written and richly documented narrative builds excitement like the best of tales told around a campfire… Magnet masterfully conveys the often halting steps the founders took as they moved toward the creation of our democracy by tapping lavishly into their own recorded words, a reminder both of what very good writers some of them were, and how lucky we were as a nation to have been born in the high noon of the Enlightenment… With The Founders at Home, he has deepened our understanding of the worldview of our most esteemed political ancestors.

— Rosemary Michaud - Charleston Post and Courier
W. W. Norton & Company, 9780393240214, 480pp.
Publication Date: November 11, 2013
About the Author
Myron Magnet, editor-at-large of City Journal, is the author of The Founders at Home, The Dream and the Nightmare, and Dickens and the Social Order. He was awarded a National Humanities Medal by President George W. Bush in 2008. He lives in New York City.
or
Not Currently Available for Direct Purchase