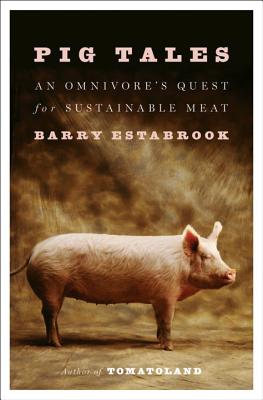 Pig Tales
An Omnivore's Quest for Sustainable Meat
Hardcover

* Individual store prices may vary.
Other Editions of This Title:
Digital Audiobook (7/27/2015)
Paperback (6/21/2016)
MP3 CD (7/28/2015)
Compact Disc (7/28/2015)
Description
An eye-opening investigation of the commercial pork industry and an inspiring alternative to the way pigs are raised and consumed in America.
Barry Estabrook, author of the New York Times bestseller Tomatoland and a writer of "great skill and compassion" (Eric Schlosser), now explores the dark side of the American pork industry. Drawing on his personal experiences raising pigs as well as his sharp investigative instincts, Estabrook covers the range of the human-porcine experience. He embarks on nocturnal feral pig hunts in Texas. He visits farmers who raise animals in vast confinement barns for Smithfield and Tyson, two of the country's biggest pork producers. And he describes the threat of infectious disease and the possible contamination of our food supply. Through these stories shines Estabrook's abiding love for these remarkable creatures. Pigs are social, self-aware, and playful, not to mention smart enough to master the typical house dog commands of "sit, stay, come" twice as fast as your average pooch. With the cognitive abilities of at least three-year-olds, they can even learn to operate a modified computer. Unfortunately for the pigs, they're also delicious to eat.
Estabrook shows how these creatures are all too often subjected to lives of suffering in confinement and squalor, sustained on a drug-laced diet just long enough to reach slaughter weight, then killed on mechanized disassembly lines. But it doesn't have to be this way. Pig Tales presents a lively portrait of those farmers who are taking an alternative approach, like one Danish producer that has a far more eco-friendly and humane system of pork production, and new, small family farms with free-range heritage pigs raised on antibiotic-free diets. It is possible to raise pigs responsibly and respectfully in a way that is good for producers, consumers, and some of the top chefs in America.
Provocative, witty, and deeply informed, Pig Tales is bound to spark conversation at dinner tables across America.
Praise For Pig Tales: An Omnivore's Quest for Sustainable Meat…
A beautiful and clear-eyed examination of the world of pigs and pig farming. With his engaging prose and soulful, riveting stories, [Estabrook] illuminates the complexities of the pig industry and the desperate need for reform.
— Alice Waters, Chez Panisse

Estabrook puts his substantial reporting, storytelling, and writing talents in the service of the pig. He documents the horrors perpetrated in America on this miracle creature, but he also describes the ways to break away from those horrors. . . . Pig Tales appalled me, terrified me, and then filled me with hope.

— Michael Ruhlman, author of Charcuterie and Salumi

Estabrook tells two powerful stories here. The first is about the appalling ways in which Big Pig raises animals. . . . The second is about how skilled animal husbandry and respect for the intelligence of pigs produces . . . a far more satisfying life for farmers and pigs alike. Pig Tales is beautifully written. It is also deeply touching.

— Marion Nestle, professor of nutrition, food studies, and public health at New York University, and author of Eat, Drink, Vote: An Illustrated Guide to Food Politics

Estabrook, a reporter of iron constitution and persistence, has dug deep into the truth about the American pork industry without losing his sense of humor and humanity. Gruesome on one hand; funny on the other.
— Christopher Kimball - Wall Street Journal

Estabrook turns his keen journalistic eye to pig production . . . [and] provides balance in the engaging tales of farmers and processors who are thoughtful and eminently human. . . . [A] must-read.
— Cathy Barrow, author of Mrs. Wheelbarrow's Kitchen

Before Tomatoland, I thought I knew about the American way of farming. Barry Estabrook proved that I was wrong, painting a devastating portrait of what was really taking place out in the fields. It changed the way I cook and eat. Pig Tales is even more illuminating, a window into the world of pigs and pig farmers that every American omnivore needs to read. You will never look at a piece of pork in quite the same way.

— Ruth Reichl author of Delicious!

Estabrook demonstrates his skill with words to tell compelling true stories…authoritative yet approachable.
— Steve Weinberg - Seattle Times

Masterfully blends storytelling with succinct explanations of policy and science…a must-read.
— Jim Romanoff - EatingWell

Cogent, level-headed.
— Nature

Excellent…a more balanced and nuanced complement to muckraking works on similar subjects by Upton Sinclair (The Jungle) and, more recently, Eric Schlosser (Fast Food Nation).

— Peter A. Coclanis - Raleigh News & Observer
W. W. Norton & Company, 9780393240245, 336pp.
Publication Date: May 4, 2015
About the Author
A three-time James Beard Award winner, Barry Estabrook is a former contributing editor at Gourmet magazine and the author of Pig Tales and Tomatoland. He blogs at politicsoftheplate.com and lives in Vermont.
Book Videos
Coverage from NPR
or
Not Currently Available for Direct Purchase