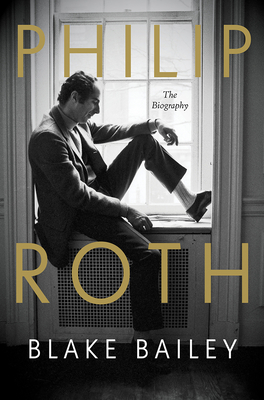 Philip Roth
The Biography
Hardcover

* Individual store prices may vary.
Description
Named one of the Most Anticipated Books of 2021 by Oprah Magazine, Chicago Tribune, the Guardian, Literary Hub, The Times (UK), Financial Times, and more.



The renowned biographer's definitive portrait of a literary titan.
Appointed by Philip Roth and granted independence and complete access, Blake Bailey spent years poring over Roth's personal archive, interviewing his friends, lovers, and colleagues, and engaging Roth himself in breathtakingly candid conversations. The result is an indelible portrait of an American master and of the postwar literary scene.
Bailey shows how Roth emerged from a lower-middle-class Jewish milieu to achieve the heights of literary fame, how his career was nearly derailed by his catastrophic first marriage, and how he championed the work of dissident novelists behind the Iron Curtain.
Bailey examines Roth's rivalrous friendships with Saul Bellow, John Updike, and William Styron, and reveals the truths of his florid love life, culminating in his almost-twenty-year relationship with actress Claire Bloom, who pilloried Roth in her 1996 memoir, Leaving a Doll's House.
Tracing Roth's path from realism to farce to metafiction to the tragic masterpieces of the American Trilogy, Bailey explores Roth's engagement with nearly every aspect of postwar American culture.
Praise For Philip Roth: The Biography…
Excellent…evenhanded…Roth gave Bailey access to his archive and sat down for interviews, and it shows, especially in the many intimate details about Roth's personal life…An outstanding biography.
— Kirkus (starred review)

'Magisterial' and 'definitive' … don't do justice to Blake Bailey's years-in-the-making opus. … Bailey meticulously conjures the career of one of America's literary titans, the devils and angels that shaped his work.
— O, The Oprah Magazine

To have our most notable literary biographer tackle a man consistently listed among the planet's master novelists is a monumental gift in the realm of international letters. Not only does Blake Bailey bring his famously scrupulous research to bear on this life packed with equal parts honor and scandal, he does so with economy and narrative force—all while working in elegant, unforgettable prose. As a friend of Roth late in his life, I rue certain stories detailed here. But Bailey also conjures in riveting, almost-holographic detail a man I loved quite literally to death, partly because he never bored me. I wept and railed, marveled and shook my fist at the sky. Just make me interesting, Roth asked of Bailey, and this unputdownable page-turner does just that.
— Mary Karr

Everything you ever wanted to know about Philip Roth you can discover in his novels. Everything you ever wanted to know about what it took to become one of the greatest American writers of our time, you will find in Blake Bailey's breathtaking biography.
— Nicole Krauss

Philip Roth, to go with his legendary talent, was a lucky man. That streak continues with Blake Bailey's charming, wise, and witty biography, which achieves a balance and comprehensiveness that shouldn't have been possible so soon after Roth's death.
— Jonathan Lethem
W. W. Norton & Company, 9780393240726, 912pp.
Publication Date: April 6, 2021
About the Author
Blake Bailey is the author of biographies of John Cheever, Richard Yates, and Charles Jackson. He is the recipient of a Guggenheim Fellowship and an Award in Literature from the American Academy of Arts and Letters, winner of the National Book Critics Circle Award and the Francis Parkman Prize from the Society of American Historians, and a finalist for the Pulitzer and James Tait Black Prizes. His previous book, The Splendid Things We Planned, was a finalist for the National Book Critics Circle Award in Autobiography. He lives in Virginia with his wife and daughter.