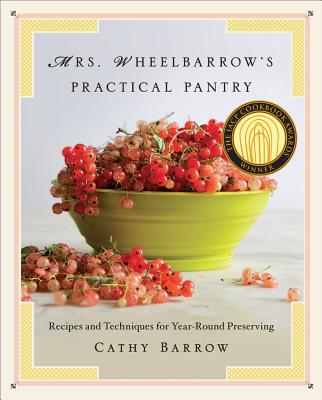 Mrs. Wheelbarrow's Practical Pantry
Recipes and Techniques for Year-Round Preserving
Hardcover

* Individual store prices may vary.
Description
2015 IACP Award Winner, Best Single Subject Cookbook



A householder's guide to canning through the seasons.
In Mrs. Wheelbarrow's Practical Pantry, food preserving expert Cathy Barrow presents a beautiful collection of essential preserving techniques for turning the fleeting abundance of the farmers' market into a well-stocked pantry full of canned fruits and vegetables, jams, stocks, soups, and more.
As Cathy writes in her introduction, "A walk through the weekend farmers' market is a chance not only to shop for the week ahead but also to plan for the winter months." From the strawberries and blueberries of late spring to the peaches, tomatoes, and butter beans of early fall, Mrs. Wheelbarrow's Practical Pantry shows you how to create a fresh, delectable, and lasting pantry—a grocery store in your own home.
Beyond the core techniques of water-bath canning, advanced techniques for pressure canning, salt-curing meats and fish, smoking, and even air-curing pancetta are broken down into easy-to-digest, confidence-building instructions.
Under Cathy's affable direction, you'll discover that homemade cream cheese and Camembert are within the grasp of the weekday cook—and the same goes for smoked salmon, home canned black beans, and preserved and cured duck confit.
In addition to canning techniques, Practical Pantry includes 36 bonus recipes using what's been preserved: rugelach filled with apricot preserves, tomato soup from canned crushed tomatoes, arugula and bresaola salad with Parmigiano-Reggiano and hazelnuts, brined pork chops with garlicky bok choy.
Tips for choosing the best produce at the right time of season and finding the right equipment for your canning and cooking needs—along with troubleshooting tips to ensure safe preserving—will keep your kitchen vibrant from spring to fall.
Whether your food comes by the crate, the bushel, or the canvas bag, just a few of Cathy's recipes are enough to furnish your own practical pantry, one that will provide nourishment and delight all year round. Canning and preserving is not just about the convenience of a pantry filled with peaches, dill pickles, and currant jelly, nor is it the simple joy of making a meal from the jars on the shelf—creating a practical pantry is about cultivating a thoughtful connection with your local community, about knowing exactly where your food comes from and what it can become.
Praise For Mrs. Wheelbarrow's Practical Pantry: Recipes and Techniques for Year-Round Preserving…
A beautifully produced, encyclopedic guide to preserving and canning.
— Corby Kummer - The Atlantic

Brings warm-water canning and pressure canning together for the modern kitchen… An excellent primer and reference with many recipes that put the preserved fruit, vegetables, meat, fish and cheese to good use.
— Michael Ruhlman - Wall Street Journal

Barrow has set out to present 'putting up' not as a hobby, but as a smart way to supply yourself year-round with better ingredients.
— Saveur

A terrific compendium…with clear instructions and an authoritative, non-preachy voice.
— Washington Post

A must-have… [a] carefully written book with stunning photos.
— Lee Svitak Dean - Star Tribune

Cathy Barrow's is an essential voice in the new conversation we are having about the way we eat. Authoritative and comprehensive, Mrs. Wheelbarrow's Practical Pantry brims with sound advice and precise recipes all delivered in the reassuring tone of someone who knows her way around a water bath.

— Spike Gjerde, chef/owner, Woodberry Kitchen, Baltimore, Maryland

A friend in the kitchen is a pleasure, but a friend who's a mentor and a master is even better. A Mrs. Beeton for the DIY generation, one who guiltlessly inspires you to make all your kitchen staples from scratch, Mrs. Wheelbarrow is a household expert who's about to become a household name.
— Amanda Hesser and Merrill Stubbs, cofounders of Food52.com

I came to this book for its clear, accurate, and unintimidating instructions on all aspects of food preservation. I will keep coming back time after time for Barrow's lifetime's worth of delicious recipes for jams, sauces, pickles, and cured meat. They will make my pantry the happiest corner of my kitchen.
— Barry Estabrook, author of Tomatoland: How Modern Industrial Agriculture Destroyed Our Most Alluring Fruit
W. W. Norton & Company, 9780393240733, 432pp.
Publication Date: November 3, 2014
About the Author
Cathy Barrow writes the "Bring It" column in the Washington Post's Food section. She has written for the New York Times, Garden and Gun, Modern Farmer, Saveur, Southern Living, NPR, and National Geographic, among others. She lives near Washington, DC, with her husband, Dennis and two terriers.
or
Not Currently Available for Direct Purchase