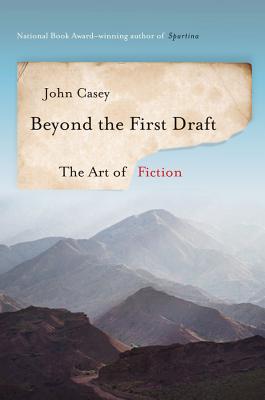 Beyond the First Draft
The Art of Fiction
Hardcover

* Individual store prices may vary.
Other Editions of This Title:
Paperback (8/10/2015)
Description
For students and writers alike, a brilliant guide to the craft of writing by the National Book Award–winning author of Spartina.
National Book Award winner John Casey is a masterful novelist who is also an inspiring and beloved teacher. In
Beyond the First Draft
he offers essential and original insights into the art of writing—and rewriting—fiction.
Through anecdotes about other writers' methods and habits (as well as his own) and close readings of literature from Aristotle to Zola, the essays in this collection offer "suggestions about things to do, things to think about when your writing has got you lost in the woods." In "Dogma and Anti-dogma" Casey sets out the tried-and-true advice and then comments on when to apply it and when to ignore it. In "What's Funny" he considers the range of comedy from pratfalls to elegant wit. In "In Other Words" he discusses translations and the surprising effects that translating can have on one's native language. In "Mentors" he pays tribute to those who have guided him and other writers. Throughout the fourteen essays there are notes on voice, point of view, structure, and other crucial elements. This book is an invaluable resource for aspiring writers and a revitalizing companion for seasoned ones.
Praise For Beyond the First Draft: The Art of Fiction…
Entrancing… encourag[es] us to look more closely and intelligently at what we read and even at what we may be trying to write.
— Allan Massie - Wall Street Journal

It is rare that a book devoted to the craft of fiction stands as a work of art in its own right, but Beyond the First Draft does just that. I marveled at the intelligence, humor, acuity of thought, lucidity of expression, and crystalline beauty of these essays. What a spectacular book this is.

— Tim O'Brien

John Casey is as wise about people—what we want, what we need, who we are, how we dream—as he is about the craft of writing: and that makes him an unusually good guide to the art of making fiction. What a useful book for writers at every stage!
— Andrea Barrett

A major writer and master teacher, John Casey brings his formidable intellect to bear on the art of fiction. [His] wide reading and experience furnish these essays with shrewd exempla and portraits of other writers, their texts, procedures, and consequences. Beyond the First Draft shimmers with the wonderment of its author for the wonder of fiction.

— Christine Schutt

John Casey is a superb craftsman, a legendary teacher, and an omnivorous reader. The combination makes this book of essays a literary delight. It is pure gold for the young, and not so young, writer trying to master the craft.
— Chris Tilghman

These practical and provocative craft essays are the next best thing to being in a workshop with the brilliant writer and teacher John Casey…Personal, insightful, colorfully anecdotal, Beyond the First Draft is more than a writing handbook—it's a singular contribution to the conversation about how fiction is made and what it can do.

— Eleanor Henderson

A delight of a book. I was lucky enough to be a student of John Casey's, but most of what I learned from him didn't come from the classroom. It came through conversation and observation, from spending time with a writer of his great talent, intelligence, and wit. Now his readers can do the same, listening to him play across two centuries of literature, a rich career as a novelist and teacher, and his own well-earned wisdom. The result is a real pleasure.
— Adam Haslett

John Casey offers his brilliant, erudite company in that complicated and mysterious endeavor we call writing fiction. As he explores his own life and work, he introduces us not only to writers we know, or ought to know, but also to new ways of thinking about writing, about reading, and about finding our way into our own work…:A deeply companionable and immensely helpful book.
— Margot Livesey
W. W. Norton & Company, 9780393241082, 256pp.
Publication Date: August 18, 2014
About the Author
John Casey is the author of six works of fiction, including Spartina, winner of the National Book Award, and Compass Rose, as well as nonfiction and translations. Educated at Harvard College, Harvard Law School, and the Iowa Writers' Workshop, he lives in Charlottesville, Virginia.
or
Not Currently Available for Direct Purchase