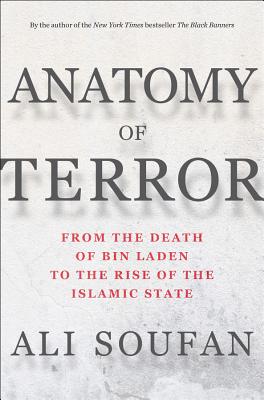 Anatomy of Terror
From the Death of bin Laden to the Rise of the Islamic State
Hardcover

* Individual store prices may vary.
Other Editions of This Title:
Paperback (5/8/2018)
MP3 CD (8/8/2017)
Description
A compelling, definitive account of how and why bin Laden's ideology keeps rising from the dead.
In early 2011, the heart of the Muslim world roiled in protest, consumed with the upheaval of the Arab Spring. The governments of Tunisia and Egypt had already fallen; those of Libya and Yemen would soon follow. Watching the chaos from his hideout in Pakistan, Osama bin Laden saw a historic opportunity: "the next stage," he declared, "will be the reinstating of the rule of the caliphate."
Within weeks, bin Laden was dead, shot in the dark by a U.S. Navy SEAL. Commentators around the world began to prophesy al-Qaeda's imminent demise. But six years later, the reality is the reverse. The group's affiliates have swollen, and the Islamic State—al-Qaeda's most brutal spinoff to date—proclaims itself the reborn caliphate bin Laden foretold in his final weeks.
In Anatomy of Terror, former FBI special agent and New York Times best-selling author Ali Soufan dissects bin Laden's brand of jihadi terrorism and its major offshoots, revealing how these organizations were formed, how they operate, their strengths, and—crucially—their weaknesses. This riveting account examines the new Islamic radicalism through the eyes of its flag-bearers, including a Jordanian former drug dealer whose cruelties shocked even his fellow militants, an Air Force colonel who once served Saddam Hussein, and a provincial bookworm who declared himself caliph of all Muslims. We meet Ayman al-Zawahiri, titular head of al-Qaeda; Saif al-Adel, an Egyptian ex-soldier who faked his own death to become the group's security chief; and bin Laden's own beloved son Hamza, a prime candidate to lead the organization his late father founded.
To eliminate the scourge of terrorism, we must first know who the enemy actually is, and what his motivations are. Anatomy of Terror lays bare the psychology and inner workings of al-Qaeda, the Islamic State, and their spawn, and shows how the spread of terror can be stopped.
Praise For Anatomy of Terror: From the Death of bin Laden to the Rise of the Islamic State…
Ali Soufan is our most important chronicler of the rise and spread of Islamist terror movements. A former FBI agent who identified the hijackers of 9/11, and whose interrogation of al-Qaeda members—without torture—led to innumerable breakthroughs, Soufan is a unique resource and a moral beacon. In a time when our intelligence community as well as our country seem to have lost their bearings, his clear voice guides us through the fog of war and partisanship. Anyone who wants to understand the world we live in now should read this book.
— Lawrence Wright, Pulitzer Prize-winning author of The Looming Tower and The Terror Years

Revealing and timely…. Soufan writes with immense knowledge and authority…. Anatomy of Terror not only tells a gripping story but is filled with insights that put today's terror attacks by the Islamic State and Al Qaeda in perspective with the history and complicated geopolitics of the region.

— Michiko Kakutani - New York Times

Into this moment of counterterrorism policy despair, Ali Soufan, one of America's original terror warriors, has returned to help us take stock…. Soufan retells the Qaeda story from the beginning, enriching that now oft-told tale with newer materials.
— Charlie Savage - New York Times Book Review

Anatomy of Terror tells the stories of the leaders of al-Qaeda and IS… [F]or America, the main enemies are still the organized groups abroad.

— The Economist

Anyone interested in terrorism needs this book:… it provides a blend of history and social and political inspection that lends authority and insights.
— Midwest Book Review

A concise, accessible, enormously readable account of the trajectory of al-Qaeda… In a dizzying scenario of violence, Soufan provides clarity and balance.
— Kirkus (starred review)

A true insider's perspective… This is an important and unsettling effort to describe and understand a threat that will continue indefinitely.
— Booklist

Highly informative and compelling… An important book for everyone who wants to understand the influence of bin Laden and al-Qaeda on today's terrorist groups.
— Nader Entessar - Library Journal

A deep look at the inner workings, ideology, internal politics, and strategies of modern Islamic terrorism.… Soufan reveals himself to be a true expert.
— Publishers Weekly
W. W. Norton & Company, 9780393241174, 384pp.
Publication Date: May 2, 2017
About the Author
Ali Soufan, a former FBI special agent and the lead investigator on some of the world's?most complex international terrorism cases, gained an?international reputation as a top counterterrorism operative. He is the chairman and CEO of The Soufan Group, founder of The Soufan Center, and has been featured in books, films, television series, newspaper articles, and documentaries across the globe.
or
Not Currently Available for Direct Purchase