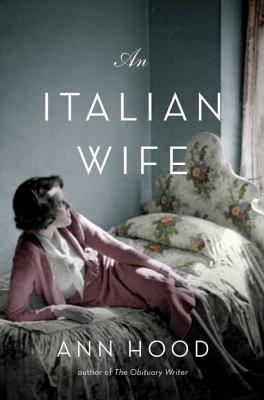 An Italian Wife
Hardcover

* Individual store prices may vary.
Other Editions of This Title:
Digital Audiobook (9/1/2014)
Paperback (8/3/2015)
Compact Disc (9/2/2014)
MP3 CD (9/2/2014)
Compact Disc (9/2/2014)
Description
From the best-selling author of The Obituary Writer, the stirring multigenerational story of an Italian-American family.
An Italian Wife
is the extraordinary story of Josephine Rimaldi—her joys, sorrows, and passions, spanning more than seven decades. The novel begins in turn-of-the-century Italy, when fourteen-year-old Josephine, sheltered and naive, is forced into an arranged marriage to a man she doesn't know or love who is about to depart for America, where she later joins him. Bound by tradition, Josephine gives birth to seven children. The last, Valentina, is conceived in passion, born in secret, and given up for adoption.
Josephine spends the rest of her life searching for her lost child, keeping her secret even as her other children go off to war, get married, and make their own mistakes. Her son suffers in World War One. One daughter struggles to assimilate in the new world of the 1950s American suburbs, while another, stranded in England, grieves for a lover lost in World War Two. Her granddaughters experiment with the sex, drugs, and rock-and-roll in the 1970s. Poignant, sensual, and deeply felt, An Italian Wife is a sweeping and evocative portrait of a family bound by love and heartbreak.
Praise For An Italian Wife…
Is there anyone who can write about the connections between ordinary people as well as Ann Hood does?
— Jodi Picoult

Glorious…Reading this novel was like taking a luscious train ride through the last century. …Full of surprise and wonder, the writing is at turns poetic and sensitive, then dynamic and wise. Ann Hood is a master craftsman. This resplendent novel is a grand crescendo in a pitch-perfect career.
— Adriana Trigiani, author of The Shoemaker's Wife

Hood reinvents the family saga into something spellbindingly new and authentically alive….From turn-of-the-century Italy to 1950s American suburbia to the psychedelic 1970s, Hood shows how love and history transform a family, fuel—and sometimes kill—their dreams, and connect them in ways they never might imagine. Sweeping, sensual, and downright astonishing.
— Caroline Leavitt, New York Times best-selling author of Is This Tomorrow and Pictures of You

I loved Ann Hood's An Italian Wife in the same way I loved Elizabeth Strout's Olive Kitteridge—and for the same reason. The interconnected stories that fan out from a central character—in this case, matriarch Josephine Rimaldi—illuminate important truths about the ways in which our families, our ancestry, and the era into which we're born shape who we become. An Italian Wife is a multi-generational masterpiece.

— Wally Lamb, author of We Are Water

A big, full-hearted grazie to Ann Hood…. She has given us a feast of a story: impressive in its range, sumptuous in its evocations of love and loss, and deeply satisfying.

— Christopher Castellani, author of All This Talk of Love
W. W. Norton & Company, 9780393241662, 288pp.
Publication Date: September 2, 2014
About the Author
Ann Hood is the author of the best-selling novels The Book That Matters Most, The Obituary Writer, and The Knitting Circle, and the memoir Comfort: A Journey Through Grief. Her most recent books are the memoirs Fly Girl A Memoir and Kitchen Yarns: Notes on Life, Love, and Food. She lives in Providence, Rhode Island, and New York City.
From her marriage to her emigration to America to raising her family, Josephine Rimaldi is not a person with a lot of choices in life. Would you consider her to be an unhappy person? Do you think she would consider herself to be unhappy? Has our definition of what happiness is, what choices a person deserves, and what makes for a meaningful life changed in the generations since Josephine's youth?
Describe the character of Elisabetta. Is her childhood ambitiousness a particularly "American" trait? How else can we tell that Elisabetta was raised in a different culture from her mother's?
Describe how the Rimaldi family's relationship to the Catholic Church evolves from generation to generation.
Do you blame Carmine for the hurt and pain in his relationship to Anna Zito? To what extent is his own naïveté an excuse? Describe how his experiences in World War One affect his feelings toward women. What is he responding to when he calls his sisters and nieces "puttanas"? To what extent is he a product of his time?
Josephine loses a daughter. Martha loses a lover. Elisabetta loses her childhood ambition. Carmine loses his grip on reality. To what extent are Josephine and her children defined by loss? What do they find to live for in the wake of their losses?
Compare and contrast Josephine's actual affair with Tommy Petrocelli to her daughter Connie's imaginary affair, which she only wishes she had, with Dr. DiMarco. How are the two women's circumstances different, and how are they similar? What are both women trying to escape?
We meet Josephine's granddaughter Aida twice, once as a child in "Crooning with Dino" and then as a teenager in "The Boy on the Bus." How can we see her growing up and coming of age from one chapter to the next? What does she learn?
We see the Rimaldi family affected by three wars over the course of the novel: World War One, World War Two, and the Vietnam War. Which characters are affected directly, and which indirectly? Can we use this family and these characters as a lens through which to understand how each of these wars changed the country overall?
What does it mean to be an "Italian wife"? Does the meaning of that moniker change over the course of the novel and from generation to generation?
The novel ends in a far more sexually permissive culture than the one in which it begins. Nonetheless, are there parallels to be drawn between Josephine's introduction to sex and love with her husband Vincenzo after marriage in Italy and her granddaughter Penelope's introduction to it at boarding school?
When and in what circumstances did your family come to America? Do you feel that you are in touch with your heritage? Did you—or did your parents or grandparents—make an effort to assimilate, like some of Josephine's children did?
In the novel's final scene, Josephine and her lost daughter are finally in the same place at the same time. Josephine never knows it, although the reader does. What is unique about the reader's vantage point in An Italian Wife? How would the novel be different if our perspective was tied to a single character?
or
Not Currently Available for Direct Purchase