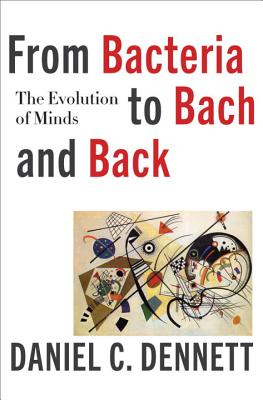 From Bacteria to Bach and Back
The Evolution of Minds
Hardcover

* Individual store prices may vary.
Other Editions of This Title:
Digital Audiobook (2/6/2017)
Paperback (2/20/2018)
Compact Disc (2/7/2017)
MP3 CD (2/7/2017)
Compact Disc (2/7/2017)
Description
One of America's foremost philosophers offers a major new account of the origins of the conscious mind.
How did we come to have minds?
For centuries, this question has intrigued psychologists, physicists, poets, and philosophers, who have wondered how the human mind developed its unrivaled ability to create, imagine, and explain. Disciples of Darwin have long aspired to explain how consciousness, language, and culture could have appeared through natural selection, blazing promising trails that tend, however, to end in confusion and controversy. Even though our understanding of the inner workings of proteins, neurons, and DNA is deeper than ever before, the matter of how our minds came to be has largely remained a mystery.
That is now changing, says Daniel C. Dennett. In From Bacteria to Bach and Back, his most comprehensive exploration of evolutionary thinking yet, he builds on ideas from computer science and biology to show how a comprehending mind could in fact have arisen from a mindless process of natural selection. Part philosophical whodunit, part bold scientific conjecture, this landmark work enlarges themes that have sustained Dennett's legendary career at the forefront of philosophical thought.
In his inimitable style—laced with wit and arresting thought experiments—Dennett explains that a crucial shift occurred when humans developed the ability to share memes, or ways of doing things not based in genetic instinct. Language, itself composed of memes, turbocharged this interplay. Competition among memes—a form of natural selection—produced thinking tools so well-designed that they gave us the power to design our own memes. The result, a mind that not only perceives and controls but can create and comprehend, was thus largely shaped by the process of cultural evolution.
An agenda-setting book for a new generation of philosophers, scientists, and thinkers, From Bacteria to Bach and Back will delight and entertain anyone eager to make sense of how the mind works and how it came about.
Praise For From Bacteria to Bach and Back: The Evolution of Minds…
A supremely enjoyable,
intoxicating work, tying together 50 years of thinking about where minds come
from and how they work. . . . Dennett has earned his reputation as one of
today's most readable, intellectually nimble and scientifically literate
philosophers, as this subtle, clever book shows . . . . immensely instructive
and pleasurable.
— Nature

In From Bacteria to
Bach and Back, his eighteenth book (thirteenth as sole author), Dennett
presents a valuable and typically lucid synthesis of his worldview . . . .
Dennett is always good company . . . . he writes with wit and elegance . . . . distinctive.
— Thomas Nagel - The New York Review of Books

If you have not encountered [Dennett's] work, you surely
should . . . very few contemporary thinkers have supplied us with so many 'thinking
tools.' . . . . Dennett's book is astonishingly rich and will introduce you to
most of the key ideas in the terrain he strides energetically across.
— Adam Zeman - Standpoint

Illuminating and insightful. . . . [Dennett] makes a convincing case, based on a rapidly growing body of experimental evidence, that a materialist theory of mind is within reach. . . . His ideas demand serious consideration.
— Publishers' Weekly

A subtle and
interesting argument.
— Stephen Rose - The Guardian
W. W. Norton & Company, 9780393242072, 496pp.
Publication Date: February 7, 2017
About the Author
Daniel C. Dennett is University Professor and Austin B. Fletcher Professor of Philosophy at Tufts University and the author of numerous books including Intuition Pumps and Other Tools for Thinking, Breaking the Spell, Darwin's Dangerous Idea, and Consciousness Explained.
or
Not Currently Available for Direct Purchase