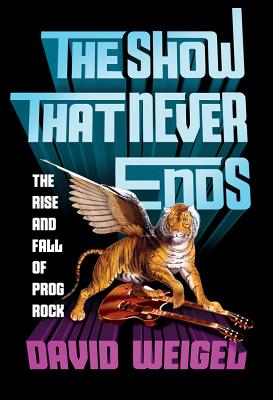 The Show That Never Ends
The Rise and Fall of Prog Rock
Hardcover

* Individual store prices may vary.
Other Editions of This Title:
Paperback (6/5/2018)
Compact Disc (6/13/2017)
Description
The wildly entertaining story of progressive rock, the music that ruled the 1970s charts—and has divided listeners ever since.
The Show That Never Ends is the definitive story of the extraordinary rise and fall of progressive ("prog") rock. Epitomized by such classic, chart-topping bands as Yes, Genesis, Pink Floyd, Jethro Tull, and Emerson Lake & Palmer, along with such successors as Rush, Marillion, Asia, Styx, and Porcupine Tree, prog sold hundreds of millions of records. It brought into the mainstream concept albums, spaced-out cover art, crazy time signatures, multitrack recording, and stagecraft so bombastic it was spoofed in the classic movie This Is Spinal Tap.
With a vast knowledge of what Rolling Stone has called "the deliciously decadent genre that the punks failed to kill," access to key people who made the music, and the passion of a true enthusiast, Washington Post national reporter David Weigel tells the story of prog in all its pomp, creativity, and excess.
Weigel explains exactly what was "progressive" about prog rock and how its complexity and experimentalism arose from such precursors as the Beach Boys' Pet Sounds and the Beatles' Sgt. Pepper. He traces prog's popularity from the massive success of Procol Harum's "Whiter Shade of Pale" and the Moody Blues' "Nights in White Satin" in 1967. He reveals how prog's best-selling, epochal albums were made, including The Dark Side of the Moon, Thick as a Brick, and Tubular Bells. And he explores the rise of new instruments into the prog mix, such as the synthesizer, flute, mellotron, and—famously—the double-neck guitar.
The Show That Never Ends is filled with the candid reminiscences of prog's celebrated musicians. It also features memorable portraits of the vital contributions of producers, empresarios, and technicians such as Richard Branson, Brian Eno, Ahmet Ertegun, and Bob Moog.
Ultimately, Weigel defends prog from the enormous derision it has received for a generation, and he reveals the new critical respect and popularity it has achieved in its contemporary resurgence.
Praise For The Show That Never Ends: The Rise and Fall of Prog Rock…
A new history of [prog] written by an ardent, straight-faced defender who also understands what is most outlandishly entertaining about it.
— John Williams - New York Times Book Review

Savvy . . . [and] too short.
— Kelefa Sanneh - The New Yorker

Weigel weaves the stories of platinum-selling bands like Pink Floyd and Rush into a broader portrait of a rapidly shifting musical landscape. His training as a journalist is everywhere, from the crisp reporting to the deeply researched quotes. His knack for lean, efficient music analysis is refreshing . . . and his obvious passion for the music elevates the narrative.
— Jason Heller - NPR

A deep, detailed, funny and affectionate dive into the history of prog rock.
— Edgar Wright, director of Baby Driver

A diligently researched chronicle [that] aims to grant the much-maligned genre something that has eluded it for decades: respect.
— Ryan Dombal - Pitchfork

Weigel's detailed, gossipy coverage . . . is a very good thing.
— Anthony Mostrum - Los Angeles Review of Books

[The Show That Never Ends] tells a story of interest to both fans [of prog rock] and readers interested in the business of popular culture. . . . Weigel delivers a fun, compulsively readable account.

— Rob Salkowitz - Forbes

A well-researched, informative, and entertaining chronicle of the music's emergence, golden era, and eventual transition from rock's future to its past.
— Phil Freeman - The Wire
W. W. Norton & Company, 9780393242256, 368pp.
Publication Date: June 13, 2017
About the Author
David Weigel is a national reporter for the Washington Post. He has written for Bloomberg Businessweek, Slate, Reason, GQ, Esquire, USA Today, Rolling Stone, Politico, and many other journals. He lives in Washington, DC.
Coverage from NPR