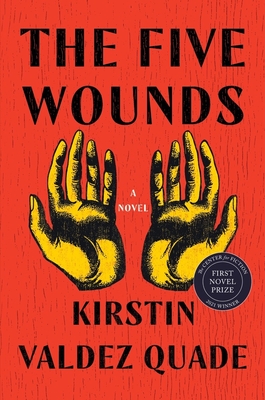 The Five Wounds
A Novel
Hardcover

* Individual store prices may vary.
Description
Named one of the Most Anticipated Books of 2021 by Oprah Magazine, The Week, The Millions, and Electric Lit.



From an award-winning storyteller comes a stunning debut novel about a New Mexican family's extraordinary year of love and sacrifice.
It's Holy Week in the small town of Las Penas, New Mexico, and thirty-three-year-old unemployed Amadeo Padilla has been given the part of Jesus in the Good Friday procession. He is preparing feverishly for this role when his fifteen-year-old daughter Angel shows up pregnant on his doorstep and disrupts his plans for personal redemption. With weeks to go until her due date, tough, ebullient Angel has fled her mother's house, setting her life on a startling new path.
Vivid, tender, funny, and beautifully rendered, The Five Wounds spans the baby's first year as five generations of the Padilla family converge: Amadeo's mother, Yolanda, reeling from a recent discovery; Angel's mother, Marissa, whom Angel isn't speaking to; and disapproving Tíve, Yolanda's uncle and keeper of the family's history. Each brings expectations that Amadeo, who often solves his problems with a beer in his hand, doesn't think he can live up to.
The Five Wounds is a miraculous debut novel from a writer whose stories have been hailed as "legitimate masterpieces" (New York Times). Kirstin Valdez Quade conjures characters that will linger long after the final page, bringing to life their struggles to parent children they may not be equipped to save.
Praise For The Five Wounds: A Novel…
I don't remember ever reading a novel as vibrant and warm as The Five Wounds by Kirstin Valdez Quade. Just a few pages in, I felt like I intimately knew the characters and cared about them as if they were family members. It's both heartbreaking and a joy to read!

— Lara Vapnyar, author of Divide Me by Zero

In this cruel and divisive era, Kirstin Valdez Quade has brought healing and regeneration with The Five Wounds. It is bracing and wise, and it breaks us in the best ways. Then builds us back up again. It should find many grateful readers.

— Luis Alberto Urrea, author of House of Broken Angels

Kirstin Valdez Quade writes with exquisite precision about the fragility and resilience of the Padilla family…I loved The Five Wounds, which reminded me that growing pains are not confined to adolescence and that people can be newborn at any age. Even its most excruciating moments are charged with a luminous compassion.

— Karen Russell, author of Orange World and Other Stories

The characters in this engrossing novel are created in luminous and memorable detail. Just as the pacing is perfect, so too are the tact and care with which each scene is made. Kirstin Valdez Quade, by concentrating on the truth of small moments, has brought a whole world into focus.
— Colm Tóibín, author of House of Names

An unputdownable novel, The Five Wounds takes my breath away with its intimate, humorous, and heart-aching portrayal of a New Mexican family. Kirstin Valdez Quade can make a reader laugh and break a reader's heart in the same breath, and she leaves us, by the end of the novel, in awe of the dazzling power of her storytelling.

— Yiyun Li, author of Must I Go

With deep empathy, fierce intelligence, and subtle wit, Kirstin Valdez Quade has crafted an indelible portrait of a family living in precarity. The characters in The Five Wounds are so vivid, their grasping efforts toward love and redemption so finely wrought, and each page full of such immaculate prose, that I read this novel with ever-increasing breathless urgency.

— Phil Klay, author of Missionaries

The Five Wounds is brilliant! The story is bountiful and so incredibly well crafted—a beautiful braid of the life cycle within a family. It captures both the strength and fragility of relationships and existence and the resilience and great power of love and belief. It is a novel about faith in the largest sense of the word. Each page is packed with detail and the most beautiful language—and images and characters that will remain part of our lives.

— A. M. Homes, author of May We Be Forgiven

You hold in your hands a small, complete universe vibrating with joy and grief, humor and absurdity and delight. All the fabulous mess of humanity is, somehow, in these pages. The Five Wounds is bighearted, tender, wise, and shot through with moments of pure grace.

— C Pam Zhang, author of How Much of These Hills Is Gold
W. W. Norton & Company, 9780393242836, 432pp.
Publication Date: April 6, 2021
About the Author
Kirstin Valdez Quade is the author of Night at the Fiestas, winner of the National Book Critics Circle's John Leonard Prize. She is the recipient of a "5 Under 35" award from the National Book Foundation, the Rome Prize, and the Rona Jaffe Foundation Writer's Award. Her work has appeared in The New Yorker, New York Times, The Best American Short Stories, The O. Henry Prize Stories, and elsewhere. Originally from New Mexico, she now lives in New Jersey and teaches at Princeton University.