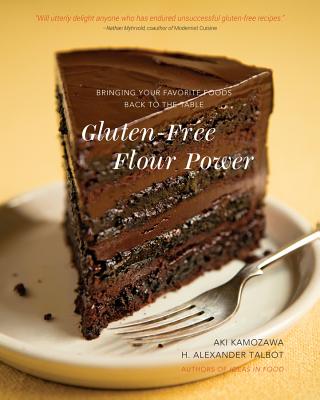 Gluten-Free Flour Power (Hardcover)
Bringing Your Favorite Foods Back to the Table
W. W. Norton & Company, 9780393243420, 368pp.
Publication Date: March 23, 2015
* Individual store prices may vary.
Description
Aki Kamozawa and Alex Talbot make their living devising clever solutions for the culinary world's toughest problems. Bringing years of experience in professional kitchens--and countless hours experimenting on their own--they maximize flavor, texture, and taste.
When they realized the need for smart alternatives to the present forms of gluten-free food, they rose to the challenge.
Their answers are here, based on three all-purpose flour blends (for soy, dairy, and corn allergies) expressed in over 90 recipes. Gluten-Free Flour Power is the indispensable cookbook for home cooks who recognize the value of having reliable, easy-to-make, delicious recipes in their repertoire.
Starting with their original flour blends, Aki and Alex provide perfected gluten-free recipes for deliciously fluffy blueberry muffins, rich triple chocolate cake, hearty spiced pumpkin waffles, chewy chocolate chip cookies, and much more.
They create foolproof recipes that are right at home on the family dinner table: bacon and onion tart, homemade pizza, and cheesecake.
Innovators at heart, Aki and Alex also develop new dishes like homemade doughnuts with buttermilk brioche, seamless ravioli with pepperoni bolognese, and kimchi cavatelli, each dish reliably gluten-free and certifiably delicious.
But this is more than just a cookbook--it is a book of ideas. Readers will learn Aki and Alex's easy tricks for boosting flavor at every turn: using tapioca starch to get that perfectly thick texture in homemade ice cream; adding potato starch for light, crispy, fully-flavored fried chicken; or transforming biscuit and cake batters with toasted milk powder.
With fully illustrated step-by-step instructions accompanying nearly every recipe, Gluten-Free Flour Power belongs right next to the cutting board and the mixing bowl as an essential tool in the kitchen.
Forward-thinking and entirely original, Gluten-Free Flour Power will change the way you plan everyday meals, whether or not yours is a gluten-free kitchen.
or
Not Currently Available for Direct Purchase