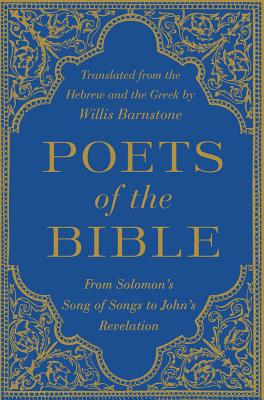 Poets of the Bible
From Solomon's Song of Songs to John's Revelation
Hardcover

* Individual store prices may vary.
Description
"The vividness and beauty of the language emerge in a fresh way . . . with evocative simplicity." —Robert Alter, professor emeritus of Hebrew and comparative literature, University of California, Berkeley
The world's greatest poetry resides in the Bible, yet these major poets are traditionally rendered into prose. In this pioneering volume of biblical poets translated in English, Willis Barnstone restores the lyricism and power of the poets' voices in both the New and Old Testaments. In the Hebrew Bible we hear Solomon rhapsodize in Song of Songs, David chant in Psalms, God and Job debate in grand rhetoric, and prophet poet Isaiah plead for peace. Jesus speaks in wisdom verse in the Gospel, Paul is a philosopher of love, and John of Patmos roars majestically in Revelation, the Bible's epic poem. This groundbreaking volume includes every major biblical poem from Genesis and Adam and Eve in the Garden to the last pages of Alpha and Omega in Paradise.
Praise For Poets of the Bible: From Solomon's Song of Songs to John's Revelation…
Erudite, informed, and respectful. . . . What we have here is not merely fresh translations of the usual poetry most think of in the Bible but a fresh look at all of the Bible as essentially poetry, that is to say, language of a heightened, beautiful nature.
— Huffington Post
[A]ccessible and often gorgeous. . . . Overall, this lovely and ecumenical volume beautifully illustrates Barnstone's overarching conviction that the Bible contains some of the world's greatest—and sometimes underappreciated—poetry. Highly recommended.
— Library Journal
[Barnstone's] translations allow familiar narratives to be heard in fresh ways. . . . Thoughtful selections, a visually arresting presentation, and intriguing translations make these collected poems a valuable addition to biblical literature.
— Publishers Weekly
Willis Barnstone's
Poets of the Bible
delivers lyricism with exacted grace, but the reader shouldn't be surprised to taste midnight oil. The illuminated gestures of language pose questions to mystery, and clarity is revealed through dialog; the reader is drawn into the delicate mechanics of time and song, a spiritual ear and tongue trained by redemptive listening.
Poets of the Bible
begs to be read aloud—not as a balm or alarm, but as a natural calling in the face of existential odds and binding beliefs.
— Yusef Komunyakaa, Pulitzer Prize–winning poet and Global Distinguished Professor of English, New York University
I seriously believe Willis Barnstone's
Poets of the Bible
should replace the Gideon Bible in every hotel room in the United States and Canada. There will be love everywhere.
— Gerald Stern, recipient of the National Book Award for poetry and professor emeritus, Writing Institute, Sarah Lawrence College
Willis Barnstone does a great service to letters and devotion by restoring scripture to its lucid, radiant humanity.
— Peter Monaghan - Chronicle of Higher Education
When the Sistine Chapel was restored in the 1980s and 1990s, the brilliant colors of Michelangelo's work shone forth anew. Something of the effect of this restoration may be felt in Willis Barnstone's verse rendering of 'the poets of the Bible,' in which layers of 'pious' literalist interpretation (which is to say, prose translation) are scraped away to reveal—poetry! A book we thought we knew well appears, between these pages, as something entirely unfamiliar, and more wondrous for its strangeness.
— Naomi Sheindel Seidman, Koret Professor of Jewish Culture, Richard S. Dinner Center for Jewish Studies at the Graduate Theological Union
This lovely and ecumenical volume beautifully illustrates Barnstone's overarching conviction that the Bible contains some of the world's greatest - and sometimes underappreciated - poetry. Highly recommended. 
Poets of the Bible
offers a fresh translation of biblical poetry, restoring Hebrew and Greek names that have been crusted-over in all earlier translations. His introductions to each poet contribute information based on his extensive publications about canonical and noncanonical Jewish and Christian texts.
— William McCulloh, professor emeritus of classics, Kenyon College
Distinguished poet-scholar Willis Barnstone shows us the religion in poetry and the poetry in religion, and, best of all, how poetry flows from one religion to another. Who else but Willis Barnstone—who has written, translated and in general published more about the literatures of the world than anyone else—could enable us to see this so clearly? A
tour de force
.
— David M. Hertz, professor of comparative literature, Indiana University
W. W. Norton & Company, 9780393243895, 544pp.
Publication Date: June 27, 2017
About the Author
Willis Barnstone, professor, poet, and scholar, is the author of eighty volumes, including The Restored New Testament, The Gnostic Bible, The Poems of Jesus Christ, The Poetics of Translation, and Mexico in My Heart: New and Selected Poems. He lives in Oakland, California, and Paris.
or
Not Currently Available for Direct Purchase