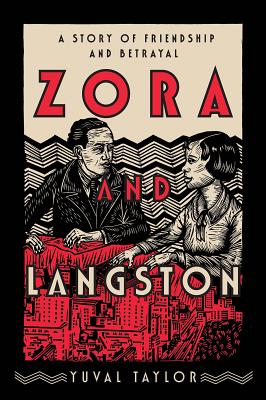 Zora and Langston
A Story of Friendship and Betrayal
Hardcover

* Individual store prices may vary.
Other Editions of This Title:
Compact Disc (5/14/2019)
Paperback (7/21/2020)
Compact Disc (5/14/2019)
MP3 CD (5/14/2019)
Description
A Finalist for the 2019 Los Angeles Times Book Prize in Biography



Zora and Langston is the dramatic and moving story of one of the most influential friendships in literature.
They were best friends. They were collaborators, literary gadflies, and champions of the common people. They were the leading lights of the Harlem Renaissance. Zora Neale Hurston, the author of Their Eyes Were Watching God, and Langston Hughes, the author of "The Negro Speaks of Rivers" and "Let America Be America Again," first met in 1925, at a great gathering of black and white literati, and they fascinated each other. They traveled together in Hurston's dilapidated car through the rural South collecting folklore, worked on the play Mule Bone, and wrote scores of loving letters. They even had the same patron: Charlotte Osgood Mason, a wealthy white woman who insisted on being called "Godmother."
Paying them lavishly while trying to control their work, Mason may have been the spark for their bitter and passionate falling-out. Was the split inevitable when Hughes decided to be financially independent of his patron? Was Hurston jealous of the young woman employed as their typist? Or was the rupture over the authorship of Mule Bone? Yuval Taylor answers these questions while illuminating Hurston's and Hughes's lives, work, competitiveness, and ambition, uncovering little-known details.
Praise For Zora and Langston: A Story of Friendship and Betrayal…
A highly readable account of one of the most compelling and consequential relationships in black literary history, and the time is ripe for this story to reach a new generation of readers.
— Zinzi Clemmons - New York Times Book Review

Writing in a vivid anecdotal style, Taylor's book carries readers along on the giddy, and ultimately, very bumpy ride…Let's focus, as Taylor so evocatively does, on the blossoming of the great friendship between an aspiring Hurston and Hughes, on the wide road opening up before them and on the gifts they shared with each other and with us.
— Maureen Corrigan - NPR

Compelling, concise and scrupulously researched.
— Clifford Thompson - Wall Street Journal

A complete pleasure to read.
— Lisa Page - Washington Post

Yuval Taylor presents a compelling, evenhanded account of the literary feud between celebrated African-American writers Zora Neale Hurston and Langston Hughes…A fascinating and lively story.
— Susan Van Atten - Atlantic Journal-Constitution

Taylor's new book provides details never before revealed of how both left indelible marks on American literature and each other.
— Joanna Poncavage - BookTrib

Taylor has created an intimate portrait of two luminaries of American literature against a backdrop of the cultural, political, and economic forces that influenced them.
— Booklist

Taylor creates a perceptive portrait of the bizarre patron and of the Hurston-Hughes friendship. A fresh look at two important writers of the 1920s.
— Kirkus Reviews

Highly readable and informative…Taylor paints a sympathetic but realistic portrait of these two complicated artists and convincingly shows that, together, they changed the course of African-American literature.
— Publishers Weekly

An intriguing story about the most confounding and fascinating literary breakup in African American cultural history. Rich in atmosphere and detail, Zora and Langston takes readers deep into the heart of the Harlem Renaissance and the brief but marvelous bond between the leading luminaries of their day.

— Emily Bernard, author of Black Is the Body

Taylor examines here perhaps the single most controversial set of personal and professional relationships in African American literature, centered in the iconic duo of Hughes and Hurston but including other unforgettable figures, white as well as black. Digging vigorously in sources new and known, he reconstructs this drama in clear, lively, and elegant if sometimes unsparing prose. This is a dazzling book, easy to read but richly rewarding.
— Arnold Rampersad, author of The Life of Langston Hughes (2 vols.)

The extraordinary friendship between Zora Neale Hurston and Langston Hughes produced one of the richest collaborations in American literature, though much of what they created never found its way to the public. Yuval Taylor digs deeply into the existing scholarship on both writers—and their times—to explore this unusual intimacy and the tragedy of its collapse. The story of their friendship returns us to the brilliant work of these writers. And it reminds us of all we have lost since these two American geniuses were forced to let each other go.
— Carla Kaplan, author of Zora Neale Hurston: A Life in Letters and Miss Anne in Harlem
W. W. Norton & Company, 9780393243918, 304pp.
Publication Date: March 26, 2019
About the Author
Yuval Taylor is the coauthor of Darkest America: Black Minstrelsy from Slavery to Hip-Hop and Faking It: The Quest for Authenticity in Popular Music. His writing has appeared in the Guardian, the Antioch Review, the Oxford American, and other publications. He lives in Chicago.
Coverage from NPR