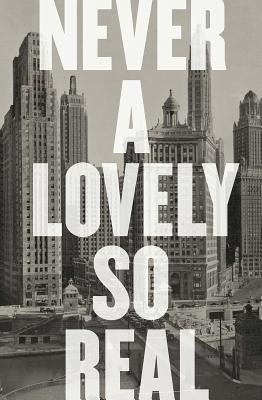 Never a Lovely So Real
The Life and Work of Nelson Algren
Hardcover

* Individual store prices may vary.
Other Editions of This Title:
Digital Audiobook (7/1/2019)
Paperback (4/28/2020)
Description
This definitive biography reclaims Nelson Algren as a towering literary figure and finally unravels the enigma of his disappearance from American letters.
For a time, Nelson Algren was America's most famous author, lauded by the likes of Richard Wright and Ernest Hemingway. Millions bought his books. Algren's third novel, The Man with the Golden Arm, won the first National Book Award, and Frank Sinatra starred in the movie. But despite Algren's talent, he abandoned fiction and fell into obscurity. The cause of his decline was never clear. Some said he drank his talent away; others cited writer's block. The truth, hidden in the pages of his books, is far more complicated and tragic. Now, almost forty years after Algren's death, Colin Asher finally captures the full, novelistic story of his life in a magisterial biography set against mid-twentieth-century American politics and culture.
Drawing from interviews, archival correspondence, and the most complete version of Algren's 886-page FBI file ever released, Colin Asher portrays Algren as a dramatic iconoclast. A member of the Communist Party in the 1930s, Algren used his writing to humanize Chicago's underclass, while excoriating the conservative radicalism of the McCarthy era. Asher traces Algren's development as a thinker, his close friendship and falling out with Richard Wright, and his famous affair with Simone de Beauvoir. Most intriguingly, Asher uncovers the true cause of Algren's artistic exile: a reckless creative decision that led to increased FBI scrutiny and may have caused a mental breakdown.
In his second act, Algren was a vexing figure who hid behind a cynical facade. He called himself a "journalist" and a "loser," though many still considered him one of the greatest living American authors. An inspiration to writers such as Hunter S. Thompson, Martha Gellhorn, Jimmy Breslin, Betty Friedan, Cormac McCarthy, Don DeLillo, Russell Banks, and Thomas Pynchon, Algren nevertheless struggled to achieve recognition, and died just as his career was on the verge of experiencing a renaissance.
Never a Lovely So Real offers an exquisitely detailed, engrossing portrait of a master who, as esteemed literary critic Maxwell Geismar wrote, was capable of suggesting "the whole contour of a human life in a few terse pages."
Praise For Never a Lovely So Real: The Life and Work of Nelson Algren…
Colin Asher has written a deeply researched, moving account of a great writer's life. Nelson Algren was a titanic talent, a mid-twentieth-century comet of a novelist who lit up the literary landscape for two decades, then mysteriously darkened and all but disappeared. Asher's biography goes a long ways towards explaining why.
— Russell Banks, author of Continental Drift and Cloudsplitter

[W]onderfully readable. … In Asher, [Algren] gets the biographer any writer dreams of: thorough, smart, [and] literate.
— Jonathan Dee - New Yorker

[B]rilliant.…Not every biographer of a writer knows how to locate the source of his subject's creative impulses, but Asher does.…[A] vivid, vastly insightful book.
— Andrew O'Hagan - New York Review of Books

Absorbing.…[Asher] scrupulously attempts to separate facts from myths…as he explores how a writer who produced prose-poetry of such a high order could now be largely forgotten.
— Susan Jacoby - New York Times Book Review

"[L]evelheaded and illuminating. … Never a Lovely So Real has heft and heart, and it displays the sort of respect and loyalty to its subject that the novelist paid to the struggling, real-life people he put into his books.

— Thomas Mallon - Wall Street Journal

[A] work of love and prodigious research and, as such, deserves to be honored.
— Vivian Gornick - The New Republic

[D]evotional and beautifully written ... its sentences captur[es] the very same mix of lyricism and street, hard truths and sentimentality that made Algren himself so special.
— Dan Simon - The Nation

[A] well-written and scrupulously researched biography. … One can only hope that efforts of remembrance like Never a Lovely So Real will help to return [Algren's] star to the literary firmament where it belongs.

— Woody Haut - Los Angeles Review of Books

Nelson Algren is one of those fascinating, almost mythical figures in twentieth-century arts and letters, and Colin Asher's fine biography brings him to life with breathless intensity. It also provides the necessary corrective to Algren's hitherto misrepresented and misunderstood life and work and restores him to the rightful position he should occupy in American literature.
— Deirdre Bair, National Book Award-winning author of Samuel Beckett: A Biography and Simone de Beauvoir: A Biography

Easily the best biography of the great Nelson Algren, and an extraordinary book in its own right, Never a Lovely So Real reads like a novel about the strange and wayward life of a determined outsider. More than any first-rate American novelist of the postwar era, Algren has fallen through the cracks. Colin Asher is a wonderful storyteller, and I applaud his heroic project, in a callous phase of our national history, to restore the reputation of a writer who evoked the singular dignity of the lowliest human lives.

— Blake Bailey, author of Cheever: A Life

[V]igorous, poetic…[A] generous, stylish portrait of an impulsive, directionless outsider who nonetheless established a place among the lions of mid-twentieth-century American literature.
— Publishers Weekly (starred review)

A magnificently thorough and sensitive study of one of the great authors in twentieth-century America. Colin Asher's engrossing biography explores why Algren spoke for those who could not speak for themselves and demonstrates why we desperately need a voice like his today.
— Paul Buhle, author of Marxism in the United States

As he presents Algren as a seminal American writer focused on injustice in this captivating, redefining, and sharply relevant biography, Asher also reveals how the insidious abuse of power by the federal government destroys lives.
— Donna Seaman - Booklist (starred review)
W. W. Norton & Company, 9780393244519, 560pp.
Publication Date: April 16, 2019
About the Author
Colin Asher is an award-winning writer whose work has been featured in the Believer, the Los Angeles Review of Books, the Boston Globe, and the San Francisco Chronicle. An instructor at CUNY, he was a 2015/2016 Fellow at the Leon Levy Center for Biography.
or
Not Currently Available for Direct Purchase