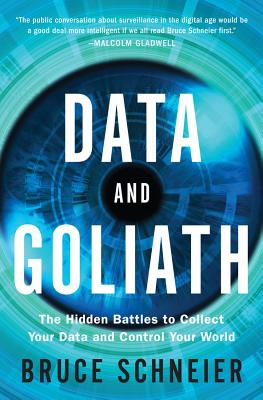 Data and Goliath
The Hidden Battles to Collect Your Data and Control Your World
Hardcover

* Individual store prices may vary.
Other Editions of This Title:
Digital Audiobook (4/2/2015)
Paperback (2/8/2016)
Description
You are under surveillance right now.
Your cell phone provider tracks your location and knows who's with you. Your online and in-store purchasing patterns are recorded, and reveal if you're unemployed, sick, or pregnant. Your e-mails and texts expose your intimate and casual friends. Google knows what you're thinking because it saves your private searches. Facebook can determine your sexual orientation without you ever mentioning it.
The powers that surveil us do more than simply store this information. Corporations use surveillance to manipulate not only the news articles and advertisements we each see, but also the prices we're offered. Governments use surveillance to discriminate, censor, chill free speech, and put people in danger worldwide. And both sides share this information with each other or, even worse, lose it to cybercriminals in huge data breaches.
Much of this is voluntary: we cooperate with corporate surveillance because it promises us convenience, and we submit to government surveillance because it promises us protection. The result is a mass surveillance society of our own making. But have we given up more than we've gained? In Data and Goliath, security expert Bruce Schneier offers another path, one that values both security and privacy. He shows us exactly what we can do to reform our government surveillance programs and shake up surveillance-based business models, while also providing tips for you to protect your privacy every day. You'll never look at your phone, your computer, your credit cards, or even your car in the same way again.
Praise For Data and Goliath: The Hidden Battles to Collect Your Data and Control Your World…
When it comes to what government and business are doing together and separately with personal data scooped up from the ether, Mr. Schneier is as knowledgeable as it gets…. Mr. Schneier's use of concrete examples of bad behavior with data will make even skeptics queasy and potentially push the already paranoid over the edge. Mr. Schneier writes clearly and simply about a complex subject.
— Jonathan A. Knee - The New York Times

Lucid and compelling.
— Emily Parker - Washington Post

A pithy, pointed, and highly readable explanation of what we know in the wake of the Snowden revelations, with practical steps that ordinary people can take if they want to do something about the threats to privacy and liberty posed not only by the government but by the Big Data industry.
— Neal Stephenson, author of Reamde

Lucid and fast-paced…. Schneier describes with dismay the erosion of privacy, then lays out a strategy for turning the tide.
— Hiawatha Bray - Boston Globe

[T]hought-provoking, absorbing, and comprehensive.
— Gil Press - Forbes

The public conversation about surveillance in the digital age would be a good deal more intelligent if we all read Bruce Schneier first.
— Malcolm Gladwell

Bruce Schneier has written a hugely insightful and important book about how big data and its cousin, mass surveillance, affect our lives, and what to do about it. In characteristic fashion, Schneier takes very complex and varied information and ideas and makes them vivid, accessible, and compelling.
— Jack Goldsmith, former head of the Office of Legal Counsel of the Department of Justice under George W. Bush

Schneier exposes the many and surprising ways governments and corporations monitor all of us, providing a must-read User's Guide to Life in the Data Age. His recommendations for change should be part of a much-needed public debate.
— Richard A. Clarke, former chief counterterrorism adviser on the National Security Council under Presidents Bill Clinton and George W. Bush, and author of Cyber War

As it becomes increasingly clear that surveillance has surpassed anything that Orwell imagined, we need a guide to how and why we're being snooped and what we can do about it. Bruce Schneier is that guide—step by step he outlines the various ways we are being monitored, and after scaring the pants off us, he tells us how to fight back.
— Steven Levy, editor-in-chief of Backchannel and author of Crypto and Hackers

A judicious and incisive analysis of one of the most pressing new issues of our time, written by a true expert.
— Steven Pinker, Johnstone Professor of Psychology, Harvard University, and author of The Better Angels of Our Nature

Lucid, sophisticated… Finely constructed, free of cant, and practical in its conclusions.
— Jacob Silverman - Los Angeles Times

Paints a picture of the big-data revolution that is dark, but compelling; one in which the conveniences of our digitized world have devalued privacy.
— Charles Seife - Nature

The internet is a surveillance state, and like any technology, surveillance has both good and bad uses. Bruce Schneier draws on his vast range of technical and historical skills to sort them out. He analyzes both the challenge of big brother and many little brothers. Anyone interested in security, liberty, privacy, and justice in this cyber age must read this book.
— Joseph S. Nye Jr., Harvard University Distinguished Service Professor and author of The Future of Power

Data and Goliath is the indispensable guide to understanding the most important current threat to freedom in democratic market societies. Whether you worry about government surveillance in the post-Snowden era, or about Facebook and Google manipulating you based on their vast data collections, Schneier, the leading, truly independent expert writing about these threats today, offers a rich overview of the technologies and practices leading us toward surveillance society and the diverse solutions we must pursue to save us from that fate.

— Yochai Benkler, Berkman Professor of Entrepreneurial Legal Studies at Harvard Law School and author of The Wealth of Networks
W. W. Norton & Company, 9780393244816, 400pp.
Publication Date: March 2, 2015
About the Author
Bruce Schneier is "one of the world's foremost security experts" (Wired), a "security guru" (Economist), and the best-selling author of thirteen books. He is a Fellow and lecturer at the Harvard Kennedy School and the Berkman Klein Center for Internet and Society and a board member of the Electronic Frontier Foundation, Access Now, and the Tor Project.
Book Videos