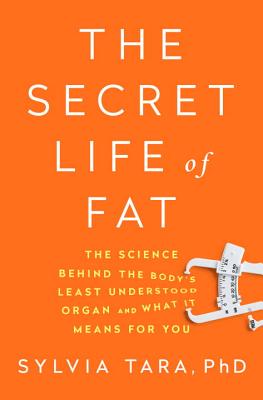 The Secret Life of Fat
The Science Behind the Body's Least Understood Organ and What It Means for You
Hardcover

* Individual store prices may vary.
Other Editions of This Title:
Digital Audiobook (12/26/2016)
Paperback (12/26/2017)
Paperback (6/10/2017)
Description
This groundbreaking work of practical, popular science reveals that fat is much smarter than we think.
Fat is an obsession, a dirty word, a subject of national handwringing—and, according to biochemist Sylvia Tara, the least-understood part of our body.
You may not love your fat, but your body certainly does. In fact, your body is actually endowed with many self-defense measures to hold on to fat. For example, fat can use stem cells to regenerate; increase our appetite if it feels threatened; and use bacteria, genetics, and viruses to expand itself. The secret to losing twenty pounds? You have to work with your fat, not against it. Tara explains how your fat influences your appetite and willpower, how it defends itself when attacked, and why it grows back so quickly. The Secret Life of Fat brings cutting-edge research together with historical perspectives to reveal fat's true identity: an endocrine organ that, in the right amount, is critical to our health. Fat triggers puberty, enables our reproductive and immune systems, and even affects brain size.
Although we spend $60 billion annually fighting fat, our efforts are often misinformed and misdirected. Tara expertly illustrates the complex role that genetics, hormones, diet, exercise, and history play in our weight, and The Secret Life of Fat sets you on the path to beat the bulge once and for all.
Praise For The Secret Life of Fat: The Science Behind the Body's Least Understood Organ and What It Means for You…
Finally, a book that sheds some light on understanding body fat—specifically, its role, why it is so difficult to fight, and how it works differently for different people… This genuinely enlightening book will be a revelation to those engulfed in self-blame and shame about their weight.
— Publishers Weekly

Body fat is so much more than a passive calorie storage depot, as Sylvia Tara brilliantly shows. Read The Secret Life of Fat to make friends with this misunderstood and critically important organ.

— David S. Ludwig, MD, PhD, Professor, Harvard Medical School and author of the #1 New York Times bestseller Always Hungry?

For years we presumed that body fat is just a depot for energy, but current science is proving that it is actually the largest endocrine gland in our body. This enigmatic organ conveys many paradoxes and surprises; depending on its location, color and genetic makeup it might be either dangerous or protective. Sylvia Tara dove deeply in science of fat and adeptly explains it all in this fascinating book.
— Osama Hamdy, Medical Director of the Obesity Clinical Program at Joslin Diabetes Center and author of The Diabetes Breakthrough

You can outsmart your body fat, but first you must understand it! With the right lifestyle, eating, and exercise approach you can lose weight and keep it off. Learn how in this engaging and informative masterpiece.
— Michael Dansinger, MD, MS, founding director of the Diabetes Reversal Program at Tufts Medical Center in Boston

Dr. Sylvia Tara addresses important concepts related to the development, prevention, and treatment of obesity. This book will be a very interesting read for lay people interested in fat and obesity, as well as for many in the scientific community—I really enjoyed reading it!
— Carl Lavie, MD, author of The Obesity Paradox

A refreshing change to the conflicting advice and opinions about food that we are subjected to every day.
— Philippa Matthews - Chemistry World

A useful primer on the biology of fat…. Illuminating.
— Jerome Groopman - The New Yorker

Powerful… [Tara's] research and insight is deeply perspective-shifting.
— Melissa Wuske - Foreword

Like comfort food for anyone carrying around a lifetime of guilt for eating an extra cookie.
— Carol Saline - Hadassah Magazine

Biochemist Tara gives readers the skinny on fat in a lively discussion that incorporates sumo wrestlers, a bloated diet industry, [and] genetics… Readers will discover that, regardless of body size and shape, fat does some heavy work on our behalf.
— Tony Miksanek - Booklist

[Tara] ably combines an accessible explanation of how the body's metabolism works with a clear survey of the latest research on obesity. [The Secret Life of Fat] should have wide appeal, not only to those fighting the battle of the bulge.

— Kirkus
W. W. Norton & Company, 9780393244830, 288pp.
Publication Date: December 27, 2016
About the Author
Sylvia Tara holds a PhD in biochemistry from the University of California at San Diego and an MBA from the Wharton School of the University of Pennsylvania. Tara was a consultant with McKinsey & Company and has worked at the world's largest biotechnology companies. She lives in the Los Angeles area.
or
Not Currently Available for Direct Purchase