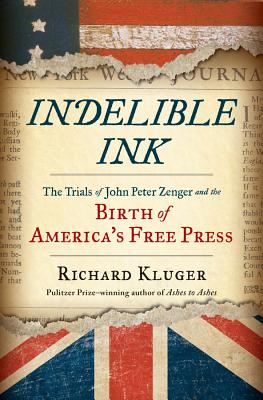 Indelible Ink
The Trials of John Peter Zenger and the Birth of America's Free Press
Hardcover

* Individual store prices may vary.
Other Editions of This Title:
Digital Audiobook (9/12/2016)
Compact Disc (9/13/2016)
MP3 CD (9/13/2016)
Paperback (10/24/2017)
Description
The untold story of the battle to legalize free expression in America by the Pulitzer Prize–winning author of Ashes to Ashes.
The liberty of written and spoken expression has been fixed in the firmament of our social values since our nation's beginning—the government of the United States was the first to legalize free speech and a free press as fundamental rights. But when the British began colonizing the New World, strict censorship was the iron rule of the realm; any words, true or false, that were thought to disparage the government were judged a criminally subversive—and duly punishable—threat to law and order. Even after Parliament lifted press censorship late in the seventeenth century, printers published what they wished at their peril.
So when in 1733 a small newspaper, the New-York Weekly Journal, printed scathing articles assailing the new British governor, William Cosby, as corrupt and abusive, colonial New York was scandalized. The paper's publisher, an impoverished printer named John Peter Zenger with a wife and six children, in fact had no hand in the paper's vitriolic editorial content—he was only a front man for Cosby's adversaries, New York Supreme Court Chief Justice Lewis Morris and the shrewd attorney James Alexander. Zenger nevertheless became the endeavor's courageous fall guy when Cosby brought the full force of his high office down upon it. Jailed for the better part of a year, Zenger faced a jury on August 4, 1735, in a proceeding matched in importance during the colonial period only by the Salem Witch Trials.
In Indelible Ink, acclaimed social historian Richard Kluger re-creates in rich detail this dramatic clash of powerful antagonists that marked the beginning of press freedom in America and its role in vanquishing colonial tyranny. Here is an enduring lesson that resounds to this day on the vital importance of free public expression as the underpinning of democracy.
Praise For Indelible Ink: The Trials of John Peter Zenger and the Birth of America's Free Press…
[Kluger] brings...vivid storytelling built on exacting research, a knack for animating the context and an exquisite sense of balance that honors this country's essential press freedom without romanticizing its champions.
— Bill Keller - The New York Times Book Review

"Vivid and brisk....Kluger's summaries of the Journal's most satirical passages are great fun to read....Fascinating, too, is Kluger's analysis of the rhetorical strategies employed by Morris and Alexander in the Journal."

— The Los Angeles Review of Books

Lively, detailed....the most thoughtful, comprehensive and well-researched study of the 1735 criminal trial in New York City of newspaper publisher John Peter Zenger on charges of seditious libel.
— M. Kelly Tillery - The Philadelphia Lawyer

What is so timely about this well-written and thoroughly researched book is its reminder that no civil right extended to the American people is set in stone or inviolable.
— James Srodes - Washington Times

Celebrates the power of free expression….a comprehensive tribute to Zenger's legal battle against censorship and reprisal.
— Starred Review - Publishers Weekly

We've heard of the Salem witch trials. This is the trial from the 1700s you have not heard about. Mega-trial. Think Hamilton meets John Grisham. We have a 1st amendment and we got into the American Revolution because of the explosive things that happened in this book.
— Brad Thor - The Today Show

Beneath WikiLeaks and Edward Snowden, beneath the whole modern concept of a free press, lies the trial of a German-American printer in colonial New York. Richard Kluger's account of the Zenger trial is thoughtful, scrupulously detailed, and utterly relevant.
— Russell Shorto, author of The Island at the Center of the World

Indelible Ink is a triumph…a new and very compelling take on the Zenger case. I found myself glued to Kluger's book and much in agreement with his findings, and he has written it all wonderfully well.

— Stanley N. Katz, author of Newcastle's New York: Anglo-American Politics, 1723–53 and director of Princeton University's Center for Art and Cultural Studies
W. W. Norton & Company, 9780393245462, 368pp.
Publication Date: September 13, 2016
About the Author
Richard Kluger won the Pulitzer Prize for Ashes to Ashes, a searing history of the cigarette industry, and was a two-time National Book Award finalist (for Simple Justice and The Paper). He lives in Berkeley, California.
or
Not Currently Available for Direct Purchase