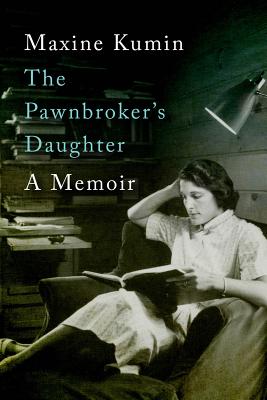 The Pawnbroker's Daughter
A Memoir
Hardcover

* Individual store prices may vary.
Description
From Pulitzer Prize–winning poet Maxine Kumin comes a timeless memoir of life, love, and poetry.
Maxine Kumin left an unrivaled legacy as a pioneering poet and feminist. The Pawnbroker's Daughter charts her journey from a childhood in a Jewish community in Depression-era Philadelphia, where Kumin's father was a pawnbroker, to Radcliffe College, where she comes into her own as an intellectual and meets the soldier-turned-Los Alamos scientist who would become her husband; to her metamorphosis from a poet of "light verse" to a "poet of witness"; to her farm in rural New England, the subject and setting of much of her later work.
Against all odds, Kumin channels her dissatisfaction with the life that is expected of her as a wife and a mother into her work as a feminist and one of the most renowned and remembered twentieth-century American poets.
Praise For The Pawnbroker's Daughter: A Memoir…
This splendid memoir is a must for any reader. You've got to love the modesty of the title, The Pawnbroker's Daughter, when if one of Kumin's many admirers such as myself had chosen the title it would have been The Fabulous Autobiography of the World's Best Poet. In its subtle, understated way, her prose is like her poetry, so evocative that it can make your skin prickle. It's a quiet book, but from the first page to the last, I couldn't put it down.

— Elizabeth Marshall Thomas

What a treat to curl up with this keenly observed, beautifully written, and altogether glorious memoir. Kumin is one of life's great celebrants, a luminous wordsmith in both poetry and prose, a true American literary treasure.
— Diane Ackerman

This beautiful memoir evokes the beautiful, meaningful life of the groundbreaking poet and humanist Maxine Kumin. Like her poetry, her prose is direct and incandescent at once, and The Pawnbroker's Daughter is often moving and witty and always remarkably wise. Kumin is greatly missed in the world about which she wrote with such brilliance and ardor. We are very fortunate to have her words.

— Hilma Wolitzer

Maxine Kumin's quietly powerful memoir is so graceful we almost forget it was no easy task for a pawnbroker's daughter, predestined housewife of the 1950s to become a Pulitzer Prize poet, mother of three children, breeder and rider of horses, grower of vegetables, expert swimmer and cross-country skier, New Hampshire farmer, and writer of novels and children's books. And I never heard her raise her voice except in laughter and song.
— Dan Wakefield

As soon as I finished reading Maxine Kumin's The Pawnbroker's Daughter, I started it over again. Hers is an irresistible, no-nonsense, original voice that made itself felt in a male-dominated literature and academia, and now we know how it all came about. It belongs with her poetry, as an afterword and a sweet goodbye.

— Philip Schultz

Everything comes alive in these pages that, like her poems, always say more than the simple words. When you enter this book, this life, you enter the wonderful world that becomes her PoBiz farm, a world not just for poets but for anyone who is enthralled by the world and wants to leave it 'full of the last clover.'
— Richard Jackson
W. W. Norton & Company, 9780393246339, 176pp.
Publication Date: July 13, 2015
About the Author
Maxine Kumin (1925—2014), a former U.S. poet laureate, was the author of nineteen poetry collections as well as numerous works of fiction and nonfiction. Her awards included the Pulitzer Prize, the Ruth Lilly Poetry Prize, the Aiken Taylor Award, the Poet's Prize, and the Harvard Arts and Robert Frost medals.