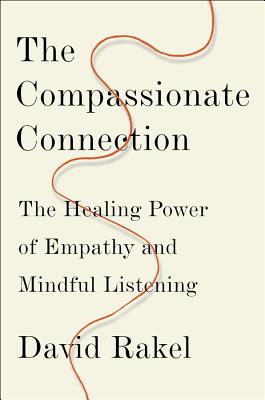 The Compassionate Connection
The Healing Power of Empathy and Mindful Listening
Hardcover

* Individual store prices may vary.
Other Editions of This Title:
Digital Audiobook (4/23/2018)
Compact Disc (4/24/2018)
MP3 CD (4/24/2018)
Description
"This book explains not only the healing power of compassionate human connection, but in the most accessible and practical ways, how to cultivate our capacity to create that connection and thereby empower others to find their best selves."—John Makransky, author of Awakening through Love
All of us have an innate capacity for compassion. We recognize when others are hurting, and we want to help, but we're not always good at it. There is another way. In The Compassionate Connection, Dr. David Rakel explains how we can strengthen our bonds with others—all the while doing emotional and physical good for ourselves.
As founder and director of the University of Wisconsin Integrative Medicine program, Dr. Rakel discovered that we become the most effective helpers when we use the tool of human connection. Drawing on his own research and practice, as well as thirty years of published studies in medicine, sociology, psychology, meditation, and neuroscience, Dr. Rakel "stacks the deck" in favor of healing and introduces the concept of bio-psycho-spiritual authentic awareness. Not only are our bodies and minds connected, but also it has been scientifically proven that our capacity to feel beauty, awe, and compassion enhances our health and wellbeing.
In The Compassionate Connection, Dr. Rakel provides an innovative approach to enhancing health in others and strengthening relationships through the art of connecting. These tools guide us to improve our connections—whether between doctor and patient, husband and wife, parent and child, or boss and employee—and live with clarity, wisdom, and good health.
Praise For The Compassionate Connection: The Healing Power of Empathy and Mindful Listening…
Readers open to positive change will welcome this guidebook. . . . A relevant, necessary reminder about the power of kindness and good intentions.
— Kirkus

In The Compassionate Connection, family physician David Rakel articulates a much-needed vision of human health.… In a deeply personal and accessible book that has a broad reach beyond medicine, Rakel draws on his rich clinical experiences and the latest neuroscience research, showing how human connection is a primary force of healing.

— Ronald Epstein, MD, author of Attending: Medicine, Mindfulness, and Humanity

Rakel takes a novel and compelling approach to the increasingly urgent problem of caregiver depression and burnout.
— former First Lady Rosalynn Carter

Graceful.… Dr. Rakel draws on his experience as a clinician as well as cutting-edge research findings to illustrate the central role of compassion in health and healing. He writes convincingly that everyone—not only doctors—can learn to develop compassionate connection with others and by doing so improve the well-being of all.
— Andrew Weil, author of Spontaneous Happiness

David Rakel has written a tremendously moving and intelligent book on a subject that we deal with every day but whose power we often ignore—the power of empathy.
— Terri Apter, author of Passing Judgment and Difficult Mothers

Rakel is the doctor-guide we all want: truly holistic, a keen observer of human behavior and medicine, and a voracious harvester of science across fields.
— Dan Shapiro, author of And in Health: A Guide for Couples Facing Cancer Together
W. W. Norton & Company, 9780393247749, 304pp.
Publication Date: April 17, 2018
About the Author
Dr. David Rakel was founder and director of the University of Wisconsin Integrative Medicine program. He is now professor and chair of the Department of Family & Community Medicine at the University of New Mexico. He lives in Albuquerque.