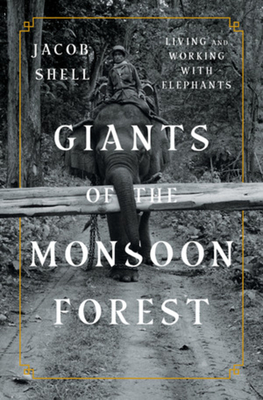 Giants of the Monsoon Forest
Living and Working with Elephants
Hardcover

* Individual store prices may vary.
Other Editions of This Title:
Digital Audiobook (10/28/2019)
Paperback (10/27/2020)
Description
A journey through the hidden world of elephants and their riders.
High in the mountainous rainforests of Burma and India grow some of the world's last stands of mature, wild teak. For more than a thousand years, people here have worked with elephants to log these otherwise impassable forests and move people and goods (often illicitly) under cover of the forest canopy. In Giants of the Monsoon Forest, geographer Jacob Shell takes us deep into this strange elephant country to explore the lives of these extraordinarily intelligent creatures.
The relationship between elephant and rider is an intimate one that lasts for many decades. When an elephant is young, he or she is paired with a rider, who is called a mahout. The two might work together their entire lives. Though not bred to work with humans, these elephants can lift and carry logs, save people from mudslides, break logjams in raging rivers, and navigate dense mountain forests with passengers on their backs.
Visiting tiny logging villages and forest camps, Shell describes fascinating characters, both elephant and human—like a heroic elephant named Maggie who saves dozens of British and Burmese refugees during World War II, and an elephant named Pak Chan who sneaks away from the Ho Chi Minh Trail to mate with a partner in a passing herd. We encounter an eloquent colonel in a rebel army in Burma's Kachin State, whose expertise is smuggling arms and valuable jade via elephant convoy, and several particularly smart elephants, including one who discovers, all on his own, how to use a wood branch as a kind of safety lock when lifting heavy teak logs.
Giants of the Monsoon Forest offers a new perspective on animal intelligence and reveals an unexpected relationship between evolution in the natural world and political struggles in the human one. Shell examines why the complex tradition of working with elephants has endured with Asian elephants, but not with their counterparts in Africa. And he shows us how Asia's secret forest culture might offer a way to save the elephants. By performing rescues after major floods—as they did in the wake of the 2004 Indian Ocean tsunami—and helping sustainably log Asian forests, humans and elephants working together can help protect the fragile spaces they both need to survive.
Praise For Giants of the Monsoon Forest: Living and Working with Elephants…
Never truly domesticated, many elephants in Southeast Asia work for humans during the day and yet are let go at night to forage in the forest. Jacob Shell discusses this age-old pact between two brainy species. Even if our view of the human-animal relationship is changing, the awe in which we hold elephants is amply fed by the stories and history in this fascinating book, especially those in which elephants appear to use their own judgment to solve problems in the field.
— Frans de Waal, author of Are We Smart Enough to Know How Smart Animals Are? and Mama's Last Hug

Shell's research is extensive and meticulous. He complements visits to logging and transport camps, and interviews with human stakeholders, with a review of elephant labor in history, including during major conflicts from the time of Alexander the Great through the Vietnam War.
— Barbara J. King - NPR

[A] beautifully written travelogue and ethnography of the centuries-old relationship between humans and logging elephants.
— Nikil Saval - Newyorker.com

[A] deep dive into the surprisingly complex relationship between [elephants and humans]. … Illuminating.
— Rachel Love Nuwer - Undark

A fascinating exploration of a relationship between two species who could not be more different. Tucked away in one of the last pristine forests on earth, humans and elephants have worked together for centuries, forming a unique bond that exists nowhere else. Beautifully written, and carefully researched, Giants of the Monsoon Forest is an important insight into the minds of elephants, and a moving account of both the best and worst of human nature.

— Brian Hare, author of The Genius of Dogs

Rigorous, poignant, and highly readable, Giants of the Monsoon Forest is an urgent, impassioned, and important reminder that relations between humans and non-humans need not and must not be as disastrously dislocated as they usually are; that human dignity is increased if we recognize the dignity of our non-human cousins, and dangerously diminished if we do not.

— Charles Foster, author of Being a Beast

For millennia Asian elephants have lived in a complicated relationship between working during the day for humans and returning at night to socialize and mate in the wild with other elephants. This relationship may have helped their species to survive.
— Temple Grandin, author of Animals Make Us Human

Among the most enjoyable parts of the book are the stories of individual elephants. … Highly readable.
— Rachel Dwyer - Times Literary Supplement

The greatest strength of Giants of the Monsoon Forest is it's author's clear-eyed pragmatism. Mr. Shell respects elephants without sentimentalizing them.

— Tunku Varadarajan - Wall Street Journal

[A] fascinating and timely account of an overlooked natural bond, the deep tie between people and domesticated elephants. Full of insights into history and with rare accounts from modern-day mahouts, Giants of the Monsoon Forest shows how this ancient relationship provides a path forward - for the elephants, for the forests, and for the rural cultures that rely on both.

— Thor Hanson, author of Buzz

At last, Jacob Shell's book Giants of the Monsoon Forest describes a relationship with a fellow creature that—in Burma, at least—is more collegial rather than murderous or exploitative.

— Yi-Fu Tuan, University of Wisconsin, author of Space and Place
W. W. Norton & Company, 9780393247763, 288pp.
Publication Date: June 11, 2019
About the Author
Jacob Shell  is a professor of geography and urban studies at Temple University. He lives in Philadelphia, Pennsylvania.
or
Not Currently Available for Direct Purchase