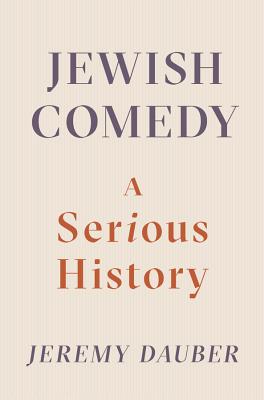 Jewish Comedy
A Serious History
Hardcover

* Individual store prices may vary.
Other Editions of This Title:
Paperback (10/23/2018)
MP3 CD (10/31/2017)
Compact Disc (10/31/2017)
Compact Disc (10/31/2017)
Description
Finalist for the National Jewish Book Award



A rich account of Jewish humor: its nature, its development, and its vital role throughout history.
In a major work of scholarship both erudite and very funny, Columbia professor Jeremy Dauber traces the origins of Jewish comedy and its development from biblical times to the age of Twitter. Organizing the product of Jews' comic imagination over continents and centuries into what he calls the seven strands of Jewish comedy—including the satirical, the witty, and the vulgar—he traces the ways Jewish comedy has mirrored, and sometimes even shaped, the course of Jewish history. Persecution, cultural assimilation, religious revival, diaspora, Zionism—all of these, and more, were grist for the Jewish comic mill; and Dauber's book takes readers on the tour of the funny side of some very serious business. (And vice versa.)
In a work of dazzling scope, readers will encounter comic masterpieces here that range from Talmudic rabbi jokes to medieval skits, Yiddish satires and Borscht Belt routines to scenes from Seinfeld and Broad City, and the book of Esther to Adam Sandler's "Hanukkah Song." Dauber also explores the rise and fall of popular comic archetypes such as the Jewish mother, the Jewish American Princess, and the schlemiel, the schlimazel, and the schmuck, and the classic works of such masters of Jewish comedy as Sholem Aleichem, Isaac Babel, Franz Kafka, the Marx Brothers, Woody Allen, Joan Rivers, Philip Roth, Mel Brooks, Sarah Silverman, Jon Stewart, and Larry David, among many others.
Jewish comedy, as Dauber writes, is serious business. And precisely what it is, how it developed, and how its various strands weave together and in conversation with the Jewish story: that's Jewish Comedy.
Praise For Jewish Comedy: A Serious History…
Dauber recognizes the multiplicity of Jewish humour and wisely resists any single characterisation of it. . . . [He] deftly surveys the whole recorded history of Jewish humour.
— The Economist

Both erudite and breezy. . . . Dauber's breadth left me breathless and his depth left me in his debt.
— Adam Rovner - Forward

From Kafka to Mad magazine, [Dauber] delicately mixes scholarship with comedy in what is an entertaining and even profound book.

— Booklist (Starred review)

Dauber pulls off the impressive feat of discussing humor without sucking the life out of it in this insightful and funny analysis of Jewish humor. . . . Dauber has provided . . . the gold standard for understanding what people of any ethnicity, nationality, or political persuasion find funny, and why.
— Publishers Weekly

An erudite survey of the evolution and distinctiveness of Jewish humor. [Dauber] offers . . . a wide-ranging and insightful cultural analysis.
— Kirkus Reviews

In this brilliant and groundbreaking book, Jeremy Dauber shows that Jerry Seinfeld and Sarah Silverman are just the latest members of an ancient tradition of Jewish humor that stretches all the way back to the Bible. Writing with dazzling scholarly insight and in a style as appealing as his subject, Dauber reveals what made Jews laugh over the centuries. In doing so, he tells a crucial part of the story of Judaism.
— Adam Kirsch, author of The People and the Books

This book is brilliant, endlessly revelatory, and Jeremy Dauber is that rare scholar and critic of real depth who doesn't just make his subject accessible but animates it with the strength of his prose. He's also one of the few writers I've encountered who can explain a joke without killing it. Bravo.
— Sam Lipsyte, author of The Fun Parts

You can't understand comedy without knowing Jewish comedy—and you'll find no smarter, more intrepid, and surprising analysis of the subject than in this book. From the Bible to Kafka to Seinfeld and beyond, Jeremy Dauber's incisive wit and deep erudition makes Jewish Comedy an essential read for anyone curious about what makes us laugh.

— Jason Zinoman, author of Letterman: The Last Giant of Late Night
W. W. Norton & Company, 9780393247879, 384pp.
Publication Date: October 31, 2017
About the Author
Jeremy Dauber is a professor of Jewish literature and American studies at Columbia University. He is the author of Jewish Comedy and The Worlds of Sholem Aleichem, both finalists for the National Jewish Book Award. He lives in New York City.
or
Not Currently Available for Direct Purchase