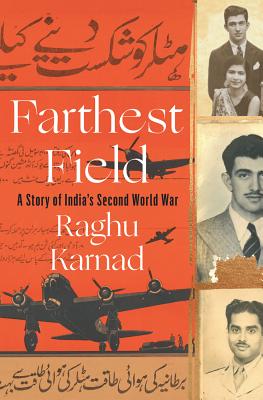 Farthest Field
An Indian Story of the Second World War
Hardcover

* Individual store prices may vary.
Other Editions of This Title:
Paperback (8/16/2016)
MP3 CD (6/14/2016)
Description
A brilliantly conceived nonfiction epic, a war narrated through the lives and deaths of a single family.
The photographs of three young men had stood in his grandmother's house for as long as he could remember, beheld but never fully noticed. They had all fought in the Second World War, a fact that surprised him. Indians had never figured in his idea of the war, nor the war in his idea of India. One of them, Bobby, even looked a bit like him, but Raghu Karnad had not noticed until he was the same age as they were in their photo frames. Then he learned about the Parsi boy from the sleepy south Indian coast, so eager to follow his brothers-in-law into the colonial forces and onto the front line. Manek, dashing and confident, was a pilot with India's fledgling air force; gentle Ganny became an army doctor in the arid North-West Frontier. Bobby's pursuit would carry him as far as the deserts of Iraq and the green hell of the Burma battlefront.
The years 1939–45 might be the most revered, deplored, and replayed in modern history. Yet India's extraordinary role has been concealed, from itself and from the world. In riveting prose, Karnad retrieves the story of a single family—a story of love, rebellion, loyalty, and uncertainty—and with it, the greater revelation that is India's Second World War.
Farthest Field narrates the lost epic of India's war, in which the largest volunteer army in history fought for the British Empire, even as its countrymen fought to be free of it. It carries us from Madras to Peshawar, Egypt to Burma—unfolding the saga of a young family amazed by their swiftly changing world and swept up in its violence.
Praise For Farthest Field: An Indian Story of the Second World War…
[Farthest Field] is an exquisitely written memoir of the wartime lives of the young Indian journalist's grandfather and two great-uncles, and is so heart-stoppingly beautiful I want all around to read it.

— Simon Winchester - New York Times Book Review

Raghu Karnad's Farthest Field seemed at first to me a worthy new book, filling up the large blanks in the hegemonic Anglo-American view of World War II, part of a necessary excavation of suppressed and ignored histories. I wasn't prepared for its extraordinary aesthetic qualities and emotional power, as well as its serene mastery of outsize, intransigent material.

— Pankaj Mishra - New York Times Book Review

Like a superior commander himself, Karnad marshals and orders a huge range of materials, locations, and actions with apparently effortless skill, making everything cohere not only through a galloping and affecting narrative but, crucially, through a passionate moral core that repeatedly exposes the numerous ways in which Indians were treated as fodder by the Empire…. The writing of history intersects gloriously with several other genres in this moving, eloquent, intelligent work.
— Neel Mukherjee - Financial Times

[S]pectacular…. In prose that verges at times on poetry, he writes with the imaginative gift of a first-rate novelist in order to deliver the truth. Romance and the attendant grief of loss permeate the book alongside passages that are unexpectedly moving…. Unforgettable.
— Juliet Nicolson - Daily Telegraph

[Karnad's] fascinating [book] is both a poignant memorial to his lost family and a gripping account of how India contributed to the allied victory and sowed the seeds of its independence.
— Ian Critchley - Sunday Times

From the very first page it is the brilliance of the writing that stands out…. It has the stamp of imaginative truth about it, and we can ask nothing more of any kind of writing.
— David Crane - Spectator

This book tells us that we all have two deaths: when we die and when we are forgotten. But there is a possibility of two births, the second being re-created in an extraordinary book. This is one of those rare books that bring people alive again. It has been written with imagination and is engrossing to read.
— Michael Holroyd
W. W. Norton & Company, 9780393248098, 320pp.
Publication Date: August 24, 2015
About the Author
Raghu Karnad is a journalist based in Delhi and Bangalore. He has worked as a reporter on the Indian magazines Outlook and Tehelka and is a former editor of Time Out Delhi.
Coverage from NPR
or
Not Currently Available for Direct Purchase