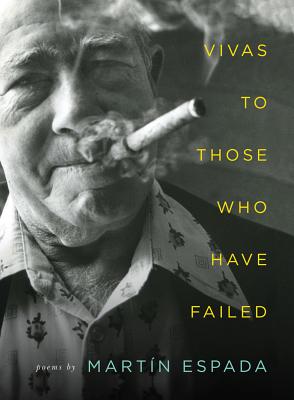 Vivas to Those Who Have Failed
Poems
Hardcover

* Individual store prices may vary.
Other Editions of This Title:
Paperback (4/4/2017)
Description
Award-winning poet Martín Espada gives voice to the spirit of endurance in the face of loss.
In this powerful new collection of poems, Martín Espada articulates the transcendent vision of another, possible world. He invokes the words of Whitman in "Vivas to Those Who Have Failed," a cycle of sonnets about the Paterson Silk Strike and the immigrant laborers who envisioned an eight-hour workday. At the heart of this volume is a series of ten poems about the death of the poet's father. "El Moriviví" uses the metaphor of a plant that grows in Puerto Rico to celebrate the many lives of Frank Espada, community organizer, civil rights activist, and documentary photographer, from a jailhouse in Mississippi to the streets of Brooklyn. The son lyrically imagines his father's return to a bay in Puerto Rico: "May the water glow blue as a hyacinth in your hands." Other poems confront collective grief in the wake of the killings at the Sandy Hook Elementary School and police violence against people of color: "Heal the Cracks in the Bell of the World" urges us to "melt the bullets into bells." Yet the poet also revels in the absurd, recalling his dubious career as a Shakespearean "actor," finding madness and tenderness in the crowd at Fenway Park. In exquisitely wrought images, Espada's poems show us the faces of Whitman's "numberless unknown heroes."
Praise For Vivas to Those Who Have Failed: Poems…
In a passionate collection that is socially conscious and personal, ecstatic and elegiac all at once, Martin Espada's collection of poems Vivas to Those Who Have Failed should be read again and again, silently and aloud, in sadness and celebration of those who have fought throughout history and refuse to be forgotten.

— Massachusetts Review

This poet's work breathes life into those who failed—the downtrodden,
the forgotten, and the dead—so that their voices may speak to us now….Espada's
poems act as a salve for today's violence, just as Whitman's poems dress the
wounds of the Civil War.
— The Rumpus

Espada at his brilliant best, the poet laureate of our New America, with a voice that breaks heart, gives courage and burns all illusions.
— Junot Díaz

In the battle against forgetfulness, in the ongoing war against dumb distraction and voluntary blindness, Martín Espada is our Subcomandante. With an ear sweetened by long listening to voices most often unheard, he writes poems that resonate like bells forged of bronze and blood.
— Tim Seibles

Martín Espada is one of the few poets in our time who really matters, because his words matter, and the people and the world he writes about matter. One thinks of Neruda, of Whitman, of Philip Levine as one finds oneself caught up by the magic of Espada's voice.
— Paul Mariani

Memorable, vital, heart-stopping poems. Eloquent in his celebration of those whose names and faces are 'rubbed off / by oblivion's thumb like a Roman coin,' laureate of ballparks and boxing rings, mad love and workers' strikes, moving elegist… Martín Espada is an essentially American poet and true son of Walt Whitman.
— Alicia Ostriker

In his tenderly elegiac, yet fierce collection…Espada's poems continue to define the role of the poet as an emotional historian. Like Whitman, Espada stirs in us an undeniable social consciousness and connectedness.
— Richard Blanco
W. W. Norton & Company, 9780393249033, 96pp.
Publication Date: January 4, 2016
About the Author
Martín Espada has published more than twenty books as a poet, editor, essayist and translator, including Vivas to Those Who Have Failed and Pulitzer finalist The Republic of Poetry. His many honors include the Ruth Lilly Prize, the Shelley Memorial Award, and a Guggenheim Fellowship. Born in Brooklyn, he now lives in western Massachusetts.
or
Not Currently Available for Direct Purchase